Coordinating Council 2019
JOIN OUR COORDINATING COUNCIL IN 2019!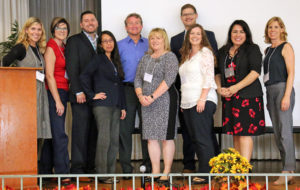 The San Diego Military Family Collaborative (SDMFC) is currently accepting applications for 4 Coordinating Council positions opening in 2019. The Coordinating Council provides the SDMFC with leadership and functional authority to make decisions that can effect changes to accomplish our vision, mission and goals. Eligibility preference goes to individuals who have had an observable history of regular attendance and participation in SDMFC activities. Remember, this is a volunteer role with a general expectation of a ONE YEAR commitment.
Examples of Coordinating Council responsibilities include:
Commit to contributing the necessary resources, including in-kind, to the extent possible to further the success of the SDMFC in meeting its goals.
Establish policy and provide leadership/direction.
Support active participation of self and staff in SDMFC Task Forces and Work Groups. '
Establish information-sharing, communication and feedback mechanisms to maximize staff understanding of SDMFC's mission and goals.
Attend monthly Coordinating Council meetings.
Monitor composition of the Coordinating Council to ensure a balanced, cross-sectional representation is maintained.
Review and confirm partnership and grant applications as applicable.
Letters of interest will be accepted from November 1 to December 3, 2018. In your letter, please explain how you would effectively use your volunteer, personal and/or professional experience to further the goals and mission of the SDMFC. Email your submission to: dromero@saysandiego.org
New members will be notified in early January 2019 and introduced to the entire organization during the January Monthly Convening. Please review the SDMFC Governance Guidelines and Coordinating Council Roles and Responsibilities.