SDMFC Community Prevention & Safety Alliance Holiday & Recognition Gathering
Posted on: November 7, 2018 | Posted in:
When:
December 6, 2018 @ 9:00 am – 11:15 am
2018-12-06T09:00:00-08:00
2018-12-06T11:15:00-08:00
Where:
Farb Middle School
4880 La Cuenta Dr
San Diego, CA 92124
USA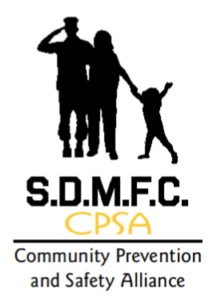 Please join us for our San Diego Military Family Collaborative, Community Prevention and Safety Alliance Holiday & Recognition Gathering! This gathering will be a POTLUCK where we can reflect on accomplishments from 2018 and look forward to our new efforts as we head into the New Year. We will be sending out a flyer for this gathering along with some additional details, so stay tuned!
Our potluck is OPTIONAL, but should you like to participate, we are you bring a dish to share. Continuing the holiday cheer, we are also participating in a local holiday toy/food drive! Folks can bring a small unwrapped toy or canned food which we will donate to a local program.
Additionally, there will be an opportunity to nominate a youth and/or individual/organization to be recognized at the holiday gathering: Email CPSA.SDMFC@gmail.com nominate BEFORE November 26 with your nomination!
Please save the date and time
Farb Middle School Library
4880 La Cuenta Drive, San Diego, CA 92124
9:00am-9:15am; Meeting starts at 9:15am prompt
The CPSA is mobilizing in the zip codes of 92123 and 92124 in an effort to connect with youth and families better informing all community members on local safety issues impacting the local communities of Serra Mesa, Tierrasanta, and Murphy Canyon. There are plenty of ways to get involved so please take time to visit a meeting or catch our presentations and messages on the SDMFC facebook page.