Arts for Learning San Diego
Services Provided: Education and Academic Success, Mental Health, Professional Development, SDMFC Members, Youth Activities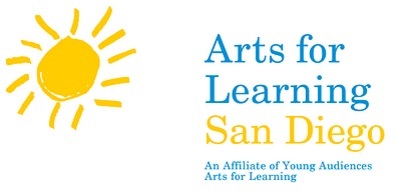 Arts for Learning San Diego envisions a world where all students, families, and communities imagine, create and thrive through the arts.
For over 50 years Arts for Learning San Diego has been the oldest and largest arts education non-profit in San Diego and serves all of San Diego County. It is the only non-profit in San Diego whose sole focus is arts education. With a roster of over 200+ professional teaching artists, Arts for Learning San Diego has the ability to provide music, dance, theater, visual arts, literary arts, STEAM, arts integration, and more to children, families and the community through residencies, workshops, family art nights, assemblies,  and/or customized partnerships.  A4LSD is dedicated to advocating and providing for the arts in education and enriching the lives of all children of our region through an extraordinary range of high quality artists and performers to help our young people identify with their culture roots and discover their resiliency and creative wings.
Our small, but dedicated team of professionals is focused on the belief that the arts and artists are essential community resources that deserve sustained advocacy and long-term investment.  We train and commission arts of all disciplines to engage directly with diverse communities through vibrant partnerships at the individual, family, school and community level.  Our arts programming reaches participants of all ages, igniting the collective imagination of San Diego, and inspiring generations of change makers!
Contact Name:

Sherrie Brown, Performance & Family Arts Program Manager