SPONSORS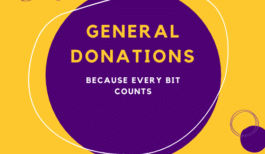 DONATIONS
SDMFC works year-round to meet your needs as a collaborative through our bi-monthly newsletters, Action Teams, Membership Opportunities, and Monthly Convenings. Consider supporting our efforts in the coming year by
Thanks for helping us make a difference in the military and veteran-connected community! All donations are welcome and appreciated.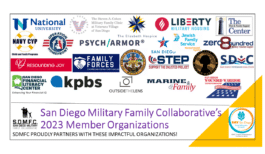 SDMFC 2023 Membership
Looking to become an SDMFC Member or to renew your membership in 2023? You came to the right place! Are you a current member, would like to become a member, or want to know what it means to be an SDMFC member?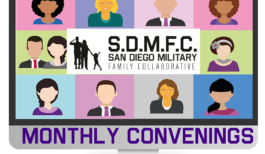 SDMFC CONVENING
---
Did you miss a convening? Check out our past convenings: CLICK HERE
September 2023 Convening: "Connect & Cultivate: Managing Self-Care" on September 22, 2023, 10:00am-12:00pm
NEW LOCATION & In-Person ONLY: National University | 9388 Lightwave Ave., San Diego Room 131
Topic: This month, we explore the importance and methods for self-care. Our guest speakers will introduce holistic approaches, strategies for relieving stress, support dogs and more. We'll share vital resources to support military families on their road to wellness.
In-Person ONLY!!!
Please sign up for our updates via our newsletter: CLICK HERE.