Kids' Turn San Diego
Services Provided: Parenting, SDMFC Member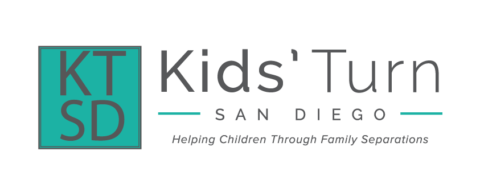 Mission: Promoting, securing and supporting the well-being of children experiencing family separation, Kids' Turn San Diego changes family relationships in positive ways so children are happier.
Vision: Kids' Turn's vision is for all children who are experiencing family separation to feel safe and secure to express their thoughts and feelings. When children feel empowered to speak up, parents gain insight and oftentimes make a change.
What Kids' Turn San Diego Does:
Allocates various resources and offers programs to assist children and parents through family separations and relocation.
Who qualifies for Kids' Turn services:
Kids' Turn programs include Family Workshops for separated and divorced families
How Kids' Turn serves the military-connected community:
Kids' Turn San Diego is a caring non-profit organization for children and parents experiencing family separations or military transitions that offers specially designed programs facilitated by trained and experienced mental health professionals and credentialed teachers for never married, separated and divorced families and children and families experiencing military related transitions.
There is a cost for our programs. All military families receive a 10% discount and Family Workshop Scholarships are available whenever requested (our sliding scale is determined through scholarship applications).

Address: 4909 Murphy Canyon Rd, Ste 515,
San Diego, CA 92123
Contact Name:

Cindy Grossman