County of San Diego Health & Human Services Agency
Services Provided: Consumer Services, Criminal Justice and Legal Services, Education, Emergency Resources, Employment, Environmental and Public Health/Safety, Financial Assistance, Food Assistance, Health Insurance, Healthcare, Housing/Shelter, Individual and Family Life, Mental Health and Substance Use Disorder Services, Parenting, SDMFC Member, Transportation, Utilities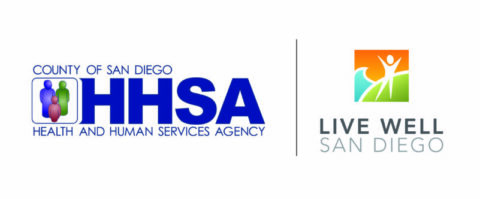 Mission: Make people's lives safer, healthier and self-sufficient by managing essential services.
Vision: Safe, healthy and thriving communities
What County of San Diego Health & Human Services Agency Does:
The Agency provides a broad range of health and social services to promote wellness, self-sufficiency, and a better quality of life for individuals and families in San Diego County. The Agency integrates health and social services through a unified service-delivery system that is family focused and community-based.
Who Does County of San Diego Health & Human Services Agency Serve:
San Diego County residents, while Agency services are open to the public, qualifications will depend on the specific service/program.
How County of San Diego Health & Human Services Agency Serves the Military-Connected Community:
"The Health and Human Services Agency (HHSA) offers numerous services to the public. Some of the military-connected services are highlighted in the Military & Veterans Resource Guide, which can be found at this Military & Veterans Resource Guide link. Below a few of the County HHSA-related resources (see Guide for full information).
MILITARY & VETERANS RESOURCE GUIDE
BENEFITS
• County of San Diego Office of Military & Veterans Affairs
This office assists active duty military, veterans, dependents, their survivors, and families in the Transition Assistance Program, and to obtain all the benefits they are due from federal, state and local sources. This includes VA disability claims, college fee waivers, education, in-home supportive services, emergency needs (shelter), survivor's compensation claims, nonservice-connected pensions, death pensions, and appeals for veterans' benefits.
• Network of Care (NOC) Website
The Network of Care for service members, veterans and their families is a one-stop-shop for virtually all services, information, support, advocacy, and much more. This public service is an attempt to bring together critical information for all components of the veteran community, including veterans, family members, active-duty personnel, reservists, members of the National Guard, employers, service providers, and the community at large.
EDUCATION
County of San Diego Office of Military & Veterans Affairs (locations in Kearny Mesa, Mission Valley, National City)
You or your dependents may be entitled to one or more of the following educational benefits: Post 9/11 GI Bill; Montgomery GI Bill; Vocational Rehabilitation; Reserve Educational Assistance; Dependents Educational Assistance; Dependents College Tuition Fee Waiver; and Non-Resident College Fee Waiver
FAMILY/CAREGIVER SUPPORT
Child Welfare Services (CWS) Military Liaison
CWS Regional Military Liaisons coordinate and consult with military family advocacy programs. Liaison activities include participating in case planning for military families with CWS involvement; coordinating services and treatment plans; providing mandated child abuse reporting training to military personnel and child development staff; and providing referrals and support services to families in crisis or at risk of entering the Juvenile Court system. Military liaisons also provide support on active CWS family reunification cases.
HEALTHCARE
• Health & Human Services Agency's Public Health Services
Regional Public Health Services clinics offer the following services (clinics in each Region): Child and Youth Clinic; HIV Testing; Immunization Clinic; Pregnancy Testing; Public Health Nursing*; Sexually Transmitted Disease Clinic; Tuberculosis Testing and Treatment; Referrals to Community Resources
• It's Up to Us—Resources for Military (funding through HHSA)
www.up2sd.org (for specific military related mental health resources, type 'military' in search)
• North Coastal Public Health Center Camp Pendleton Support
Public Health Nurses are available to visit pregnant military families to provide support services on Marine Corps Base Camp Pendleton.
HOUSING
Veterans Affairs Supportive Housing (VASH)
The Department of Housing and Urban Development – VA Supportive Housing (HUD-VASH) Program is a joint effort between HUD and the VA to move veterans and their families out of homelessness and into permanent housing. Veterans are referred to the program through the VA. Once referred, the program provides rental assistance to qualified homeless veterans in partnership with the County of San Diego Housing & Community Development (HCD).
FAMILY RESOURCE CENTERS
The Health and Human Services Agency (HHSA) has Family Resource Centers to serve various needs at locations throughout the County. Services vary per location and may include: CalWORKs; CalFresh (Food Stamps); Cash Assistance Program for Immigrants; Community Action Partnership; Direct Deposit – EBT (Electronic Benefit Transfer); Domestic Violence Safety Plan; Medi-Cal; and Welfare to Work.
SAN DIEGO COUNTY LIBRARY
• San Diego County Library Programs/Lectures for Veterans
County libraries provide information regarding services for active military, veterans and their families.
• San Diego County Library Veterans' Resources Page (www.sdcl.org/veterans-resources.htm)
County libraries have a veterans resource page with links to information and resources that include special topics such as transition to civilian life, benefits, money assistance, jobs, government, organizations, and recognition.
• San Diego County Libraries with Veteran Services
El Cajon Branch, Julian*, Pine Valley Branch, Ramona Branch, Rancho San Diego Branch, Alpine Library*, Poway Library*, and San Diego Central Library. *Includes VET CONNECT, a service that allows veterans to visit face-to-face with a veterans services representative via video conferencing to access services and complete paperwork without having to travel to the Military & Veterans Affairs Office in person.
County of San Diego Health & Human Services Agency Partners:
The Health and Human Services Agency provides a broad range of health and social services that supports Live Well San Diego, the County vision for healthy, safe and thriving communities. The Agency works with community partners around the Live Well San Diego vision and services it provides, many who have achieved the Live Well San Diego Partner status. For a listing of Partners, http://www.livewellsd.org/content/livewell/home/partners.html
Address: 1600 Pacific Highway,
San Diego, CA 92101
Hours: Monday – Friday, 8:00am to 5:00pm
Contact Name:

Justine Kozo-Regional Community Coordinator