Brigadier General Edward D. Banta
Posted on: July 31, 2014 | Posted in: Community Blog
Featured Annual Conference Speaker:
Brigadier General Edward D. Banta
Commanding General, Marine Corps Installations West-MCB Camp Pendleton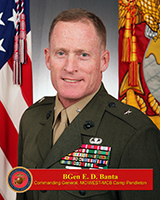 Brigadier General Banta was raised in California and Connecticut before graduating from Colgate University in 1986. Commissioned through the Officer Candidate Course program in December 1986, he attended The Basic School and Combat Engineer Officer Course prior to reporting for duty with 9th Engineer Support Battalion on Okinawa, Japan. From October 1987 through October 1988, he served as a Platoon Commander, Executive Officer, and Commanding Officer of Bridge Company.
Reassigned in November 1988 to the Marine Corps Air Ground Combat Center in Twentynine Palms, California, BGen Banta served as the Combat Engineer Representative with the Combined Arms Exercise Program's Tactical Exercise Evaluation Control Group. From August 1990 through March 1991, he deployed to Saudi Arabia and Kuwait for Operations DESERT SHIELD and DESERT STORM, serving with 3rd Light Armored Infantry Battalion and the I Marine Expeditionary Force Commanding General's jump command post.
In July 1992, BGen Banta reported to the Army Engineer Officer Advanced Course in Fort Leonard Wood, Missouri. Upon graduation he was assigned to 1st Combat Engineer Battalion, 1st Marine Division, Camp Pendleton, California, serving as Battalion Operations Officer and Commanding Officer, C Company from February 1993 through May 1996.
From July 1996 through December 1997, BGen Banta attended the Naval Postgraduate School in Monterey, California, where he received a Master of Science degree in Systems Management. Upon graduation he was reassigned to the Programs and Resources Department, Headquarters, U.S. Marine Corps in Washington, DC, where he served as a program analyst until August 2000.
In September 2000, BGen Banta reported to Marine Wing Support Group 17 (MWSG-17), 1st Marine Aircraft Wing and assumed duties as the Group Operations Officer through June 2003. Reassigned to 3d Marine Aircraft Wing in San Diego, California, he commanded Marine Wing Support Squadron 373 (MWSS-373) from July 2003 through May 2005. During this period he deployed with MWSS-373 to Iraq for Operation IRAQI FREEDOM II. Upon completion of his command tour, he attended the Industrial College of the Armed Forces in Washington, DC, and was subsequently assigned as a force structure analyst with the Force Structure, Resources and Assessment Directorate (J8) on the Joint Staff.
BGen Banta returned to Okinawa to command MWSG-17 from July 2008 to June 2010 followed by serving as the Assistant Chief of Staff for Operations for 3d Marine Logistics Group. In April 2011 he returned to Washington to assume his duties as Military Assistant to the Secretary of the Navy. From August 2012 to July 2014 he served as the Commanding General of 2d Marine Logistics Group in Camp Lejeune, North Carolina. Currently, BGen Banta is serving as Commanding General of Marine Corps Installations West-Marine Corps Base, Camp Pendleton.