Col Stephen Armes
Posted on: October 4, 2016 | Posted in: Community Blog
Featured Annual Conference Speaker:
Col Stephen Armes
Assistant Chief of Staff/Director, Government and External Affairs, Marine Corps Installations West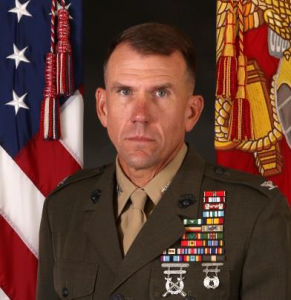 Colonel Armes was commissioned a Second Lieutenant through the Platoon Leader's Course subsequent to his graduation from California Lutheran University in 1992. Upon completion of The Basic School and the Infantry Officers Course he reported to 29 Palms, CA to serve with 2nd Battalion, 7th Marines in July of 1993. While assigned to 2nd Battalion, 7th Marines he served as a Rifle Platoon Commander & Weapons Platoon Commander with Echo Company, Battalion Logistics Officer and Commanding Officer of Fox Company.
In June of 1996 he reported to Mike Company, 3rd Recruit Training Battalion, MCRD, San Diego where he served as a Series Commander, Executive Officer, and was promoted to Captain in September of 1996. In May of 1998 he moved to 1st Recruit Training Battalion to serve as the Commanding Officer of Alpha Company.
In June of 1999 Colonel Armes attended the Command & Control Systems Course in Quantico, VA before transferring to Camp Pendleton, CA in May of 2000 to serve as the Commanding Officer, Weapons Company 1st Battalion, 5th Marines. In August of 2001 he assumed command of Headquarters Company, 5th Marines until his promotion to Major in May of 2002. After his promotion to Major he returned to 1st Battalion, 5th Marines to serve as the Operations Officer.
In June of 2003 he assumed command of Advanced Infantry Training, School of Infantry (West) with a follow on assignment in July of 2005 to the Naval War College in Newport, R.I. where he earned a Masters of Arts degree in National Security and Strategic Studies. Upon graduation in June of 2006 he reported to the Standing Joint Force Headquarters, US Northern Command to serve as a land planner. He was promoted to LtCol in December of 2007.
In June of 2008 Colonel Armes assumed command of Infantry Training Battalion, School of Infantry (West) and served there until June of 2010.
In June of 2010 he reported to III Marine Expeditionary Force to serve as the AC/S G3 for the 3rd Marine Expeditionary Brigade and Executive Officer of Special Operations Training Group.
In June of 2013 Colonel Armes reported to Expeditionary Warfare Training Group (Pacific) to serve as the Director of Operations & Training and was promoted to Colonel in September of 2014. Upon his promotion to Colonel he was re-assigned as the Executive officer of Expeditionary Warfare Training Group (Pacific) until he reported to MCI-West in July of 2016.
His personal awards include the Legion of Merit, Bronze Star Medal with Combat "V", the Meritorious
Service Medal (5th Award), Defense Meritorious Service Medal, Navy Marine Corps Commendation
Medal (2nd Award), Joint Service Commendation Medal, Humanitarian Service Medal and Combat
Action Ribbon.
He is married to Karla (Romstad) Armes formerly of Davis, CA. His oldest son (Erik) runs cross country
and track at Auburn University in Auburn, AL and his youngest son (Ryan) is a senior at Coronado High
School in Coronado, CA.