Introducing SDMFC's 2017 Annual Conference Keynote Speaker: CMC Belmares, Retired U.S. Navy
Posted on: July 13, 2017 | Posted in: Community Blog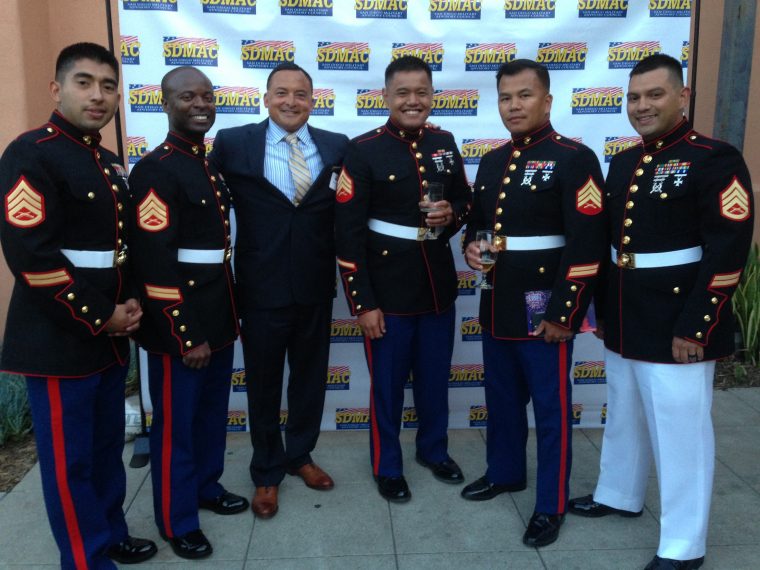 COMMAND MASTER CHIEF ERNEST M. BELMARES, RETIRED – U.S.NAVY to serve as Keynote Speaker at this year's Annual Conference
We are delighted to announce that CMC Ernest M. Belmares, Retired U.S. Navy will serve as the keynote speaker at SDMFC's 2017 Annual Conference.  With a distinguished career and invaluable service to our community, CMC Belmares exemplifies the importance of "Better Together."
A native of Dallas, Texas.  He enlisted in the U.S. Navy in January 1987, where he served 30 years of honorable service.  Upon completion of Basic Training at Recruit Training Command, Orlando, Florida, he attended Yeoman "A" School, Naval Technical Training Center in Meridian, Mississippi.
His sea duty assignments include; USS Meyerkord (FF 1058), USS Fitzgerald (DDG 62) – Plank-Owner, USS Nimitz (CVN 68), USS Decatur (DDG 73) and USS Mobile Bay (CG 53).
His shore duty assignments include; Recruit Training Command San Diego, California, Navy Recruiting District San Diego, California, Commander, Naval Special Warfare Command, Coronado California and Naval Base San Diego.
While on board USS Decatur, USS Mobile Bay and Naval Base San Diego he served as the Command Master Chief, where he performed as the Commanding Officer's Senior Enlisted Advisor in matters pertaining to the well-being, good order and discipline of Sailors in support of operations at sea and ashore during Operation Iraqi Freedom, Operation Enduring Freedom, Operation New Dawn and providing service to the Fleet, Fighter and Family at the largest naval installation on the west coast and home port to Commander, Naval Surface Forces U.S. Pacific Fleet.
A graduate of the Navy's Senior Enlisted Academy, Command Master Chief Capstone Course and MCPON's Enlisted Leadership Course.  His personal awards include; the Meritorious Service, Navy Commendation and Achievement Medals, numerous unit and campaign awards and was selected as the Navy Region Southwest nominee for the FY17 MCPON Delbert D. Black Leadership Award.
On 1 February 2017, Command Master Chief Belmares officially retired from the U.S. Navy, where he transitioned into the civilian sector as Marketing Director for Capital Loan Associates, specializing in marketing strategies and advertising, planning and operations with community outreach affairs in assisting clients and veterans to become home owners or re-financing their mortgage at a lower rate, consolidate debt or home improvements.
An active communicator that is well diverse in the military community and with Senior Enlisted Advisors in the San Diego Metro Area and a proactive member in supporting the San Diego Military Advisory Council that promotes and represents the mutual business and other interests of the military, their quality of life and the defense community in the San Diego area.
A volunteer that serves as a Board Member with the Board of Directors for the "Support The Enlisted Project", a non-profit organization that is dedicated to building financial self-sufficiency with junior enlisted service members and recently discharged veterans and their families in Southern California through financial counseling, emergency grants and other support programs.