JANUARY 2022 CONVENING
Posted on: January 20, 2022 | Posted in: Community Blog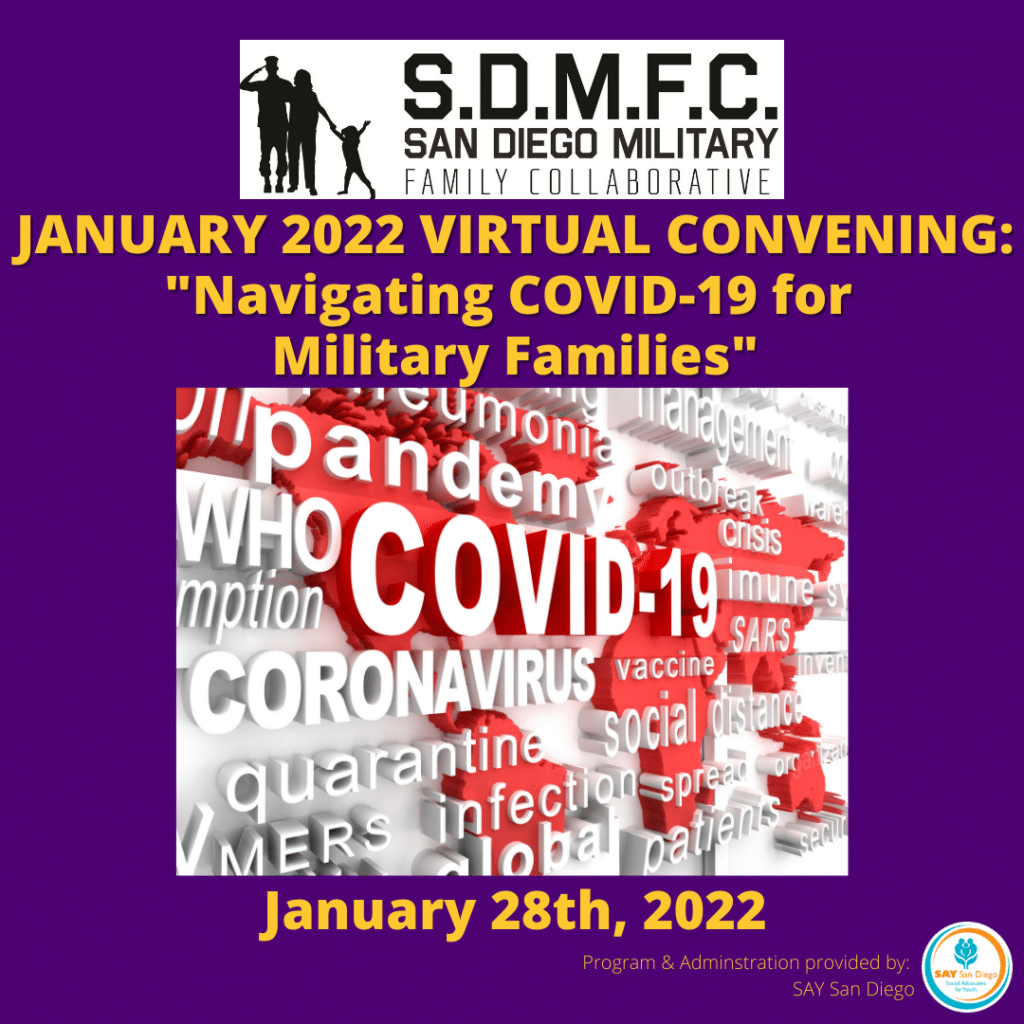 —————————- * —————————-
Welcome to the resource page for the San Diego Military Family Collaborative (SDMFC) Monthly Convening using Zoom for Friday, January 28th, 2022! This convening was dedicated to the topic of ¨Navigating COVID-19 for Military Families¨.
Please sign in via our Attendance Sheet by clicking HERE!
JANUARY 2022 CONVENING CREDENTIALS:
Convening Featured Guests Include:
John D "JD" Malone, MD (Infectious Diseases), MPH was pleased and honored to Join the Epidemiology and Immunization Services Branch, Health and Human Services Agency in April 2020 and is currently working under the leadership of Dr Seema Shah MD (pediatrics). "JD" is a Fellow, Infectious Diseases Society of America; Fellow, American College of Physicians; Fellow, American College of Physician Executives, and Professor of Medicine at the Uniformed Services University with over 50 publications and 90 formal presentations. In the course of a 30-year U.S Navy career he held leadership positions as Head, HIV/AIDS Unit and Infectious Diseases Division, National Naval Medical Center, Bethesda, MD; Chairman, Internal Medicine Department, and Director of Medical Services, Naval Medical Center San Diego. His final assignment was Commanding Officer, Medical Treatment Facility, USNS MERCY Hospital Ship prior to a 2004 retirement. The current COVID pandemic has multiple similarities to his early days (1989-1994) of HIV/AIDS care prior to effective anti-retroviral therapy. From 2011 to 2018, he returned to government service as Head, Clinical Investigations Department, Naval Medical Center San Diego and Research Program Manager, Navy Medicine West Region responsible for all medical research at the large Navy Medicine tertiary care teaching hospital and Navy Medicine West Region which stretches across the Pacific to include the Guam and Japan.
In the past year, he has been deeply engaged in "shoe leather epidemiology" with evaluations of universities, elementary and secondary schools, nursing homes, and correctional custodial facilities with a current focus on K-12 school issues and the unsheltered population. Previously he was actively engaged implementing on site rapid antigen COVID testing in schools and is a member of the community COVID Vaccine Advisory Group.
Personal Note: Any success in life is attributed to his much smarter wife of 30 years, Dr. Eleanor Joan Smith, Pharm D, UCSF graduate with a 31-year U.S. Navy career which includes Commanding Officer of the San Diego based 600 member Navy Operational Health Support Unit. She retired from a Joint Chiefs of Staff medical affairs position in 2016. Eleanor is currently "hunkered down" in the Palm Springs family home caring for a 60-year-old special needs brother while "JD" resides in their Coronado Cays home purchased in the 1990s.
Stacey Bengtson is a Navy School Liaison for Naval Base San Diego supporting San Diego Unified School District. She has been with the program since 2015, with a background that includes supporting the education realm in various capacities for the past 14 years. Holding a Master of Science degree in Counseling Psychology, Stacey has been supporting military families for the past 10 years. Stacey believes it takes a village, and holds supporting families who are fighting for our freedoms near to her heart.
> VIEW THE CONVENING RECORDING HERE <
(Following the event date)
*******************************************************************************************************************************************
CONVENING MATERIALS AND RESOURCES
For your convenience, below you will find resources and relevant links that will be referred to in the Convening.
SDMFC Materials
COMMUNITY RESOURCES REFERENCED TODAY:
CONVENING FACT SHEET:
SDMFC UPCOMING EVENTS/ANNOUNCEMENTS
*SDMFC will be using Zoom to convene these virtual meetings for the time being, where you can join us through the comfort of your webcam or phone. In order to fully participate in these virtual meetings, SDMFC recommends using a smartphone or computer to access Zoom. You are also able to participate by calling in, but will not be able to access the online materials and activities that will be presented. To utilize Zoom, you will need to do the following: