March 2018 Convening Recap: Blended Families
Posted on: March 29, 2018 | Posted in: Community Blog, Information of the Month
On March 23rd, the San Diego Military Family Collaborative introduced the topic of the month on Blended Families. Over 50 military providers, agencies, and individuals gathered to learn valuable information on Military Blended families and what it means to work in this area and the unique issues and trends that are seen in the community. Our panel of experts represented Armed Services YMCA, Estes Therapy, Courage to Call, Kids Turn, and Retired US Navy. Thank you to our panel experts for sharing their knowledge and expertise!
After the panel was introduced, the SDMFC facilitated a small group discussion to answer these questions:
What are some of the challenges/issues that impact military blended families in the 21st century?
How might life moments like "relocation" impact the children's emotional well-being within a military blended family? Can you think of any other life moments which would be challenging for these youth?
What are some services and resources that you know of that would help provide stability and well-being for children in military blended families?
Describe some of the characteristics of a supportive military blended family environment. What does the environment include and how may SDFMC support this dynamic?
What would your collective advice be for the family unit experiencing a "New blended family?" (For parents and youth involved)?
Some highlights of each group's discussion included:
Challenges /Issues of blended families such as custodial parenting, discipline, relocation, and deployment.
All groups agreed that practicing active communication and listening skills were important to developing and sustaining healthy blended family relationships.
Recognizing and validating the children's feelings and concerns regarding school, friends, and the time in between living in two separate households.
Creating a family plan/calendar with a schedule of activities and responsibilities for each family member.
Utilize various resources and services such as NPSP, Dad Corps, NMC Support groups, and local community organizations /outreach.
Check out our fact sheet!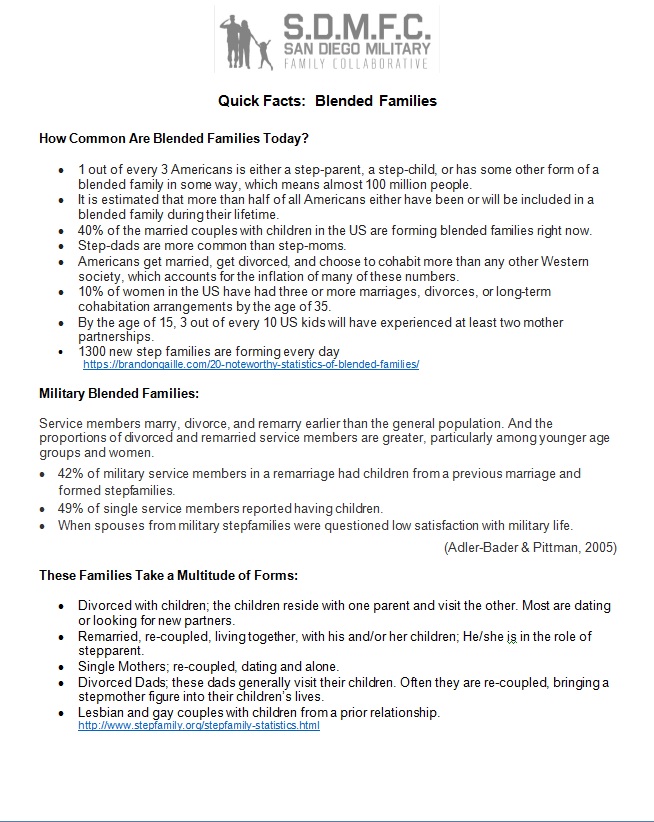 SDMFC Monthly Convenings are every 4th Friday of the month, 10:00am – 12:00pm @ Mission Valley Library. Join us on April 27th for our next one!
Keep connected to our convenings, newsletters, and other community events at https://www.facebook.com/sdmilfam/
Please see below if you would like to watch the panel on Facebook LIVE, see the fact sheet shared at the convening, or to read our panelist bios.
See here for the Facebook LIVE stream of our March 2018 Convening
Panelist Biographies
Susan Curtis (ASYMCA) – Susan Curtis is an Associate Clinical Social Worker at the Armed Services YMCA (ASYMCA) where she provides In-Home Clinical Counseling to active duty service members and their families. Susan began working as an intern at the ASYMCA during graduate school. She graduated from USC School of Social work and become a fulltime employee at the ASYMCA where she is earning hours to take the LCSW exam. Susan is an expert on grief and loss. She assists clients in learning to cope with different types of grief and loss including their support system death, terminal illness, miscarriage, moving, change of duty station, and deployment. Susan works with many blended families helping them adjust to various challenges. Susan brings 32-years life experience as a retired Navy spouse. scurtis@asymca.org
Karen Keith (Estes Therapy) – Karen is a Licensed Marriage & Family Therapist and received her MA in Marriage and Family Therapy at Bethel Seminary. She has over 20 years of experience working with military families and children with special needs, learning disabilities, autism and ADHD. Karen is trained in EMDR (www.emdr.com) and has experience working with Veterans with trauma and PTSD. Karen enjoys helping couples, young adults, teens and children as they navigate life's transitions. Karen works with a variety of issues including, but not limited to marital issues, communication, depression, anxiety, self-harm, substance abuse and mental illness. Karen is zealous about empowering individuals to be healthy in all areas: biologically, psychologically, socially and spiritually. http://estestherapy.com/
Marna Morefield (Courage to Call) – Marna MMorefield isan active duty spouse and has the honor of being the mother in a blended family unit. Beginning at the age of 3 years old, she was also raised in a military blended family where she was the youngest child. Marna works as the Family Support Partner for Courage to Call and is committed to helping individuals who have served in the military past and present. mmorefield@mhsinc.org
Beth Sondak (Kids' Turn) – Beth Sondak has been with Kids' Turn San Diego since 1998. She joined the organization as a group leader, became the program manager in 2008 and was promoted to program director in 2012. Beth oversees all of the programs at Kids' Turn San Diego, which include: Monthly Family Workshops for separated and divorced families, Continuing the Conversation –- a counseling program for children — and seminars and events. Beth lives with her husband and two teenage children in San Diego. beths@kidsturnsd.org
Sean Milligan (Retired US Navy)- Sean Milligan recently retired after 25 years of service in the United States Navy where he performed the duties of helicopter aircrewman and rescue swimmer. He has been a member of Newbreak Church in Tierrasanta for over seven years and has co-lead numerous "Life Groups" for five of those years. Most of these Life Groups have focused on the issue of Blended Families as he and his wife Maarla along with their three daughters (a hers, mine, and ours combination) are a blended family themselves. In addition, he and Maarla serve as Life Group leadership coaches for Newbreak. Sean is attending Point Loma Nazarene University in pursuit of a Master in Teaching degree as well as his Multiple Subject and Special Education (mild/moderate) teaching credentials.
Post By: Marian Spaid-Ross. Marian has a Doctorate in Education and is serving as an AmeriCorps VISTA for the San Diego Military Family Collaborative.