The Speaker of the California State Assembly The Honorable Toni Atkins
Posted on: July 23, 2014 | Posted in: Community Blog
Featured Annual Conference Speaker:
The Honorable Toni Atkins
Speaker of the California State Assembly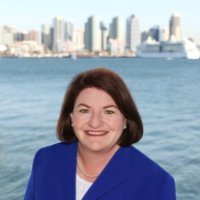 Assembly Speaker Toni G. Atkins has served in the California State Assembly since 2010, and was elevated to the top leadership post in 2014, when her colleagues unanimously elected her 69th Speaker of the California Assembly.
Speaker Atkins proudly represents the people of coastal San Diego, from Imperial Beach, along the Mexican border, north to Solana Beach, and most of central San Diego. She previously served eight years on the San Diego City Council, and became a stabilizing force during a tumultuous period in 2005, stepping in as Acting Mayor after the resignation of the mayor.
Speaker Atkins is a coalition-builder who believes government policies can improve people's lives. She is a leading voice for affordable housing, a powerful advocate for women, and champion for veterans and homeless people.
Prior to her election as Speaker, she held the position of Majority Leader. She chaired the Assembly Select Committee on Homelessness, and served on committees on Housing and Community Development, Health, Veterans Affairs, as well as the Joint Legislative Audit Committee.
Speaker Atkins was born in Virginia, earned her bachelor's degree in political science from Emory & Henry College, and completed the senior executive program at the John F. Kennedy School of Government at Harvard University.
Her life of public service began in San Diego in the mid-1980s as director of clinic services at Womancare Health Center. She became a staff representative of then-City Councilmember Christine Kehoe, later winning her mentor's council seat after Ms. Kehoe's election to the Assembly. She represented the City of San Diego in the local chapter of the League of California Cities; on the board of the Metropolitan Transit System; on the San Diego Association of Governments; the Regional Housing Working Group; and the San Diego River Conservancy.
Atkins lives in the South Park/Golden Hill community of San Diego with her spouse Jennifer LeSar and their dogs, Haley and Joey.