April 2020 Virtual Convening: Month of the Military Child
Posted on: April 27, 2020 | Posted in: Community Blog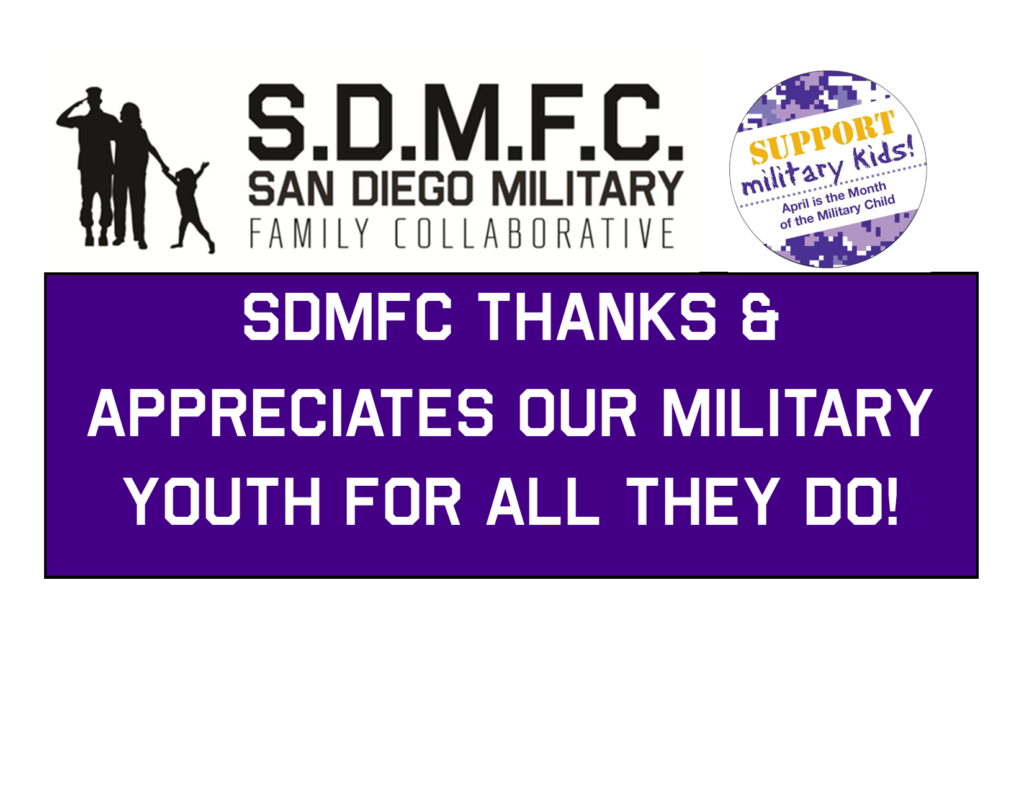 On Friday, April 24, the San Diego Military Family Collaborative (SDMFC) hosted its second Virtual Monthly Convening using Zoom! This convening was dedicated to Month of the Military Child. Every year, SDMFC loves to recognize and celebrate our military youth while also highlighting our partners and the programs they may be putting on for our military-connected families and their children!
For April 2020, SDMFC invited Nikko Edwards Jr, Military Youth of the Year Awardee in San Diego and Nominee for California, to give his personal insights into the world of military youth. Additionally former SDMFC Coordinating Council Member, Dr. Kim Hunt, Director of Evaluation, Research and Training for Komposset Consulting Strategies, LLC, presented her findings on An Academic Perspective on Military Youth Resiliency. Finally we had SDMFC Organizational Members, United Through Reading, Armed Services YMCA, and MCRD San Diego School Liaison Program share what resources and programs they have available for the Month of the Military Child.
Convening Materials and Resources
Below you will find resources relevant to Month of the Military Child and youth from our presenters and SDMFC partners!
SDMFC Materials
United Through Reading Information:
ASYMCA Information:
MCRD SLO Information:
More Month of the Military Child Information:
SDMFC will using Zoom to convene these virtual meetings for the time being, where you can join us through the comfort of your webcam or phone. In order to fully participate in these virtual meetings, SDMFC recommends using a smartphone or computer to access Zoom. You are also able to participate by calling in, but will not be able to access the online materials and activities that will be presented.
To utilize Zoom, you will need to do the following:
Call in using your phone or join using a Zoom Account on your smartphone or computer(to be able to fully participate in activities we recommend using a computer)
Sign-Up for a free account using your work email: https://zoom.us/signup
Tune in to SDFMC's Facebook page for the Zoom link!
If you require assistance please do not hesitate to contact us! To stay most updated to SDMFC news, please review the SDMFC Facebook page https://www.facebook.com/sdmilfam/. We will continue to share resources for the community at large including information on resources individuals can access online as well as fun family activities to consider for your kiddos who may be home.