April 2022 Convening
Posted on: April 21, 2022 | Posted in: Community Blog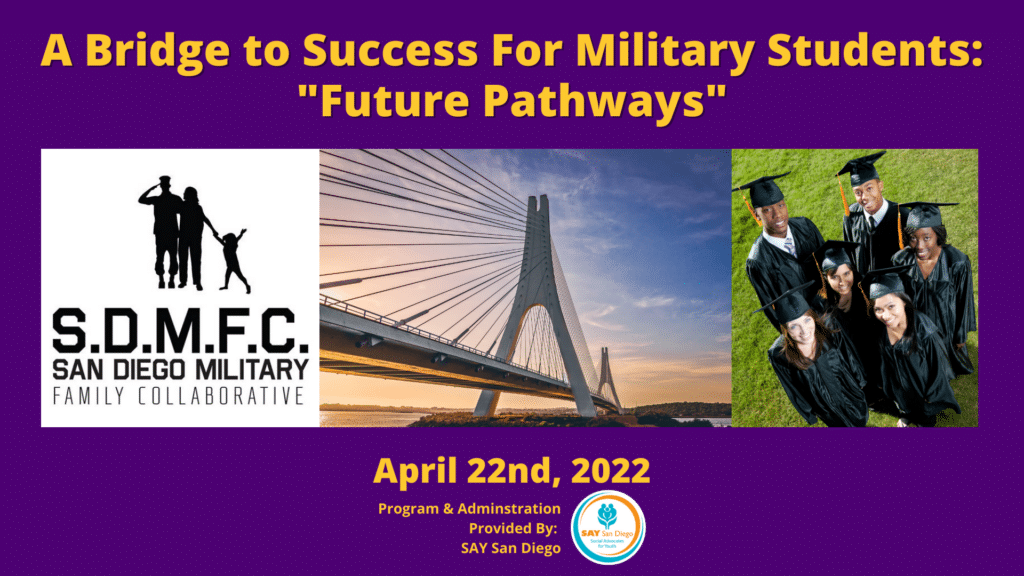 —————————- * —————————-
Welcome to the resource page for the San Diego Military Family Collaborative (SDMFC) Monthly Convening using Zoom for Friday, April 22nd, 2022! This convening topic is focused on A Bridge to Success For Military Students:
"Future Pathways."
Please sign in via our Attendance Sheet by clicking HERE!
FEATURED SPEAKERS INCLUDE:
Victor Rodriguez, Sr. Apprenticeship Consultant – State of CA/Division of Apprenticeship Standards: Email: vrodriguez@dir.ca.gov. Victor Rodriguez is the Senior Apprenticeship Consultant for the Division of Apprenticeship Standards (DAS) in the San Diego Field Office. He earned his Master's degree in Public Administration from Cal State-Hayward and an undergraduate degree from Cal State Long Beach. Victor has over 35 years of experience with the State of California. For 16 years, Victor worked in youth development for the California Conservation Corps and for the last 19 years with DAS.
Marquest Glover, Student Services Assistant- San Diego College of Continuing Education: Email: sdcceoutreach@sdccd.edu. Marquest has served in this role for over 10 years. As a SDCCE graduate, he has a personal and professional understanding of SDCCE. He is dedicated to meeting students where they are and equipping students with the information and resources needed to be successful.
Suzie Johnson, Scholarship Chair- Navy League San Diego Council- Scholarships Program: Email: johnson.suzie@outlook.com. Suzie was born and raised in Southern California where her father was a Navy dentist serving the 1st Marine Division out of Camp Pendleton. She has lived in San Diego since a PCS move here in 1994 with her spouse, an active-duty Navy sailor at the time. She is the mother of two grown daughters and she has worked in the field of legal technology for 26 years, the past 17 with the San Diego County Regional Airport Authority. Having navigated the often frustrating landscape of college funding for two children herself, she is passionate about the cause for military-dependent students. Suzie has chaired the Alexander Kreiglowa Scholarship program of the San Diego Navy League since 2019.
FEATURED PROGRAM TODAY:
Discussions with panelists on pathways for military youth to consider following high school graduation followed by organizations you may not be aware of that have scholarship opportunities. We'll have breakout sessions to connect with one another and Q&A for audience members as well.
> VIEW THE CONVENING RECORDING HERE <
(Following the event date)
*****************************************************************************************************************
CONVENING MATERIALS AND RESOURCES
For your convenience, below you will find resources and relevant links that will be referred to in this Convening.
SDMFC Materials
COMMUNITY RESOURCES REFERENCED IN TODAY'S CONVENING:
DID YOU KNOW?
The Month of the Military Child was established by Defense Secretary Casper Weinberger and the Department of Defense has honored his initiative ever since.

Purple is the color of the Month of April in order to reflect the unity of all branches in honoring the military child. The colors of Navy blue, Airforce blue, Coastguard Blue, Army green, and Marine Corps red combine to make purple.

MCEC is an advocate for the Purple Star School Program that is working to solve the issue of difficult school transitions and school personnel who are not confident in helping military students.

https://www.militarychild.org/

There are currently 1.2 million military children of active duty members worldwide.

https://www.aasa.org/content.aspx?id=8998

Nearly 80 percent of military children attend public schools throughout the United States.

https://www.aasa.org/content.aspx?id=8998

The average military family moves three times more often than their civilian counterpart

https://www.aasa.org/content.aspx?id=8998
GENERAL RESOURCES:
Federal Student Aid:

Provides financial aid for college or graduate school students based off family's financial situation. More Info Here:

https://studentaid.gov/h/apply-for-aid/fafsa

San Diego College of Continuing Education:

Provides many free educative classes and opportunities in academic areas such as automotive, child development, clothing and textiles, high school diploma, information technology, hospitality/culinary arts, digital media, and more.

Division of Apprenticeship Standards (DAS)

Application to become an Apprentice:

https://www.dir.ca.gov/databases/das/descOfAppr.html,

they also provide apprenticeship opportunities specifically catered for Veterans

https://www.dir.ca.gov/DAS/Veterans.html
COMMUNITY RESOURCES:
VIDEO RESOURCES:
ADDITIONAL FLYERS & HANDOUTS:
DAS – California Apprenticeship Flyer
SDCCE Outreach – How to Connect! Flyer
College Pathway Handouts
https://drive.google.com/drive/folders/1zr9_iawP8KfkinEr1kBghjVqyjI1l8HC?usp=sharing
ADDITIONAL RESOURCES FROM WIWMPK FORUM, "STRESS OF SUCCESS" FOR MIL FAMILIES:
San Diego County Crisis Line (888) 724-7240
Also, here are the two links to conversation starters that were mentioned during the event:
CONVENING FACT SHEET:
REQUEST THROUGH DANNY
SDMFC UPCOMING EVENTS
Feel Good Fridays: Currently on Pause
MTSE Action Team Meeting: May 12th, 2022 from 10:00am-11:00am (contact Danny/Shelby Thomas sthomas@zero8hundred.org for details)
MTSE Virtual Workshop: May 19th, 2022 from 5:00pm-7:00pm (registration required)
WIWMPK Action Team Meeting: May 26th, 2022 from 12:30pm-1:30pm (confirm with Stacy Chiles-

schiles@saysandiego.org

)

SDMFC Members-Only Training: June 2022; Members are welcome to contact Danny for the recording of the previous workshop
*SDMFC will be using Zoom to convene these virtual meetings for the time being, where you can join us through the comfort of your webcam or phone. In order to fully participate in these virtual meetings, SDMFC recommends using a smartphone or computer to access Zoom. You are also able to participate by calling in, but will not be able to access the online materials and activities that will be presented. To utilize Zoom, you will need to do the following:
Call in using your phone or join using a Zoom Account on your smartphone or computer(to be able to fully participate in activities we recommend using a computer) Sign-Up for a free account using your work email: https://zoom.us/signup Tune in to SDMFC's Facebook page for the Zoom link or copy from below!
CONVENING CREDENTIALS:
Meeting ID:
Passcode:
One tap mobile:
If you require assistance please do not hesitate to contact us! To stay most updated on SDMFC news, please review the SDMFC Facebook page https://www.facebook.com/sdmilfam/. We will continue to share resources for the community at large including information on resources individuals can access online as well as fun family activities you may consider enjoying together.