August 2018 Convening Recap: Employment
Posted on: August 31, 2018 | Posted in: Community Blog, Information of the Month
On August 24, the monthly San Diego Military Family Collaborative convening covered the topic of Employment. Over 50 military providers, agencies, and individuals gathered to learn valuable information on the various employment opportunities available to transitioning service members or veterans, their spouse, and their children. Our guest presenters and panel represented Easterseals Southern California, DOL VETS, Blue Star Families, Hire Heroes USA, and VetCTAP. Thank you to our panelists for sharing their knowledge and expertise!
SDMFC also provided a Factsheet loaded with information, including some fascinating (and very current) statistics on military family employment, helpful websites for job-seekers, and a chart showing education level vs. pay rates, among other things.
Check out our fact sheet below or download it!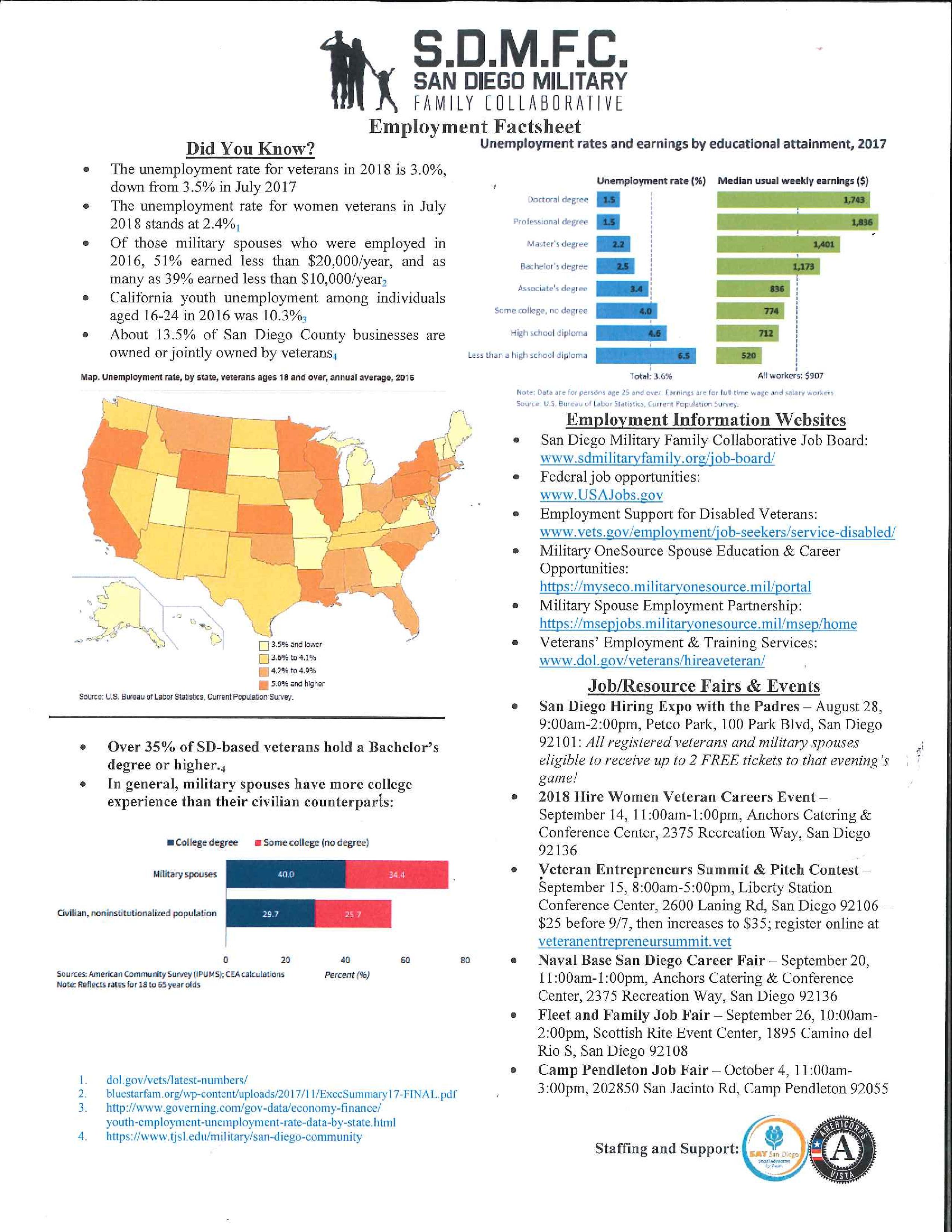 Interested in more information?
SDMFC Monthly Convenings are every 4th Friday of the month, 10:00am – 12:00pm @ Mission Valley Library. Join us on September 28th, for our next one on New Parent Support!
Keep connected to our convenings, newsletters, and other community events at https://www.facebook.com/sdmilfam/
Please see below if you would like to watch the panel on Facebook LIVE or to read our panelist bios.
See here for the Facebook LIVE stream of our August 2018 Convening
Panelist Biographies
Amy Dodson (Hire Heroes USA) – Amy is the Area Manager for Hire Heroes USA's California office, but is originally from South Carolina. She graduated with a Bachelor's degree in Business Economics from Wofford College in Spartanburg, SC and a Master's Degree in Health Services Management from Webster University in Jacksonville, NC. She is a military spouse to a United States Marine and the mother of 2 boys, JJ age 14 and Gabe age 11. Before coming to Hire Heroes USA, Amy worked with transitioning service members in various capacities. She was a facilitator for the Department of Labor, where she conducted three-day employment workshops for transitioning military going through the Department of Defense Transition Program. She then worked as a Work and Family Life Consultant for the Transition Program at Naval Base Coronado, CA. She also volunteers her time as a Family Readiness Advisor for the military units, to which her husband is attached, to provide support and guidance to military spouses and families during special duty assignments and deployments. Amy was recognized as the 2013 Military Spouse Volunteer of the Year for the First Battalion of the Recruit Training Regiment, Marine Corps Recruit Depot, San Diego, CA. Amy led the California Office to be recognized as Hire Heroes USA's 2017 Office of the Year and was awarded the 2017 CEO Award for Leadership. adodson@hireheroesusa.org
John Funk (Easterseals Southern California) – Captain John W. Funk, United States Navy, Retired, has served Easterseals Southern California as Director of Operations, Bob Hope Veterans Support Program since 2013. He leads Easterseals' military and veteran services in Southern California with a primary focus on transitioning service members and veterans achieving their post-military employment goals. He served in five squadrons making deployments to the Atlantic and Pacific Oceans, the Mediterranean Sea, and the Arabian Gulf and operated on nine different ships. John was the Commanding Officer of the HSL-44 Swamp Foxes from 2001-2002. The highlight of John's 28 year career was serving as the Captain of the amphibious assault ship USS Bonhomme Richard from 2009-2010 where he conducted maritime security operations in support of the Global War on Terrorism. As the ship's Captain, he led his ship and crew to unprecedented success in operations and professional achievements. John's staff assignments included Strategy Development Division Chief for the Chairman of the Joint Chiefs of Staff and Executive Assistant to the Commander, Space and Naval Warfare Systems Command (SPAWAR). John is a 1984 graduate of the United States Naval Academy. He earned a Master of Science degree in Operations Research from the Naval Postgraduate School in Monterey, California in 1993 and a Master of Science degree in National Resource Strategy from the National Defense University in Washington DC in 2005. John.Funk@essc.org
Maarla Milligan (U.S. Dept. of Labor – VETS) – Maarla Milligan joined the VETS team as the Assistant Director in San Diego in 2012, after completing her MBA. She is a Veteran of the U.S. Navy, and after completing her service, worked in various private and government entities, to include a position as the Transition Assistance Program Coordinator with the Employment Development Department. Maarla actively participates with several community organizations, such as the San Diego Military Family Collaborative, the San Diego Veterans Coalition, and San Diego Regional Chamber of Commerce. In her home life, Maarla is married to her wonderful husband Sean and they have 3 beautiful daughters, Isabella, Madeline, and Cooper. Milligan.Maarla.k@dol.gov
Laura Torres (Blue Star Families) – Laura Torres is the San Diego Career Manager for Blue Star Families, supporting Military spouses in the San Diego Region. Laura supports one on one with spouses to find a meaningful career; by addressing the gap in recent work experience, supplementing with training opportunities to enhance career readiness or straight forward connecting spouses to the employer with immediate job opportunities. ltorres@bluestarfam.org
Janis Whitaker (VetCTAP) – Janis has over 25 years' experience in Corporate Learning and Development. She has also taught at several Universities. She earned her Master's Degree in Human Performance and authored the popular book, Interviewing by Example. Since 2009, Ms. Whitaker has provided workshops in job search techniques. And in 2011, she transferred those skills to work with military members and veterans transitioning into the civilian workplace. Janis is one of the founders of JBS Transition Experts (also known as VetCTAP) and serves as the Executive Director. Her husband is a retired Air Force Officer. janis@vetctap.org
Post By: Derek Armstrong. Derek is an AmeriCorps VISTA for the San Diego Military Family Collaborative. He is proud to serve those who have served.