July 2018 Convening Recap: Back-to-School Resources
Posted on: August 3, 2018 | Posted in: Community Blog, Information of the Month
On July 27, the San Diego Military Family Collaborative introduced the topic of the month on Back-to-School Resources. Over 70 military providers, agencies, and individuals gathered to learn valuable information on returning to school and seeking higher education, and what it means to work in this area and the unique issues and trends that are seen in the community. Our guest presenters and panel represented Homeschooling, Military OneSource, Marine Corps Air Station Miramar, San Diego Public Library, and the Exceptional Family Resource Center. Thank you to our panelists for sharing their knowledge and expertise!
SDMFC also provided a Fact Sheet loaded with helpful information, including contacts for School Liaison Officers, a list of San Diego school districts, and college preparation websites, among other things.
Check out our fact sheet below or download it!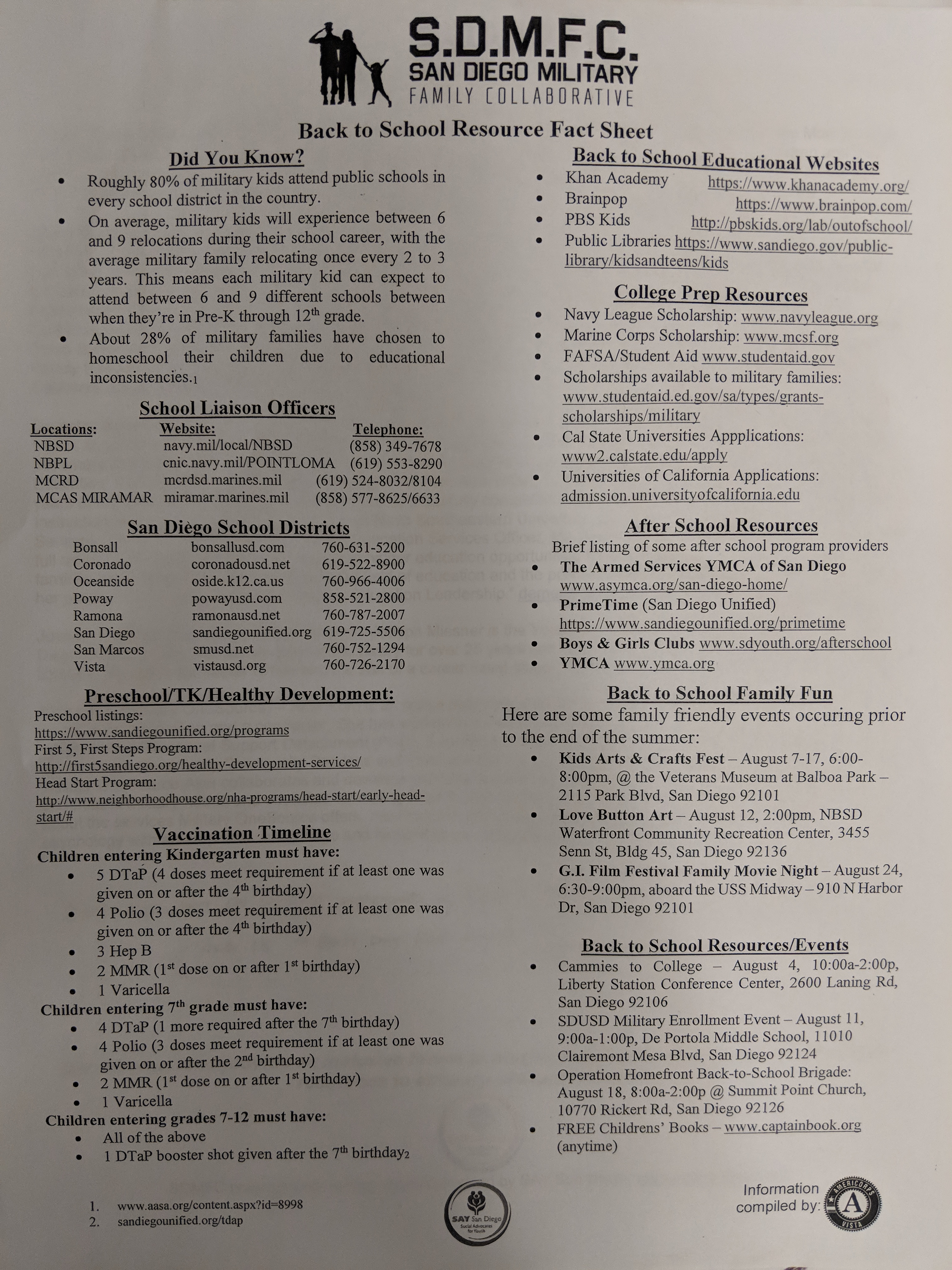 SDMFC Monthly Convenings are every 4th Friday of the month, 10:00am – 12:00pm @ Mission Valley Library. Join us on August 24th for our next one on Employment!
Keep connected to our convenings, newsletters, and other community events at https://www.facebook.com/sdmilfam/
Please see below if you would like to watch the panel on Facebook LIVE or to read our panelist bios.
See here for the Facebook LIVE stream of our July 2018 Convening
Panelist Biographies
Tiffany Parks (Marine Veteran/Active Duty Navy Spouse/Mom/Homeschool Group) – Tiffany served in the Marine Corps for 10 years as an Air Traffic Controller and has been a Navy spouse for the past 4 years. She has 3 children and has been homeschooling them for 2 years. Tiffany has a degree from National University and is currently a law student at California Western. parkstyx@gmail.com
Joyce Clark (Exceptional Family Resources Center) – Joyce Clark is the manager of the Family Empowerment Center Project for the Exceptional Family Resource Center, serving San Diego and Imperial Counties. Since 2001, Joyce has supported families of children with disabilities in need of information, resources and assistance with navigating special education programs and services, and other systems of care. Joyce has served as president of the Down Syndrome Association of San Diego and in other leadership roles on local, state and national advisory boards which include California Down Syndrome Advocacy Coalition, SDUSD Community Advisory Committee for Special Education, National Down Syndrome Society and the Local Self Determination Advisory Committee. Prior to her work with the Exceptional Family Resource Center, Joyce worked as a Registered Nurse in critical care for 25 years in Massachusetts and California. joyce.clark@sdsu.edu
Demetra Anderson (Education Services Officer Miramar) – Ms. Demetra Anderson is a native of Indianola, Mississippi. She is an active duty marine spouse and mother to one daughter. Demetra attended Alcorn State University in Lorman, MS where she received a Bachelor's of Science Degree in Education and a Master of Science Degree in Secondary Education: Concentration area Guidance Counseling. Her work history in the field of education encompasses over 20 years of experience. In the summer of 2009, she successfully completed her Education Specialist Degree in Curriculum Instruction Management and Administration at Nova Southeastern University. Currently she serves as the Education Services Officer for MCAS Miramar. As the Education Services Officer, Ms. Anderson is responsible for the oversight and full range of activities affiliated with access to higher education opportunities for active duty service members and their families. Her passion and commitment to the field of education and the positive impact that it has on society, motivated her pursuit of a Doctoral Degree in "Higher Education Leadership." demetra.anderson@usmc.mil
Joseph Miesner (San Diego Public Library) – Joseph Miesner is the Youth and Family Services Manager for the San Diego Public Library. He has worked for the library for over 25 years and has a long history of advocating for public libraries. Joseph is the father of five and the son of a career naval officer. JMiesner@sandiego.gov
Akia Isom (Military OneSource) – Akia Isom is an active duty navy spouse who has worked for the DOD for the last ten years as both a civilian and a contractor. She has worked in a variety of positions and fields to include: food service, a travel clerk at Personnel Support Detachment (PSD), a verifying official and Site Security manager at DEERS/ID cards, Victim Advocate at Army Community Services and Fleet and Family, and a SARC. In her current role as a contractor with Military OneSource Akia collaborates and develops partnerships with military and community support services to understand military needs and educates service members, their families, community partners, and military leadership about the services Military OneSource offers. Akia has a bachelors in political science and a masters in clinical psychology with an emphasis in marriage and family therapy. akia.isom@militaryonesource.com
Looking for more back-to-school resources? See below:
Military Scholarships & Education Assistance:
Military Kids in San Diego:
Financial Aid:
California-Specific College Resources:
***VERY special thanks to Demetra Anderson for assisting in compiling this list!***
Post By: Derek Armstrong. Derek is an AmeriCorps VISTA for the San Diego Military Family Collaborative. He is proud to serve those who have served.