August 2021 Convening
Posted on: August 17, 2021 | Posted in: Community Blog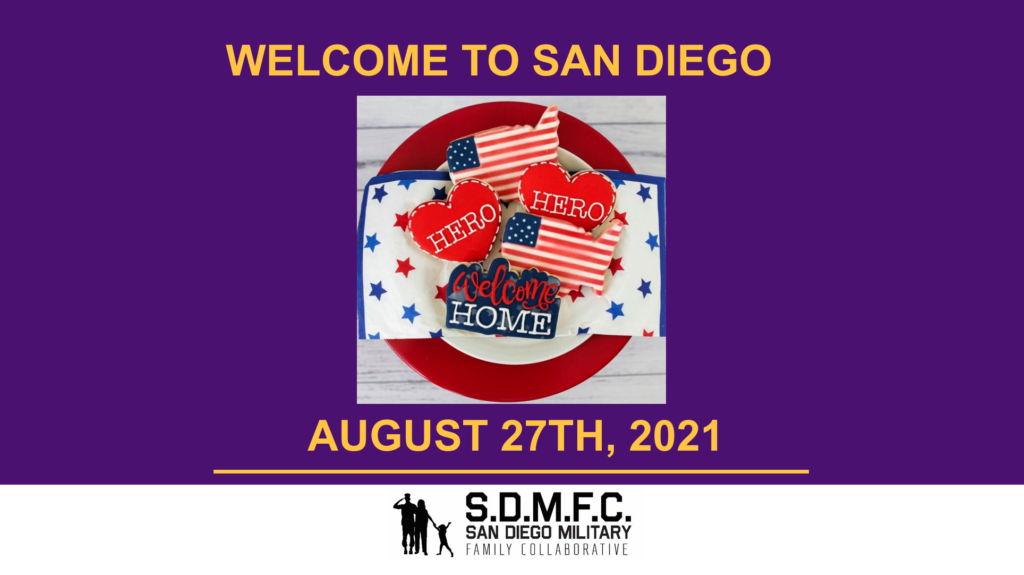 —————————- * —————————-
Welcome to the resource page for the San Diego Military Family Collaborative (SDMFC) Monthly Convening using Zoom for Friday, August 27th, 2021! This convening was dedicated to the topic of "Welcome to San Diego"
Please sign in via our Attendance Sheet by clicking HERE!
Convening Featured Resources from the Following Organizations:
Are you interested in getting to know more about our SDMFC members? Please visit SDMFC Members.
> VIEW THE CONVENING RECORDING HERE <
(Following the event date)
*******************************************************************************************************************************************
CONVENING MATERIALS AND RESOURCES
For your convenience, below you will find resources and relevant links that will be referred to in the Convening.
SDMFC Materials:
COMMUNITY RESOURCES FOR THIS CONVENING:
COURAGE TO CALL: This is a free, confidential, veteran-staffed 24/7 helpline dedicated to assisting active-duty military personnel, veterans, reservists, guard members, and their families, regardless of discharge status, through information, guidance, and referrals. For more information, visit Peer Support at https://www.courage2call.org/what-we-do/peer-support/.
FLEET & FAMILY SUPPORT CENTER SAN DIEGO: Fleet and Family Support Centers provides services such as relocation assistance, new parent support, deployment services, clinical counseling services, financial management counseling, family employment services, family advocacy, and transition assistance programs. For more information, visit Navy Wounded Warrior (NWW) at https://sandiego.navylifesw.com/programs/1e88ff98-b7a3-4781-9303-ae60ae4d09d5.
MILITARY CHILD EDUCATION COALITION (MCEC): Supports all military-connected children by educating, advocating, and collaborating to resolve education challenges associated with the military lifestyle. For more information, visit Helping Military Students at https://www.militarychild.org/?gclid=CjwKCAjw3_KIBhA2EiwAaAAlisEXrXitCSNS4zbdHSkKIZWgEYnmzMoVkwRP1tPGoIpc3vPrC276WBoCvQYQAvD_BwE.
STEVEN A. COHEN MILITARY FAMILY CLINIC AT VVSD: Helping Veterans and their families make it back to better. For more information, visit Veteran and Family Therapy at https://www.cohenveteransnetwork.org/backtobetter/?utm_source=google&utm_campaign=SDG-0013-SEM&utm_term=Family&utm_medium=cpc&gclid=CjwKCAjw3_KIBhA2EiwAaAAlimJhcn4mGl04-HvoPXQ7YlGtvMqPhm2AvZedSDyATG_4gYKQNyypzBoCAtgQAvD_BwE.
ZERO8HUNDRED: Assists transitioning navy, marine corps, air force, Army, reservists, National Guardsmen & their spouses. For more information, visit Integrating after the Military at https://www.zero8hundred.org/integrating-after-the-military.
CONVENING FACT SHEET: For insights on today's topic, please review the factsheet below to help you better understand the subject being discussed today!
SDMFC UPCOMING EVENTS:
*SDMFC will be using Zoom to convene these virtual meetings for the time being, where you can join us through the comfort of your webcam or phone. In order to fully participate in these virtual meetings, SDMFC recommends using a smartphone or computer to access Zoom. You are also able to participate by calling in, but will not be able to access the online materials and activities that will be presented. To utilize Zoom, you will need to do the following:
August 2021 CONVENING CREDENTIALS:
If you require assistance please do not hesitate to contact us! To stay most updated on SDMFC news, please review the SDMFC Facebook page https://www.facebook.com/sdmilfam/. We will continue to share resources for the community at large including information on resources individuals can access online as well as fun family activities you may consider enjoying together.