July 2021 Convening
Posted on: July 6, 2021 | Posted in: Community Blog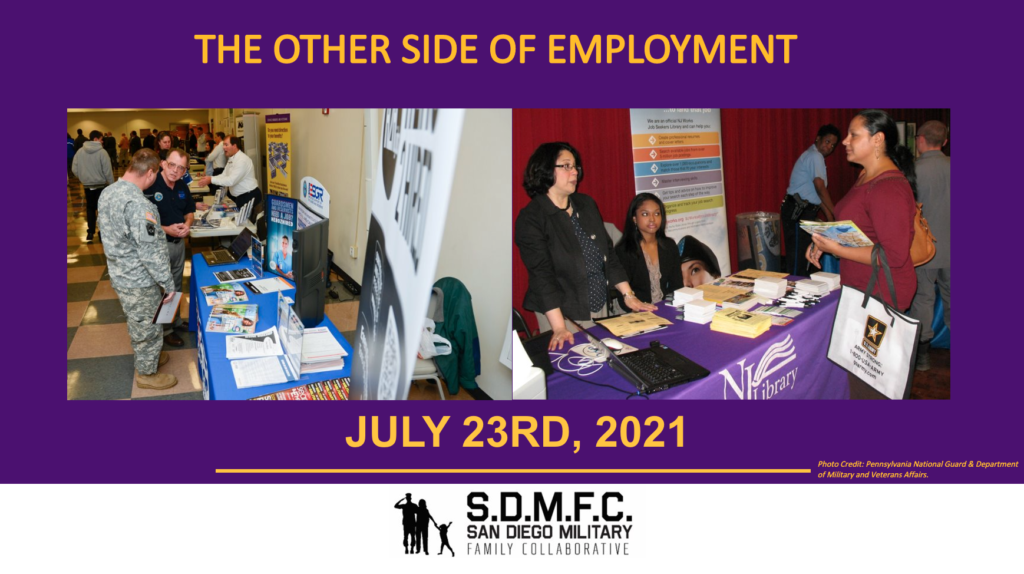 —————————- * —————————-
Welcome to the resource page for the San Diego Military Family Collaborative (SDMFC) Monthly Convening using Zoom for Friday, July 23, 2021! This convening was dedicated to the topic of "The Other Side of Employment"
Please sign in via our Attendance Sheet by clicking HERE!
Convening Featured Guests Include:
Stanley Henry Beason
TMAP/FERP Supervisor
DoD SkillBridge
Stanley H. Beason is the contract Transition Assistance Management Program (TAMP) and Family Employment Readiness Program (FERP) supervisor for the Fleet and Family Support Center (FFSC) San Diego. He oversees all Transition related program services for Naval Base San Diego. Prior to his start with the Fleet and Family Support Center San Diego in October 2004, Stan served as a Command Master Chief of Helicopter Anti-Submarine Squadron-Six which was his last tour of duty in the U.S. Navy. Stan served on seven U.S. Navy ships and three shore commands over his 30 year Navy career. Highlights of his Navy career included participating in the evacuations of Saigon, Vietnam on board the USS DENVER LPD-9 and evacuation of Mogadishu, Somalia while serving onboard the USS FORT FISHER LSD-40. While attending the U.S. Navy's Senior Enlisted Academy he was fortunate enough to get underway onboard the USS Constitution in Boston, MA.
Joanna Sansoterra
Program Coordinator
Onward to Opportunity – Institute for Veterans and Military Families (IVMF)
Joanna was born in Loma Linda, California, and shortly after her father was assigned to North Island Naval Air Station as a civil servant. Her mother, Lucia worked in the non-profit sector including a stint with Centro de la Familia in Logan Heights in the '70s. She is an integral member of San Diego's veteran community bringing with her nearly three decades of visionary leadership, organizing, and recruiting experience to San Diego, home of the nation's largest concentration of military personnel. Joanna served for 33 years in the Air Force. She currently serves on the Defense, Veterans & Military Affairs Committee of the San Diego Chamber. Currently, she works for Onward to Opportunity under the IVMF at Syracuse University since 2017. She was instrumental in laying the groundwork for O2O within Navy Region Southwest creating partnerships and alliances with the Navy and San Diego veteran's community. She was also instrumental in pushing for the first military parade in uniform with San Diego Pride. Joanna was inducted into the San Diego LGBT Center's Benjamin F. Dillingham, III and Bridget Wilson LGBT Veterans Wall of Honor recognizing LGBT veterans with ties to San Diego who have taken the oath to serve our country and have done so honorably and with distinction, acting as a role model in advancing equality. She recently completed her Masters in non-profit Leadership & Management at the University of San Diego. Joanna, along with her wife Stefanie lives in Imperial Beach, CA.
David Silva
Assistant Director
US Department of Labor
David Silva is an Assistant Director with the Veterans' Employment & Training Service (VETS) of the United States Department of Labor. Originally from Delano, California, David served in the United States Navy for four years. After the Navy, he attended Bakersfield College and the University of California at Santa Barbara where he earned his Bachelor of Arts in History. David continued his military service in the California Army National Guard for over eight years where he deployed stateside for Operation Nobel Eagle, Ukraine for Partnership for Peace, and Iraq for Operation Iraqi Freedom. David served as both enlisted and officer. David began work in the veteran's employment space when he joined the California Employment Development Department as a Disabled Veteran Outreach Program Specialist (case manager), Local Veterans Employment Representative (job developer), and Employment Program Manager. In management, David oversaw workforce programs for veterans, youth, adults, justice-involved, and employers. In February 2020 David joined VETS. VETS oversees grants and compliance that help veterans reach their full potential. With VETS, David investigates military discrimination claims, oversees grants that help homeless veterans, encourages employers to hire veterans, helps active-duty transition to civilian life, and helps veterans find employment. He lives in San Diego with his beautiful wife and three young, exceedingly energetic children. They like to take the kids for walks along the embarcadero and visit the area's many parks and beaches.
Charles Loftland
Warriors to Work Specialist
Wounded Warrior Project in San Diego
Charles Loftland has been a community change agent leader for over 25 years. He has been involved in educational consulting, workforce development, and community organizing. His passion for sustainability education has taken him through multiple and, sometimes, parallel careers in the military, non-profit and private sectors. Retired from the United States Air Force, Charles worked as a construction manager specializing in water systems and hydra-purification. This experience led to much of his interest in sustainable infrastructure and planning. While in the Air Force, he co-founded the Uplift Institute, a non-profit organization that focuses on sustainability through education, economics, regenerative infrastructure, and social equity. Charles has partnered with the organization in clean neighborhood campaigns in Philadelphia, voter registration drives in St Louis, and clean water initiatives in Flint, Michigan. An additional venture he was active in was the launch of the Uplift, Inc. Personnel and Staffing Services. His company focused on workforce development and employment placement in economically impacted urban communities in Philadelphia and southern New Jersey. After retiring from the Air Force, Charles entered the veteran's transition assistance realm and worked for Hire America Heroes in Seattle, and then Wounded Warrior Project in San Diego as an employment coach and career developer for the Warriors to Work Program.
> VIEW THE CONVENING RECORDING HERE <
(Following the event date)
*******************************************************************************************************************************************
CONVENING MATERIALS AND RESOURCES
For your convenience, below you will find resources and relevant links that will be referred to in the Convening.
SDMFC Materials:
COMMUNITY RESOURCES FOR THIS CONVENING:
CONVENING FACT SHEET: For insights on today's topic, please review the factsheet below to help you better understand the subject being discussed today!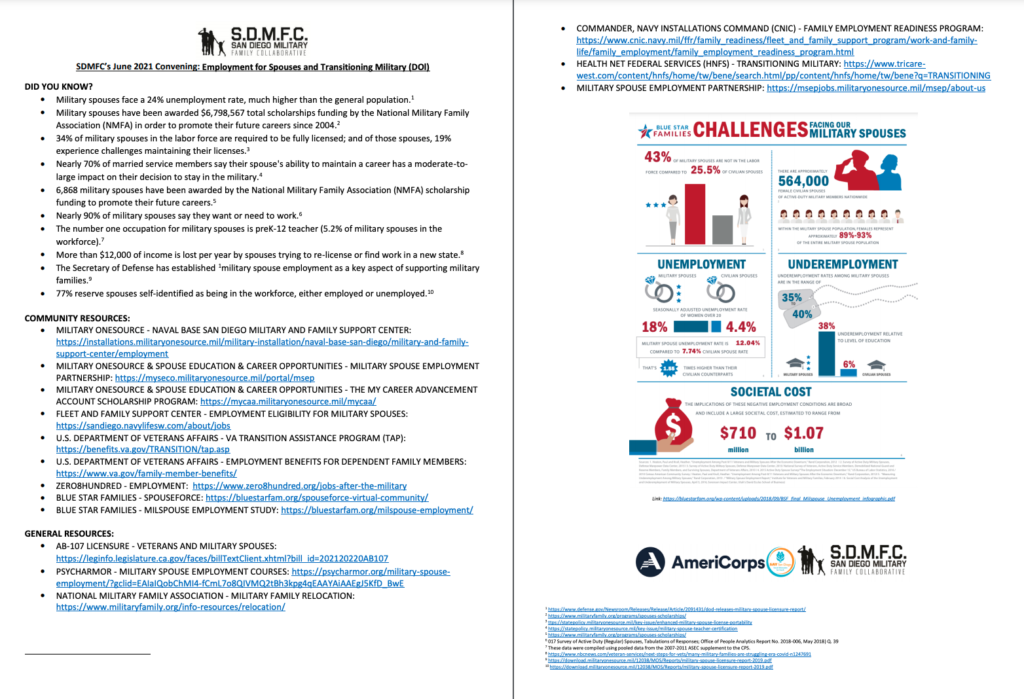 SDMFC UPCOMING EVENTS:
Feel Good Fridays

: August 6th & 20th at 1:00 pm

​

MTSE Action Team Meeting

: August 12th – 10:00 am – 11:00 am

​

MTSE: Virtual Workshop

: August 17th – 5:00 pm – 7:00 pm

​(Registration required, visit:

https://sdmilitaryfamily.org/transitions/

)

​

WIWMPK: Action Team Meeting

: August 26th – 12:30 pm-1:30 pm

​

(confirm with Stacy Chiles)

​

SDMFC August Convening

: August 27th, 10:00am-11:30am

​

SDMFC Members-Only Trainings

:

TBD; email coming to member POC's
*SDMFC will be using Zoom to convene these virtual meetings for the time being, where you can join us through the comfort of your webcam or phone. In order to fully participate in these virtual meetings, SDMFC recommends using a smartphone or computer to access Zoom. You are also able to participate by calling in, but will not be able to access the online materials and activities that will be presented. To utilize Zoom, you will need to do the following:
Call in using your phone or join using a Zoom Account on your smartphone or computer(to be able to fully participate in activities we recommend using a computer) Sign-Up for a free account using your work email: https://zoom.us/signup. Tune in to SDMFC's Facebook page for the Zoom link or copy from below!
July 2021 CONVENING CREDENTIALS:
Zoom Meeting: https://zoom.us/j/91722718716
Meeting ID: 917 2271 8716
Passcode: SDMFC721
One tap mobile: US: +16699006833,,91722718716#,,,,*53647455# or +12532158782,,91722718716#,,,,*53647455#
If you require assistance please do not hesitate to contact us! To stay most updated on SDMFC news, please review the SDMFC Facebook page https://www.facebook.com/sdmilfam/. We will continue to share resources for the community at large including information on resources individuals can access online as well as fun family activities you may consider enjoying together.