February 2021 Convening
Posted on: February 18, 2021 | Posted in: Community Blog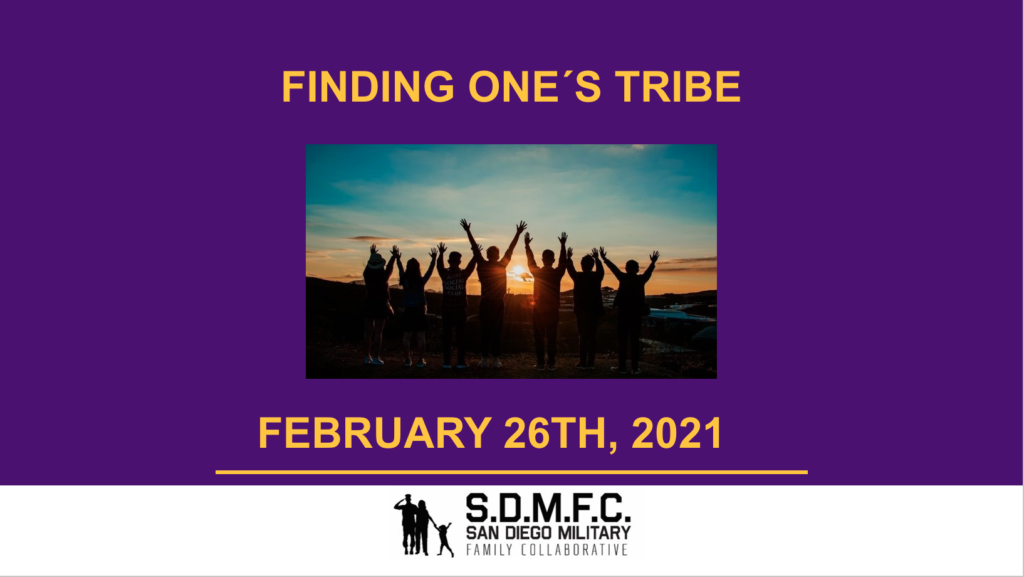 Welcome to the resource page for the San Diego Military Family Collaborative (SDMFC) Monthly Convening using Zoom for Friday, February 26th, 2021! This convening was dedicated to the topic to "Finding One's Tribe," as we start the new year.
Please sign in via our Attendance Sheet by clicking HERE
Convening Featured Guests Include:
Jennifer Steinberger
Work and Family Life Consultant
Fleet and Family Support Center, Bayview Hills Branch
(619) 987-0449
Hello, my name is Jennifer Steinberger Work and Family Life Consultant-Generalist with Fleet and Family Support Center. I have 28+ years' experience living and working within the military community, including 5 years as a member of the Fleet and Family Support Center staff. I am also, the Family Readiness Group Coordinator (FRG) for FFSC San Diego. I attended my first FRG meeting in 1992 as a new navy spouse and continued on as a member at large, board member, and advisor while my husband was on active duty. FRGs are about building community through social activities and need to know the information to boost the morale of service members, families, and their extended family. In my role as FRG Coordinator, I provide FRG Training, mentoring, and information, and referral. I look forward to putting my skills to work supporting the San Diego Family Military Collaborative.
Jennifer Fencl
Marine Corps Family Team Building
MCRD San Diego
619-718-3764
Jenn is a spouse of a retired Army Soldier who began working for the Marine Corps in 2016, specifically leading the L.I.N.K.S. Program. While her husband was on active duty, they moved 7 times while raising their 4 kiddos. At every new duty location, she worked hard to find a new tribe while staying connected to friends around the world. Each duty location presented unique opportunities to pitch in and do something new. Whether it was volunteering for the chapels or starting up a childcare co-op, Jenn was up for the new adventure. Networking can be challenging but she's a big believer in stepping outside of your comfort zone and taking a chance or asking for help! She has a passion for helping spouses do just that and that is one of the goals of the Marine Corps L.I.N.K.S. Program.
Jessica C. Flores
Volunteer Athletic Director
Team RWB San Diego Chapter
619-957-3094
A civilian volunteer, Jessica Flores began serving as the athletic director of Team Red, White, and Blue's San Diego chapter on January 1st of this year, having originally joined the leadership team in July 2019 as the athletic coordinator for rucking. Raised locally in a military household, Jessica returned to San Diego in 2011 to work for UC San Diego's Department of Music. As part of her own fitness and wellness journey, Jessica found Team RWB while participating in numerous races around San Diego County, and was immediately attracted to their mission, ethos, sense of team, and dedication to our veteran communities. While training for running events, Jessica found rucking (walking with a weighted rucksack) to increase resistance during regular walks and cardio exercise. Together with several coworkers at UC San Diego, she started the Triton Ruck Club, Southern California's most active GORUCK rucking club.

NOSC President
Alexia is a mother, military spouse, attorney, and former educator. She has spent her career advocating for families, children, and veterans – first as a teacher, then as an attorney. Her family returned to Coronado two years ago when her husband was once again stationed at Naval Air Station North Island choosing Coronado as their forever home. She is an active volunteer with the Coronado Band and Choir Boosters, Coronado Junior Woman's Club, Sacred Heart Catholic Church, Naval Officers' Spouses' Club San Diego, and local schools.
> VIEW THE CONVENING RECORDING HERE <
(Following the event date)
*******************************************************************************************************************************************
CONVENING MATERIALS AND RESOURCES
For your convenience, below you will find resources and relevant links that will be referred to in the February Convening.
SDMFC Materials
COMMUNITY RESOURCES on "Finding One's Tribe:
CONVENING FACT SHEET: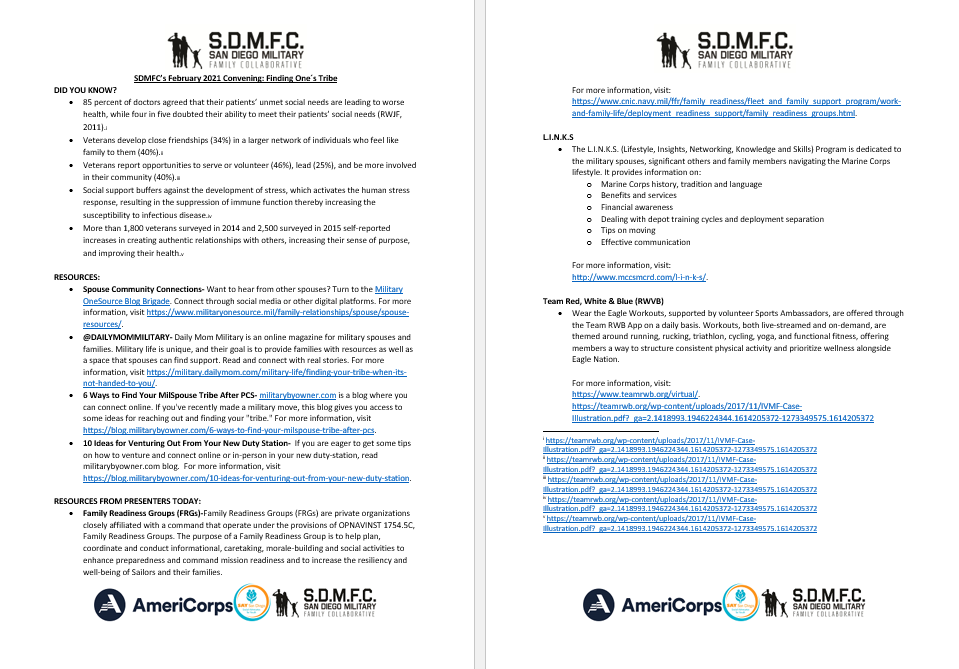 SDMFC UPCOMING EVENTS
Feel Good Fridays: March 5th, 19th: 1:00pm

MTSE Action Team Meeting: March 11th 10:00am-11:00am

Members-Only Trainings: Leading Through Change: March 23rd, 2021 9:30am-11:00am(Please get your membership applications/renewals in by March 15th)

WIWMPK: Action Team Meeting: March 25th 12:30pm-1:30pm

SDMFC March Convening: March 26th– 10:00am-12:00pm (Financially Focused)

MTSE: Virtual Workshop: April 20th-10:00am-12:00pm (Registration required, visit: https://sdmilitaryfamily.org/transitions/)

WIMPK: Virtual Workshop: April 20th– 5:30pm-6:30pm (Registration requested, visit: https://wiwmpk2020-2021.eventbrite.com)
*SDMFC will be using Zoom to convene these virtual meetings for the time being, where you can join us through the comfort of your webcam or phone. In order to fully participate in these virtual meetings, SDMFC recommends using a smartphone or computer to access Zoom. You are also able to participate by calling in, but will not be able to access the online materials and activities that will be presented. To utilize Zoom, you will need to do the following:
Call in using your phone or join using a Zoom Account on your smartphone or computer(to be able to fully participate in activities we recommend using a computer) Sign-Up for a free account using your work email: https://zoom.us/signup Tune in to SDMFC's Facebook page for the Zoom link or copy from below!
FEBRUARY 26, 2021 CONVENING CREDENTIALS:
Passcode: SDMFC2021!
Meeting ID: 964 4680 9894
One tap mobile:
+16699006833,,96446809894#,,,,*7644697634# US (San Jose)
If you require assistance please do not hesitate to contact us! To stay most updated on SDMFC news, please review the SDMFC Facebook page https://www.facebook.com/sdmilfam/. We will continue to share resources for the community at large including information on resources individuals can access online as well as fun family activities you may consider enjoying together.