March 2021 Convening
Posted on: March 19, 2021 | Posted in: Community Blog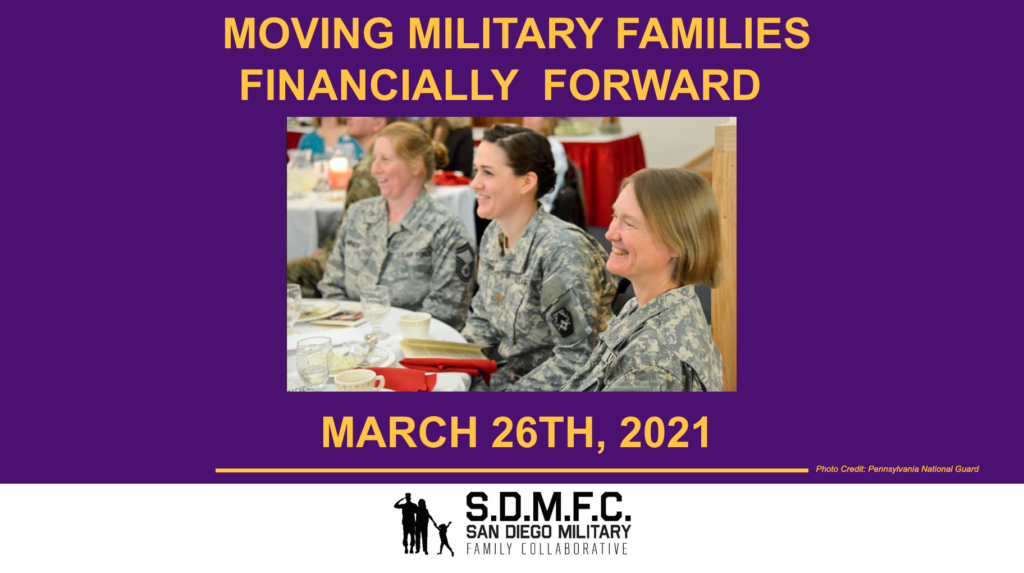 —————————- * —————————-
Welcome to the resource page for the San Diego Military Family Collaborative (SDMFC) Monthly Convening using Zoom for Friday, March 26th, 2021! This convening was dedicated to the topic of "Moving Military Families Financially Forward."
Please sign in via our Attendance Sheet by clicking HERE!
Convening Featured Guests Include:
Sara Bartz, BSW, CPFC
Social Worker
Support the Enlisted Project (STEP)
Sara is married to an EOD Tech in the Marine Corps and orders to bring her family to Camp Pendleton in Summer 2017. As a USMC spouse, Sara understands the struggles military families face and uses that experience to assist military families to achieve their financial goals. Sara earned her Bachelor's of Arts in Social Work from the University of Northern Iowa where she is originally from and in addition to her degree, she is a Certified Personal Finance Counselor.
Chase A. Peckham
Director, Community Outreach
San Diego Financial Literacy Center
Chase Peckham is the Director of Community Outreach for the San Diego Financial Literacy Center. In this role, he serves as the organization's liaison to high schools, colleges, associations, local businesses, and the armed services community. He focuses on financial wellness, education, and awareness, and he oversees educational content, serving clients and the general public.
Prior to working in financial literacy, Chase was the Associate Publisher of Golf Inc., an industry trade magazine, where he led the sales and organizational operations for both the monthly magazine and its conferences. Chase currently serves on the board of the California Jump$tart Coalition.
Chase's career began with the San Diego Padres. Over his 10 years with the Padres, he held many roles, including Video Production Assistant and concluding as a Senior Editor/ Producer. Along the way, Chase earned a 1999 Emmy Award for the Padres highlight video: ¨A Season of Heroes.¨ Chase has a bachelor's degree in communications from the University of San Francisco.
Shanel Morrow, M.S. AAPP, AFC
Personal Financial Manager
Fleet and Family Support Center
NAS North Island/Naval Base Coronado
A lifelong Navy dependent, Shanel earned her Master of Science degree at Florida State University in 2009 and has over a decade of experience in handling financial matters. She gained her AFC® certification shortly after joining FFSC in March 2017. Shanel is also the primary PFM responsible for San Diego's CFS registration and Virtual CFS registration. In addition to being part of a PFM dream team, Shanel enjoys spending time with her husband, pets, family and friends, and working out.
> VIEW THE CONVENING RECORDING HERE <
(Following the event date)
*******************************************************************************************************************************************
CONVENING MATERIALS AND RESOURCES
For your convenience, below you will find resources and relevant links that will be referred to in the February Convening.
SDMFC Materials:
COMMUNITY RESOURCES on ¨Moving Military Families Financially Forward¨:
COVID-19 AND MILITARY SERVICE MEMBER FINANCES
The COVID-19 pandemic has caused significant changes to our daily routines and environment. Navigate the financial impacts of the coronavirus by keeping up with the latest policies and resources available to the military community.
For more information, visit COVID-19 and Military Service Member Finances.
SDMAC: MILITARY RETIREE PAY STUDY
Ending taxation of military retiree pay in California: An Analysis of the Costs & Benefits. California is one of only nine states, including Georgia, Montana, New Mexico, North Dakota, Oregon, Rhode Island, Vermont, and Virginia, to fully tax military retirement pays. Ten states partially tax military retiree pensions and 31 states fully exempt military retiree pay from taxation.
To read the full study, visit Military Retiree Pay Study.
SDMAC: SAN DIEGO MILITARY ECONOMIC IMPACT REPORT
SDMAC's annual Military Economic Impact Report highlights the positive impact of federal defense budgets, veteran benefits, and community involvement by our local military, veterans, and their families on our local and state economies.
To read the full report, visit San Diego Military Economic Impact Report.
PERSONAL FINANCE FOR

MILITARY FAMILIES
The financial strategies, rules, and resources for military families are often very different from those for civilians. In this study, you will find practical, easy-to-understand information about being financially prepared for deployment, buying a home, minimizing taxes, holding down insurance costs, and avoiding financial schemes that too often target military families.
To read the full study, visit Military Families.
211 SAN DIEGO: FINANCIAL ASSISTANCE & TAXES
Many individuals and families in the San Diego region face financial obstacles that prevent them from a healthy and quality life. 211 San Diego can help people access financial assistance and public benefits to help them get back on their feet.
For more information, visit 211 San Diego.
MilTax from Military OneSource and the Department of Defense is a free tax service that includes tax prep and e-filing software and personalized support that address the realities of military life.
How MilTax can help:
Navigating your Economic Impact Payment

Understanding COVID-19 tax implications

Reporting deployment and combat

pay

Extensions and deadlines

Tax forgiveness and refunds for survivors

And much more!
For more information, visit MilTax.
CONVENING FACT SHEET: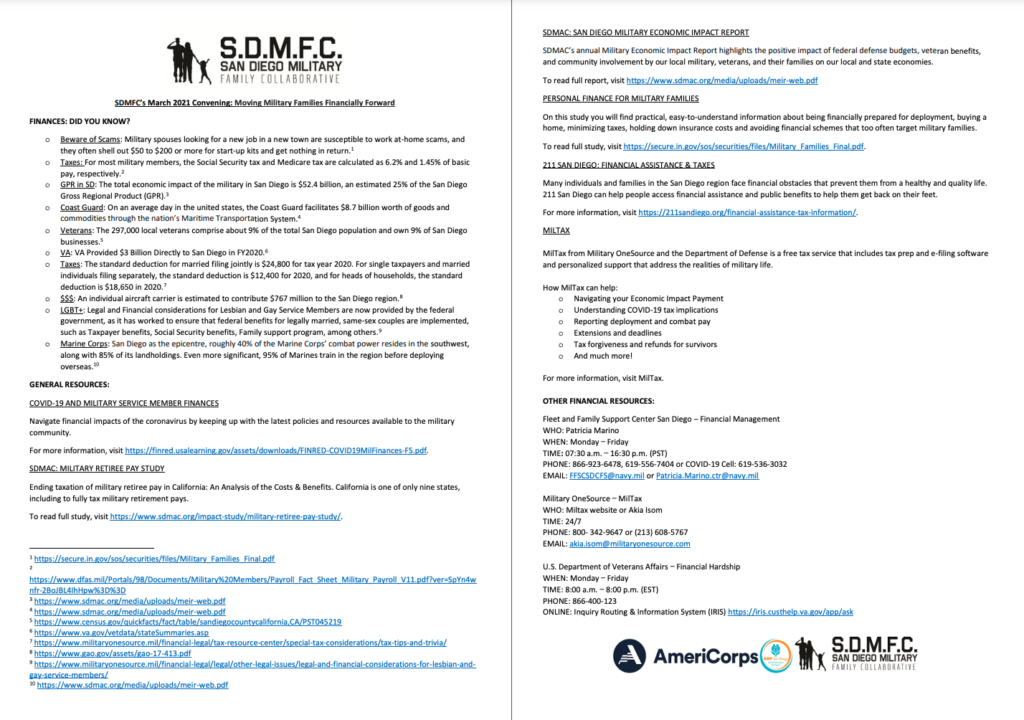 SDMFC UPCOMING EVENTS:
Feel Good Fridays: April 2nd, 16th & 30th – 1:00 pm
MTSE Action Team Meeting: April 8th – 10:00 am-11:00 am
MTSE: Virtual Workshop: April 20th-10:00am-12:00pm (Registration required, visit: https://sdmilitaryfamily.org/transitions/)
WIWMPK: Virtual Workshop: April 20th– 5:30pm-6:30pm (Registration requested, visit: https://wiwmpk2020-2021.eventbrite.com
WIWMPK: Action Team Meeting: April 22nd – 12:30 pm-1:30 pm
*SDMFC will be using Zoom to convene these virtual meetings for the time being, where you can join us through the comfort of your webcam or phone. In order to fully participate in these virtual meetings, SDMFC recommends using a smartphone or computer to access Zoom. You are also able to participate by calling in, but will not be able to access the online materials and activities that will be presented. To utilize Zoom, you will need to do the following:
Call in using your phone or join using a Zoom Account on your smartphone or computer(to be able to fully participate in activities we recommend using a computer) Sign-Up for a free account using your work email: https://zoom.us/signup Tune in to SDMFC's Facebook page for the Zoom link or copy from below!
March 26, 2021 CONVENING CREDENTIALS:
Zoom Meeting: https://zoom.us/j/96612309330
Meeting ID: 966 1230 9330
Passcode: SDMFC2021
One tap mobile +16699006833,,96612309330#,,,,*526259715# US (San Jose) – +12532158782,,96612309330#,,,,*526259715# US (Tacoma)
If you require assistance please do not hesitate to contact us! To stay most updated on SDMFC news, please review the SDMFC Facebook page https://www.facebook.com/sdmilfam/. We will continue to share resources for the community at large including information on resources individuals can access online as well as fun family activities you may consider enjoying together.