July 2022 Convening
Posted on: August 5, 2022 | Posted in: Community Blog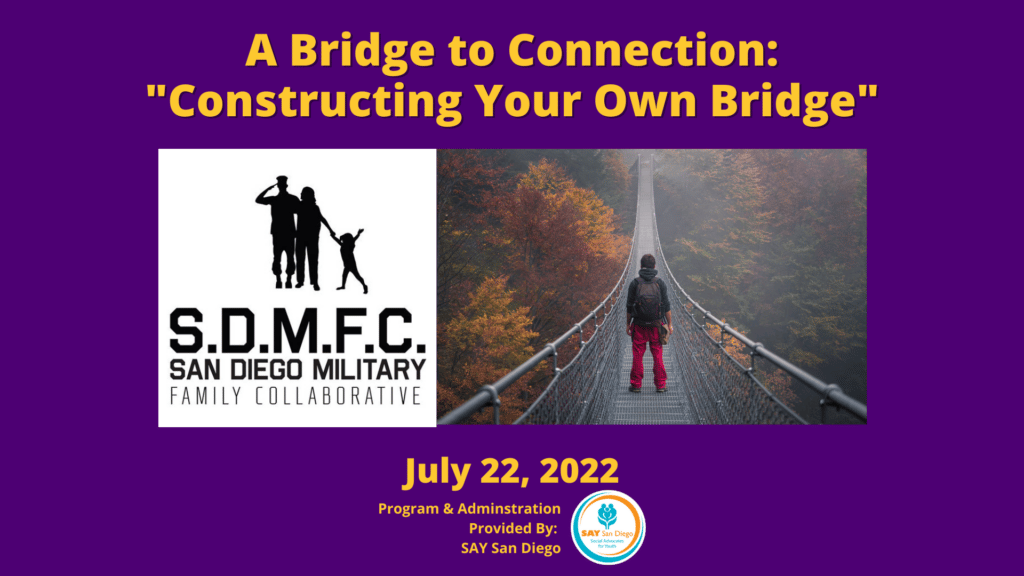 —————————- * —————————-
Welcome to the resource page for the San Diego Military Family Collaborative (SDMFC) Monthly Convening using Zoom for Friday, July 22nd, 2022! This convening topic is focused on "A Bridge to Connection: Constructing Your Own Bridge"
Please sign in via our Attendance Sheet by clicking HERE!
FEATURED PROGRAM TODAY:
Discussions with service providers showcased the power of connection among one another in 3 networking sessions, audience members were able to connect and share resources and insights into one another's work, but also better understanding how to support military families in their time of need.
> VIEW THE CONVENING RECORDING HERE <
(Following the event date)
*****************************************************************************************************************
CONVENING MATERIALS AND RESOURCES
For your convenience, below you will find resources and relevant links that will be referred to in this Convening.
SDMFC Materials
COMMUNITY RESOURCES REFERENCED IN TODAY'S CONVENING:
DURING DISCUSSIONS, WE WERE ABLE TO RECORD OUR BREAKOUT ROOM DISCUSSIONS ON THIS JAMBOARD:
CLICK HERE FOR IN-DEPTH LOOK AT OUR CONNECTIONS
SDMFC UPCOMING EVENTS
*SDMFC will be using Zoom to convene these virtual meetings for the time being, where you can join us through the comfort of your webcam or phone. In order to fully participate in these virtual meetings, SDMFC recommends using a smartphone or computer to access Zoom. You are also able to participate by calling in, but will not be able to access the online materials and activities that will be presented.
To utilize Zoom, you will need to do the following:
CONVENING CREDENTIALS:
If you require assistance please do not hesitate to contact us! To stay most updated on SDMFC news, please review the SDMFC Facebook page https://www.facebook.com/sdmilfam/. We will continue to share resources for the community at large including information on resources individuals can access online as well as fun family activities you may consider enjoying together.