May 2021 Convening
Posted on: May 24, 2021 | Posted in: Community Blog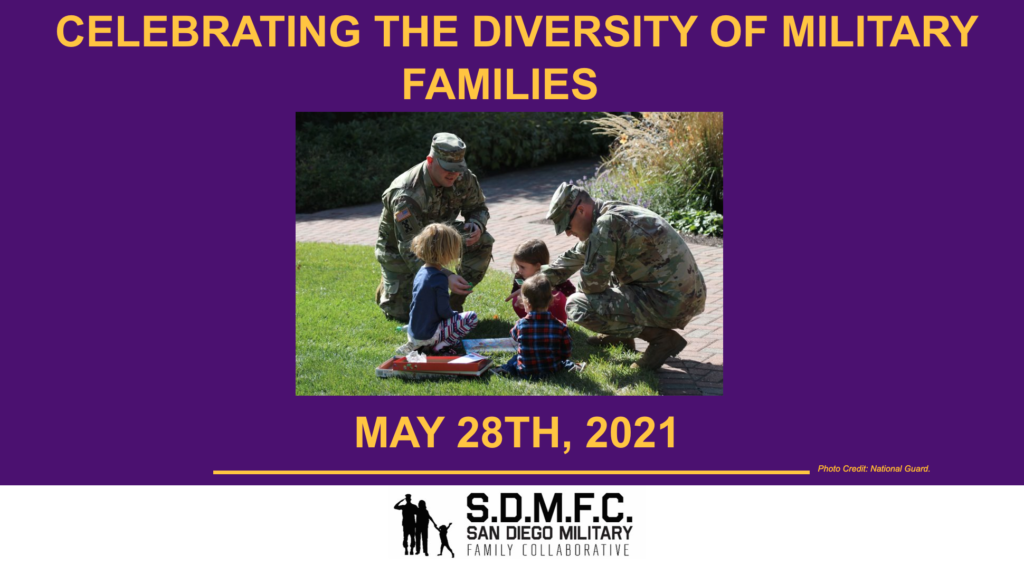 —————————- * —————————-
Welcome to the resource page for the San Diego Military Family Collaborative (SDMFC) Monthly Convening using Zoom for Friday, May 28, 2021! This convening was dedicated to the topic of "Celebrating the Diversity of Military Families!"
Please sign in via our Attendance Sheet by clicking HERE!
Convening Featured Guests Include:
COMMUNITY PARTNERS
Amanda Lee
Per Diem Adult/Older Adult Mental Health Director
Union of Pan Asian Communities (UPAC) SD 
During her time of employment with the Union of Pan Asian Communities (UPAC), Ms. Lee oversaw several County-contracted programs, including an outpatient behavioral health clinic serving adults with severe and persistent mental illness, as well as supported employment and geriatric specialty programs. Ms. Lee is passionate about health care integration and values a whole-person approach to wellness and recovery. As a result, she initiated a Blue Shield Shared Treatment Pilot through Health Quality Partners and coordinated care with a local FQHC, La Maestra Community Health Center. She has extensive experience working with cultural minorities, such as API immigrants and refugees, and individuals who identify as LGBT.
Jenny Lynne Stroup
Outreach Coordinator
The Steven A. Cohen Military Family Clinic at VVSD
Jenny Lynne is the Outreach Coordinator for the Cohen Clinic at VVSD. She comes to this role as a seasoned military spouse who has spent her time at each duty station fostering community. She is also a freelance writer who uses stories to bridge the gap between the civilian and military communities. She is passionate about being a bridge–builder and sees her role as a military spouse as an opportunity to reach both communities.
FAMILY PANEL
Cynthia Marinaccio
2x Parent Active Duty/Veteran Family
Cynthia Marinaccio served in the United States Air Force for 12 years as an Aircrew Life Support Technician, Non-Commissioned Officer in Charge of Commander's Support Staff, and a Recruiter. Cynthia and the Father of her two young children experienced the ups and downs of military life for a 2-Parent Active Duty Family. Today, Cynthia is a dedicated mother and non-profit professional working with Transitioning Services Members and Veterans find meaningful employment with the Easterseals Bob Hope Veterans Support Program.
Kimberly Zenno
Single Parent Active Duty/Veteran Family
Kim is an Army National Guard Retiree that served 20 years as a Supply & Logistics Specialist who spent 14 years on Active Duty honoring our Nations Fallen as a member of the Army National Guard Military Funeral Honors Program. Kim is a full-time working professional and single mother of two school–aged children (ages 10 & 11). Kim is a Support Coordinator for the Survivor Outreach Services Program with Strategic Resources Inc, assisting the surviving Families of our Fallen Soldiers with long term case management and care, by providing support and addressing issues of concern risen by spouses and other dependents of the deceased Service Members regarding casualty assistance and military survivor benefits authorized by law.
Melissa Gregg
Exceptional Family Member Program (EFMP) Family
Melissa is a recently separated Navy retiree that served over 20 years as a Hospital Corpsman. She is a dedicated single mother to her now teenaged son who benefited from the support and service provided by the Exceptional Family Member Program. Melissa's family is now navigating new waters of civilian life balancing full-time college as a student veteran, being a full-time single-parent mother, and working part-time as a Food Program Assistant serving local Military/Veteran Families with the Us4Warriors Foundation.
Dwayne Rohrer (Active Duty)
Geographical Bachelor Family
AD1 Dwayne Rohrer has been in the US Navy for over 18 years and is currently stationed at HSM-73 at Naval Air Station North Island. He works in Maintenance Control where he manages the flight schedules for eleven MH-60R aircraft and supervises 130 Sailors in the completion of day-to-day maintenance tasks. Dwayne just finished his fourth deployment, which lasted 295 days, in February. He is married to Sarah Rohrer and they have four daughters named Alexis, Karmina, Temperance, and Zoella. Dwayne has been a geo-bachelor since April 2019. Sarah and their three youngest daughters reside in Cape May, NJ where Sarah works as a Personal Financial Manager for the US Coast Guard.
> VIEW THE CONVENING RECORDING HERE <
(Following the event date)
*******************************************************************************************************************************************
CONVENING MATERIALS AND RESOURCES
For your convenience, below you will find resources and relevant links that will be referred to in the Convening.
SDMFC Materials:
COMMUNITY RESOURCES FOR THIS CONVENING:
CONVENING FACT SHEET: For insights on today's topic, please review the factsheet below to help you better understand the subject being discussed today!
SDMFC UPCOMING EVENTS:
*SDMFC will be using Zoom to convene these virtual meetings for the time being, where you can join us through the comfort of your webcam or phone. In order to fully participate in these virtual meetings, SDMFC recommends using a smartphone or computer to access Zoom. You are also able to participate by calling in, but will not be able to access the online materials and activities that will be presented. To utilize Zoom, you will need to do the following:
May 2021 CONVENING CREDENTIALS:
If you require assistance please do not hesitate to contact us! To stay most updated on SDMFC news, please review the SDMFC Facebook page https://www.facebook.com/sdmilfam/. We will continue to share resources for the community at large including information on resources individuals can access online as well as fun family activities you may consider enjoying together.