June 2021 Convening
Posted on: June 9, 2021 | Posted in: Community Blog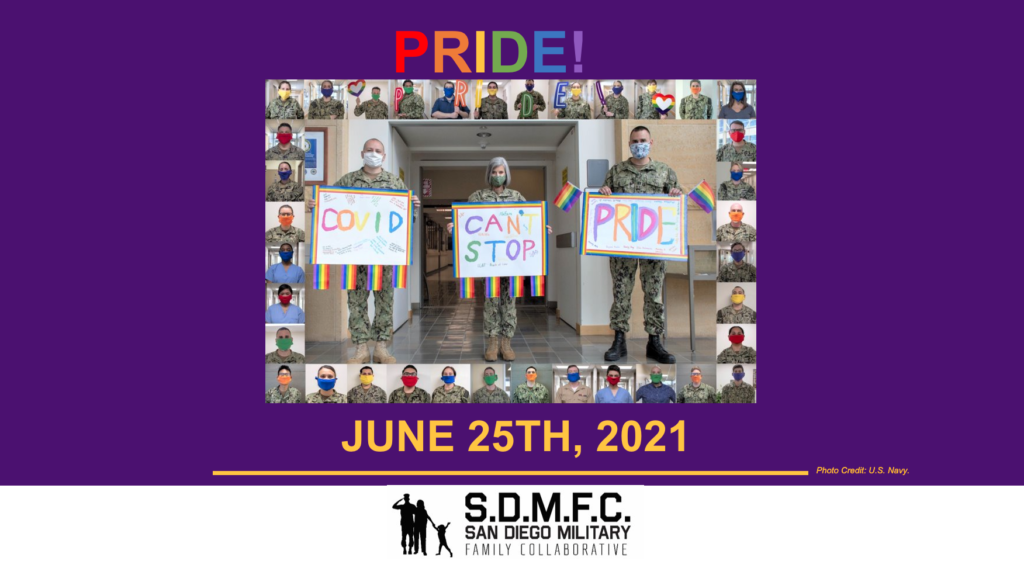 —————————- * —————————-
Welcome to the resource page for the San Diego Military Family Collaborative (SDMFC) Monthly Convening using Zoom for Friday, May 28, 2021! This convening was dedicated to the topic of "Celebrating the Diversity of Military Families!"
Please sign in via our Attendance Sheet by clicking HERE!
Convening Featured Guests Include:
COMMUNITY PARTNERS
Clay Kilpatrick/Bob
Department Co-Chair
San Diego LGBT Pride Military Department 

Clay Kilpatrick enlisted in the US Marine Corps in January 1984 and completed Basic Training at Marine Corps Recruit Depot, San Diego. After completing Stinger Missile Gunner training at Fort Bliss in El Paso, Clay reported to 1st Forward Area Air Defense Battery, Okinawa, Japan, in June 1984, where he deployed in support of multiple exercises throughout Far East Asia. In March 1986, he was meritoriously promoted to Corporal, and that June he transferred to 3rd Low Altitude Air Defense Battalion at Camp Pendleton. The following year he was promoted to Sergeant and then reenlisted in February 1988. In October 1988, he completed the Drill Instructor course, graduating fourth in a class of 45. Clay's final duty assignment took him back to Okinawa, with 1st Low Altitude Air Defense Battalion, where he served until his honorable discharge in February 1992, just prior to the establishment of the "don't ask, don't tell" policy in 1993. After his Marine Corps career, Clay received a BS in Computer Science from Texas A&M, and eventually an MBA from San Diego State University. In 2015, Clay was asked to be part of San Diego Pride's Military Contingent, to organize, coordinate and manage all the active duty, veterans, family, and supporters, who march together in the annual Pride Parade. Today Clay serves as co-chair for the San Diego LGBT Pride Military Department. Clay also spends time teaching and guiding active-duty Marines and sailors on what it takes to step up and take on leadership roles, both large and small. By doing this, he is building the next generation of young LGBT military members, helping them develop the leadership skills that will serve them both in and out of the military.
Veronica Zerrer
President
The Neutral Corner, Inc. San Diego

Veronica Zerrer is retired from the US Army. She retired as a Major after a 22-year career ranging from Intelligence Specialist to Cavalry Scout, Company Commander, and numerous staff jobs at the Battalion, Brigade, and Division level Headquarters in both the 1st Infantry and the 35th Infantry Divisions. After the Army, she specialized in Non-Profit Management. She has directed a Homeless Shelter, managed a home repair service to elderly homeowners, was the Tribal Grant Writer for the Prairie Band Potawatomi Nation, and was the Director of Development for the Orange County, California LGBT Center. In addition to serving as the President of the Board of Neutral Corner, San Diego's longest-lived Trans non-profit, she has devoted herself to the planning and execution of Trans Pride, a yearly San Diego Trans and family event.
> VIEW THE CONVENING RECORDING HERE <
(Following the event date)
*******************************************************************************************************************************************
CONVENING MATERIALS AND RESOURCES
For your convenience, below you will find resources and relevant links that will be referred to in the Convening.
SDMFC Materials:
COMMUNITY RESOURCES FOR THIS CONVENING:
CONVENING FACT SHEET: For insights on today's topic, please review the factsheet below to help you better understand the subject being discussed today!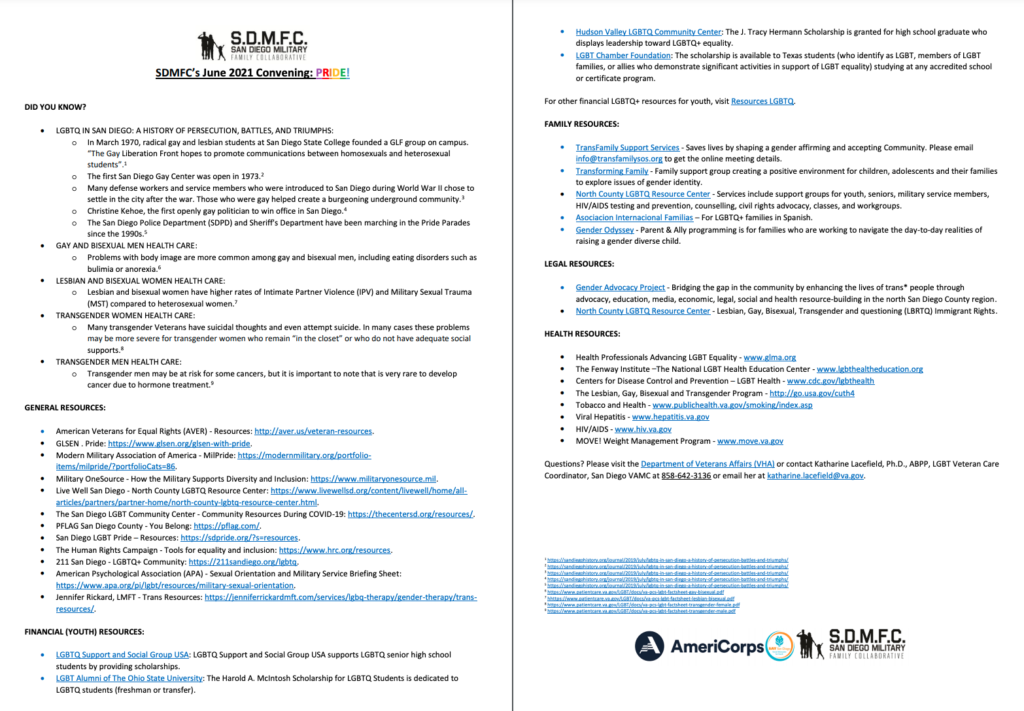 SDMFC UPCOMING EVENTS:
*SDMFC will be using Zoom to convene these virtual meetings for the time being, where you can join us through the comfort of your webcam or phone. In order to fully participate in these virtual meetings, SDMFC recommends using a smartphone or computer to access Zoom. You are also able to participate by calling in, but will not be able to access the online materials and activities that will be presented. To utilize Zoom, you will need to do the following:
June 2021 CONVENING CREDENTIALS:
If you require assistance please do not hesitate to contact us! To stay most updated on SDMFC news, please review the SDMFC Facebook page https://www.facebook.com/sdmilfam/. We will continue to share resources for the community at large including information on resources individuals can access online as well as fun family activities you may consider enjoying together.