May 2023 Convening
Posted on: May 25, 2023 | Posted in: Community Blog

Convening Topic:
"Connect & Cultivate: Celebrating Military Spouses"
This month, we aim to celebrate and share a litany of resources for military spouses!
We will provide a panel showcasing military spouses, a resource roundtable featuring many military and veteran service organizations as they share their specific programs and resources for military spouses, and engage in discussions to better understand the issues impacting military spouses across our region!
Some of our featured guests will include:

Sara Davis, Development Associate, Support the Enlisted Project

:

sara.davis@teamstepusa.org– Sara Davis joined STEP in 2022 as the Development Associate. As a long-time Navy spouse with numerous moves all along the East Coast and a cross-country move to San Diego in 2018, she understands the difficulties facing our military families firsthand. Sara holds a bachelor's degree in communication from Eureka College. She is passionate about helping military families navigate the challenges of military life, both at work and in her spare time. When she's not at STEP, she can be found volunteering at her children's school or for various activities, riding roller coasters at various theme parks, or having movie nights at home.
Christine Winicki, The Steven A. Cohen Military Family Clinic, Outreach Coordinator, cwinicki@cohenvvsd.org Christine is the spouse of a retired Marine and mom to four adult sons. Early in her marriage, Christine served as a family readiness volunteer during Operation Desert Storm (1990-1991) and again during Operation Iraqi Freedom during the initial invasion in 2003. In 2009, she began work as a Family Readiness Officer/Deployment Readiness Coordinator for Marine Corps logistics units aboard Camp Pendleton. In this role, she welcomed and educated military families as well as supported fifteen different unit deployments to Afghanistan, Iraq/Kuwait, and Australia and numerous training exercise. She began her new role as Outreach Coordinator at the Steven A. Cohen Military Family Clinic in September 2022. For fun, she serves a volunteer at the San Diego Zoo, enjoys puttering in her garden, and taking her dog, Tucker, to the beach with her husband, Tony.

And organizations including

Courage to Call
Steven A. Cohen Military Family Clinic Clinic
Support the Enlisted Project
Veterans Village of San Diego
Zero8hundred
And More…
Sign Into our Attendance Sheet by clicking HERE!
FEATURED PROGRAM TODAY:
Discussions with service providers showcased some valuable resources for military and veteran spouses. For a full list of insights, please review the information below:
DID YOU KNOW?
CONVENING MATERIALS AND RESOURCES
For your convenience, below you will find resources and relevant links that will be referred to in this Convening.
SDMFC Materials
SDMFC Convening Sign-In (even if reviewing video later): CLICK HERE
SDMFC Post-Convening Survey – CLICK HERE

SDMFC Convening PowerPoint
COMMUNITY RESOURCES REFERENCED IN TODAY'S CONVENING:
RECREATION: Military Spouse Kickball Association- https://www.facebook.com/MSKAMiramar/ Email: MSKAmiramar@gmail.com
RECREATION: Morale, Wellness, & Recreation- https://sandiego.navylifesw.com/ or https://www.facebook.com/comrecsd/
11961-JUNE 2023 Calendar-CR-NBSD-FLYER
12072-JULY 2023 Calendar-CR-NBSD-FLYER
MENTAL HEALTH SUPPORT: STEVEN A COHEN MILITARY FAMILY CLINIC
SDMFC ClinicBrandDeck_VVSD_5.26.23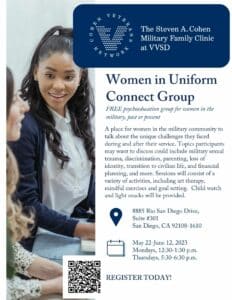 PEER NAVIGATION: Zero8hundred: https://www.zero8hundred.org/ 858-309-4412
PEER NAVIGATION: Courage to Call/Turn BHS: https://www.courage2call.org/
Call our 24/7 Helpline at 877-698-7838 Or dial 2-1-1 option 4
CHILDCARE: Foundation for Women Warriors
FFWW Childcare Assistance Flyer
SOCIAL CONNECTIONS: SAY San Diego's HSMFRC- https://www.saysandiego.org/who-we-serve/military-families/
EMPLOYMENT: CAREERWORKS- https://www.able2work.org/careerworks/
EMPLOYMENT: FAMILY MEMBER EMPLOYMENT through MARINE & FAMILY- https://sandiego.usmc-mccs.org/
EMERGENCY FINANCIAL ASSISTANCE: Support the Enlisted Project – https://www.teamstepusa.org/
WE'LL ALSO SHARE ANY COMMUNITY ANNOUNCEMENTS FOLLOWING THE CONVENING…