April 2023 Convening
Posted on: April 19, 2023 | Posted in: Community Blog
Convening Topic:
"Connect & Cultivate: Month of The Military Child"
This month, we aim to celebrate and acknowledge all military kiddos!
Dr. Kim Hunt,Dr. Kim Hunt (PhD)- CEO and Co-Founder, Komposset Consulting Strategies, LLC: kdhunt@komposset.org–

Dr. Hunt's research focuses on highly mobile children with specific emphasis on military children and third culture kids. In addition, she is a nonprofit professional who currently works with nonprofit organizations, DoDEA, and school districts on a variety of evaluation, needs assessments, capacity building, capacity building, and strategic planning projects. She has been active in education and the nonprofit sector for more than 30 years and has completed multiple research and evaluation projects for military and veteran service organizations. Dr. Hunt also served on the Coordinating Council for the San Diego Military Family Collaborative. Together with her husband, a retired Navy officer, and their two daughters, Dr. Hunt moved 16 times throughout the US and Europe and taught multiple age levels at a variety of public, private, international, and DoDEA schools throughout the US and Europe. These experiences drove her passion for supporting military-connected families and led to her doctoral studies focused on the resilience of highly mobile military children. Dr. Hunt holds a PhD from the University of San Diego in Leadership Studies with a dual focus on Nonprofit and Education Leadership.

Courtney Leon (MFT)- MFLC Supervisor-Military and Family Life Counselor: project2025@afspsd.org

Courtney Leon is currently a supervisor for the Military and Family Life Counselor (MFLC) program. She has been a part of the MFLC program for seven years, both as a MFLC on Marine Corps Base-Camp Pendleton for five years and as a supervisor of Naval Base San Diego, Naval Base Point Loma and MCRD-San Diego for the past two years. Courtney is a licensed Marriage and Family Therapist and lives locally in San Diego, CA

Kristin Fernandez, School Liasion- Marine Corps Recruit Depot San Diego: kristin.fernandez@usmc.mil Kristin Fernandez is a School Liaison at Marine Corps Recruit Depot San Diego/Western Recruiting Region in San Diego, CA. Prior to working as a School Liaison, she worked as a Child & Youth Program Assistant at the Child Development Center on Naval Air Station North Island in Coronado, CA. She has a Bachelor's degree in liberal studies with a concentration in Human Development from Point Loma Nazarene University and a Master's degree in education with a concentration in Elementary Education/Teaching from the University of Phoenix.
Please sign in via our Attendance Sheet by clicking HERE!
FEATURED PROGRAM TODAY:
Discussions with service providers showcased some valuable resources for the community related to mental health providers. For a full list of insights, please review the information below:
DID YOU KNOW?
There are more than 1.6 million military children who face many challenges and unique experiences as a result of their parents' service.

On average all military children move six to nine times during their school years… that's an average of three times more frequently than nonmilitary families.

About one-third of all military service members make permanent change of station (PCS) moves each year.

The unusual stresses that most military kids experience build resilience and resourcefulness in the face of great challenges. One third of military children who go to school experience behaviors such as depression, anxiety and crying.

Over a quarter (27%) of active-duty family respondents do not believe their child's teacher understands how to support them when they are dealing with a military life event.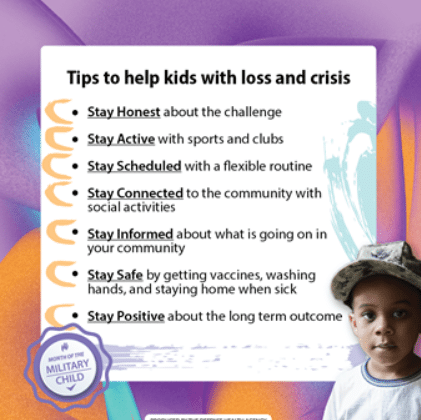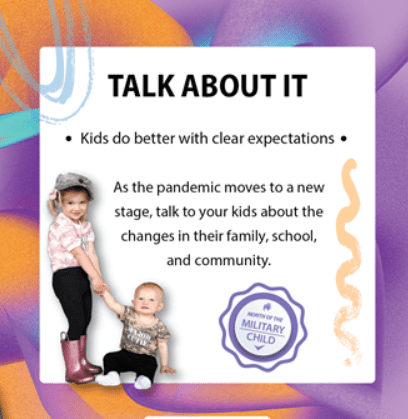 CONVENING MATERIALS AND RESOURCES
For your convenience, below you will find resources and relevant links that will be referred to in this Convening.
SDMFC Materials
COMMUNITY RESOURCES REFERENCED IN TODAY'S CONVENING:
Check out our resource map for additional TBI supports: