September 2018 Convening Recap: New Parent Support
Posted on: October 5, 2018 | Posted in: Community Blog
On Friday, September 28, the SDMFC monthly convening covered the topic of New Parent Support. Numerous military providers, agencies, and individuals gathered to learn valuable information on the various resources available to military families and new parents. Our guest panelists represented Rady Children's Hospital San Diego, SAY San Diego, Navy New Parent Support, and the NAS North Island Navy & Marine Corps Relief Society Budget for Baby. Thank you to our panelists for sharing their knowledge and expertise!
SDMFC also provided an informative factsheet, which included up-to-date statistical information regarding the San Diego birthrate, how to handle postpartum depression, the costs of raising a child, a brief list of very helpful resource websites, and breastfeeding facts, among other things.
A recent study has been conducted by Michael Brown, a Research Analyst at the LendEDU, which focused on understanding the finances behind raising a newborn. The study was conducted through surveying 1,000 parents. Some of the findings of the study includes:
The average amount saved for the baby was $9,331 and 48% of those who saved said it was not enough
58% of parents began saving in advance of having their baby, while 42% did not
Amongst all respondents, the average first year cost of a baby was $13,186
24% of respondents had to take on debt to cover the first year costs of a newborn
13% of the total cost went to childcare, 17% to healthcare, 28% to baby food, 30% to things like toys and diapers, and 12% on miscellaneous items
To read the full article, CLICK HERE
Check out the factsheet below, or DOWNLOAD IT HERE!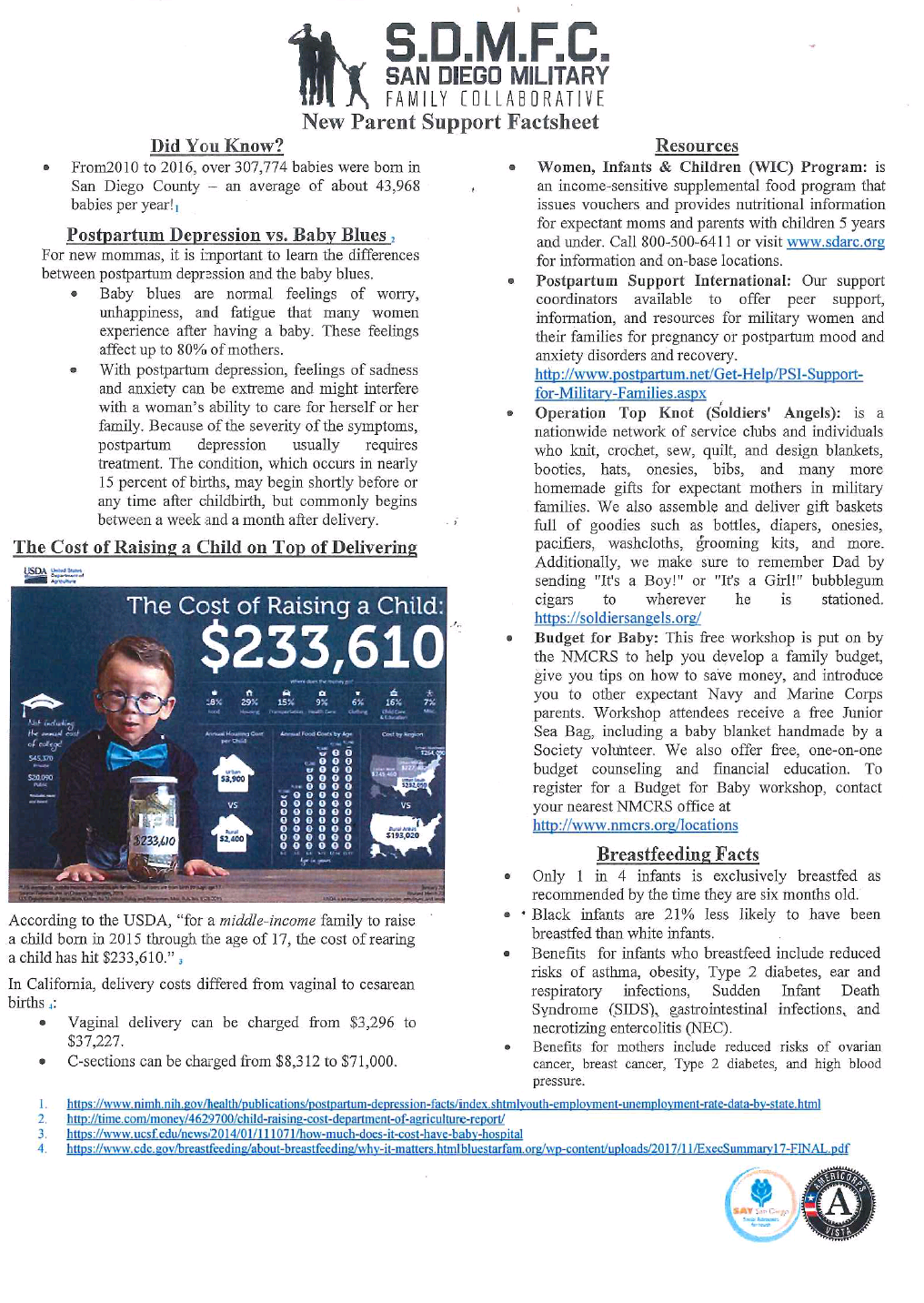 Panelist Biographies
Jolyn Leonard (NAS North Island Navy & Marine Corps Relief Society Budget for Baby) – Jolyn Leonard enlisted in the U.S. Navy in June 2005 and joined the ranks of military parents on 1 September 2014. An Aviation Electrician's Mate by trade, she has consistently been involved in mentorship and counseling through various programs. She currently serves as the NAS North Island Navy & Marine Corps Relief Society Budget for Baby Lead Instructor, where she has been volunteering since May 2014. jolyn_nicoll@yahoo.com
Tammy Michniuk (Navy New Parent Support) – Tammy Michniuk is the Team Lead for the Navy New Parent Support Program. She was a home visitor for 8 years and has been the lead for 1.5 years. Prior to that, Tammy was a researcher at UCSD for the Department of Psychiatry on the Parenting to Prevention Problem Behaviors Study for five years. She also worked as a foster care social worker for 15 years in Illinois and North Carolina. Tammy is the proud mother of two teenage boys. tammy.michniuk@navy.mil
Megan Porter (Rady Children's Hospital) – Megan Porter leads a team of early interventionists who provide developmental and behavioral services at Rady Children's Hospital's "Children's Care Connection (C3)" program. C3 is a part of a variety of services funded by the First Five grant across San Diego County under the Healthy Development Services initiative. These services are offered at no cost to families with children under the age of six years with mild to moderate developmental and behavioral concerns. Services include parenting workshops to understand challenging behaviors, developmental classes to support achievement of milestones, one-on-one consultation with specialists and parent-child therapy with a central goal of giving parents the tools they need to support their child's healthy development. Megan holds two degrees in early education and intervention from San Diego State University and completed a Master's degree at National University in Organizational Leadership. She is passionate about continuing to build the rich network of services available to families with young children in San Diego and aims to strengthen relationships across community organizations to streamline access for families. mkporter@rchsd.org
Marissa Velasquez (SAY San Diego, First 5 First Steps) – Marissa joined the First 5 First Steps team in 2017 with a passion to support mothers throughout their pregnancy and their child's first three years. Marissa studied Child and Family Development at San Diego State University and strongly believes early, secure attachment between mother and baby lay the foundation for healthy development across all domains. Marissa works out of the Healthy Start Military Family Resource Center and partners primarily with military mothers and the zero to five population. She enjoys being out in the community, building rapport, and partnering with families to connect them to community resources to ensure their needs are being met. mvelasquez@saysandiego.org
Click here to watch the panel on New Parent Support!
Here's some additional resources and information new parents may find helpful:
***Be sure to join us Friday, October 26, at Bankers Hill Club for SDMFC's 9th Annual Conference, themed "Six Degrees of Collaboration" – RSVP here!