September 2023 Convening
Posted on: September 26, 2023 | Posted in: Community Blog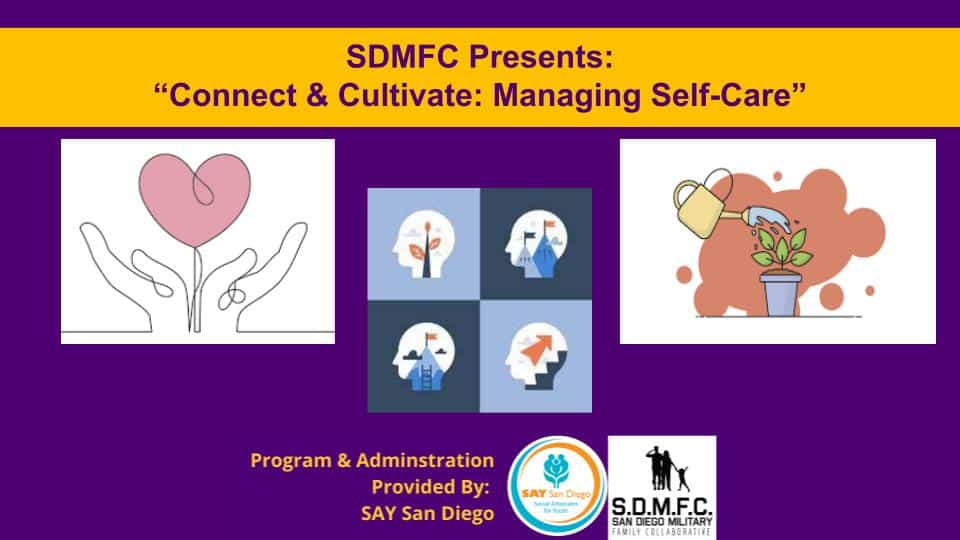 Convening Topic:
"Connect & Cultivate: Managing Self-Care"
In this convening, we explored what self-care means to each of us, why its important, and new ways to think about caring for yourself. We also heard from two groups who are doing work in this area with innovative programs and services.
Our panel included:
Tammy Michnuik, New Parent Support, Fleet & Family Support Centers
Tammy Michniuk is the Team Lead for the Navy New Parent Support Home Visiting Program. Tammy has been with the New Parent Support Team for over 14 years, 7 of those years as Lead. Prior to working for the Department of the Navy she was a researcher at UCSD for 4 years and was a Foster Care Social Worker for 15 years in Illinois and North Carolina. She is an Illinois native and has two sons in college.
Shirley Colman, Director/President, Independent Therapy Dog, Inc.
Shirley Colman founded Independent Therapy Dogs, Inc. in 2010 with Teams in nine states and a membership high of 121 dogs. The organization is a California not-for-profit 501(c)(3) Corporation devoted to the promotion of registered therapy dog Teams through education, training and experience. ITD, Inc. works with community partners, educational institutions, and other interested organizations to provide therapy dog visits and other special event programs to promote the understanding of the valuable role they play in community health and welfare.
Sign Into our Attendance Sheet by clicking HERE!
CONVENING MATERIALS AND RESOURCES
For your convenience, below you will find resources and relevant links that will be referred to in this Convening.
SDMFC Materials:
COMMUNITY ANNOUNCEMENTS
The following events and announcements were shared during the convening. Use the links for additional information and/or attend.
Big Wheels for Little Warriors
December 9, 2023 | 9:00 a.m. to Noon
This special event benefits Operation Homefront. BAE Systems and Greater San Diego Association of Realtors will provide bikes and helmets to military children, ages 2 to 18 (DEERS dependent). Open to post 9/11 wounded, ill, or injured service member of any rank or E1-E6 Active Duty Servicemembers.
GI Film Festival San Diego
Submissions Open through November 11, 2023
The GI Film Festival San Diego is now accepting military-veteran connected films for consideration in the 2024 festival. The regular deadline is Monday, Oct. 16.​ Late deadline is Nov. 11. Films must feature a military-themed story, be made by a veteran or service member or prominently feature military or service members in above-the-line roles. The festival takes place May 6-11, 2024.
​Open House for Healing Wave Aquatics
October 13, 2023 | 11:00 a.m. to 2:00 p.m.
Tour the Healing Wave Aquatics Facility in Rose Canyon. Meet staff & practitioners, connect with other community partners, and learn about the benefits of aquatic therapy to support mental health and wellbeing. Light refreshments included.
Operation Dress Code
November 5, 2023 | Paradise Point
Operation Dress Code provides women veterans a unique opportunity to get the professional clothing needed for civilian careers. Veteran participants can receive support from a personal stylist, professional photography, and informative workshops. There is ZERO cost. All Operation Dress Code events, services and clothing are 100% free for the women who are eligible to attend. Donations of professional clothing and accessories are welcome at designated drop-off locations. Volunteers are also needed to sort and stage the clothing, provide personal shopping assistance, hair/makeup services, and more.
New Parent Support, Fleet & Family Support Center San Diego
Bi-Lingual group meetings held every Monday, 10:00 a.m. to 11:00 a.m. at the Kearny Mesa Branch.
Toddler Tuesday 10:00 a.m. to 11:00 a.m. at the Kearny Mesa Branch.
Drop ins welcome.