September 2022 Convening
Posted on: September 21, 2022 | Posted in: Community Blog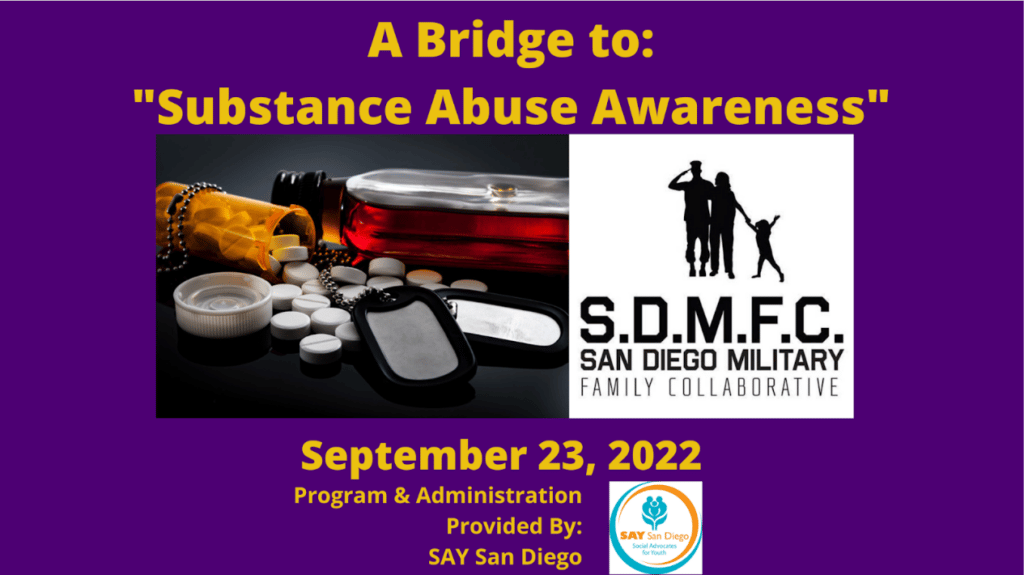 —————————- * —————————-
Welcome to the resource page for the San Diego Military Family Collaborative (SDMFC) Monthly Convening using Zoom for Friday, July 22nd, 2022! This convening topic is focused on "A Bridge to Awareness: Substance Abuse." Here are our collection of experts who will serve on our panel and provide training to better inform our audience:
Lisa Bridges is a Sr. Program Manager with SAY San Diego's Alcohol, Tobacco, and Other Drug Prevention programs. She's been with SAY since April 2018 and serves the North Central San Diego region through North City Prevention Coalition (aka NCPC). For more than 10 years, Lisa has coordinated community-based projects in San Diego County to prevent teen sex trafficking and youth substance use. She believes good environmental prevention strategies go beyond solid data and must involve community stakeholders, and engage usual suspects, youth, and credible messengers. Lisa is an excellent communicator and group facilitator passionate about people being seen, known, and heard. Lisa is a proud Army mom with 2 grown children: daughter Brittany and son Jacob.
William Perno is an alcohol and other drugs Prevention Specialist with Social Advocates for Youth (SAY) San Diego. William is also a retired San Diego County Deputy Sheriff. William is a subject matter expert for synthetic drugs including Synthetic Cannabinoids "Spice", Synthetic Stimulants "Bath Salts", Synthetic Opioids; Fentanyl and Fentanyl analogs, and other emerging drug trends. He was instrumental in the passage of California State laws banning synthetic drugs and has worked with local governments to create city and county ordinances. William has given more than 600 synthetic drug presentations to community groups, school districts, students, teachers, parents, health care providers (psychologists, psychiatrists, security staff, and emergency room doctors), prevention providers, treatment providers, and policymakers. William has also given synthetic drug training to law enforcement agencies and organizations throughout California. Presentations can include how to recognize opioid overdose symptoms, how to use Naloxone, a medicine that rapidly reverses an opioid overdose, and free distribution of Narcan Nasal Spray.
Lauren Ireland, Alcohol Abuse Prevention Specialist – Substance Abuse Counseling Center MCRD San Diego: Ireland@usmc.mil
Lauren Ireland is the Alcohol Abuse Prevention Specialist for the Marine Corps Recruit Depot, San Diego, and the Western Recruiting Region (all of the USMC recruiters west of Chicago). Previous to this position, she worked as an Investigative Assistant with the Drug Enforcement Administration and also served honorably in the Marine Corps. She is passionate about educating people about substance abuse and is hopeful to make positive changes for the Marine Corps community and their families.
Officer Matthew Luna, Campus Police Officer – San Diego Unified School District Police Department:619-291-7678
He began his law enforcement career with the San Diego Police Department in 2009 and joined the San Diego Unified School District Police Department in 2013. He has worked as a patrol officer and a campus police officer for the school district and has been working at Canyon Hills High School for the past 5 years. The best way to contact him directly is through San Diego Unified School District Police Department Dispatch at 619-291-7678.
Ms. Logan is bicultural, bilingual in Spanish and a certified alcohol and drug counselor through CADTP. Ms. Logan has a Master's in social work from Walden University and is registered with the Board of Behavioral Sciences as an Associate Clinical Social Worker. She is trained in Motivational Interviewing and has over 15 years of professional experience in human services and public health serving underserved populations. Ms. Logan has lived experience of the difficulties that may arise with substance use and strives to serve the community with love and compassion for people who use drugs (PWUD). She has experience with individuals [people] who inject drugs (PWID), those whose lives have been heavily impacted by the justice system, and those with PTSD and complex trauma. She is skilled in assessments, and behavioral theories underpinning MI. She served as a program manager for over seven years at McAlister Institute with adults, older adults, and youth in various programs. She has collaborated with OnPoint for several years and will assume responsibilities as the program manager for the Naloxone Distribution Program (NDP), CheckIT and the TestIT intervention components offered at OnPoint including the role of executive clinical director for the Harm Reduction Coalition of San Diego (HRCSD).
Please sign in via our Attendance Sheet by clicking HERE!
FEATURED PROGRAM TODAY:
Discussions with service providers showcased the power of connection among one another in 3 networking sessions, audience members were able to connect and share resources and insights into one another's work, but also better understanding how to support military families in their time of need.
> VIEW THE CONVENING RECORDING HERE <
(Following the event date)
*****************************************************************************************************************
CONVENING MATERIALS AND RESOURCES
For your convenience, below you will find resources and relevant links that will be referred to in this Convening.
SDMFC Materials
COMMUNITY RESOURCES REFERENCED IN TODAY'S CONVENING:
AWARENESS
DID YOU KNOW?
More than 1 in 10 veterans have been diagnosed with a substance use disorder (higher than general population)
Substance Use Disorder (SUD) rates were higher in male veterans ages 18-25 compared with civilians
Although illicit drug use and cigarette smoking is relatively low binge drinking is high among military personnel compared to the general population.
Alcohol
Increased combat exposure involving violence and trauma experienced by those who serve result in an increased risk of problematic drinking.
Stats below taken from – 2015 HRBS Analysis by RAND Corp (2018)

Across all services, 5.4% of military personnel were heavy drinkers compared to 6.7% in the general adult population in 2014.
1 in 3 service members were binge drinkers
Rates higher among men than women: more than 1 in 3 service personnel met the criteria for hazardous drinking or possible alcohol use disorder

Stats below taken from – Substance use disorders in military veterans: prevalence and treatment challenges (Aug 30 2017)

Compared to their non-veteran counterparts

Veterans were more likely to use alcohol (56.6% vs 50.8%) in 1 month period
Veterans were more likely to report heavy use of alcohol (7.5% vs 6.5%) in 1 month period
Opioid & other Prescription Misuse
Fentanyl
Fentanyl is a powerful synthetic opioid that is similar to morphine but is 50 to 100 times more potent.
Fentanyl can be prescribed and like morphine, it is a medicine that is typically used to treat patients with severe pain, especially after surgery.

Can be used to treat patients with severe chronic pain who are tolerant to other opioids.
Stats below are taken from – National Institute on Drug Abuse (Fentanyl)

Synthetic opioids, including fentanyl, are now the most common drugs involved in drug overdose deaths in the United States. In 2017, 59 % of opioid-related deaths involved fentanyl compared to 14.3% in 2010.

How does fentanyl affect the brain?

Fentanyl work by binding to the body's opioid receptors, which are found in areas of the brain that control pain and emotions. After taking opioids many times the brain adapts to the drug making it hard to feel pleasure besides being on the drug.

Fentanyl's effects include:

extreme happiness
drowsiness
nausea
confusion
constipation
sedation
problems breathing
Unconsciousness
PREVENTION & TREATMENT
How is fentanyl addiction treated?
Like other opioid addictions, medication with behavioral therapies has been shown to be effective in treating people with a fentanyl addiction.
Medications: Buprenorphine and methadone work by binding to the same opioid receptors in the brain as fentanyl, reducing cravings and withdrawal symptoms. Another medicine, naltrexone, blocks opioid receptors and prevents fentanyl from having an effect. People can discuss treatment options with their health provider.
Counseling: Behavioral therapies for addiction to opioids like fentanyl can help people modify their attitudes and behaviors related to drug use, increase healthy life skills, and help them stick with their medication.
What is Naloxone?
Also known as Narcan – used for the emergency treatment of know or suspected opioid overdose.The famous opioid antagonist, Naloxone, is a medicine that rapidly reverses an opioid overdose. It attaches to opioid receptors and reverses and blocks the effects of other opioids.
Naloxone can quickly restore normal breathing to a person if their breathing has slowed or stopped because of an opioid overdose. But, naloxone has no effect on someone who does not have opioids in their system, and it is not a treatment for opioid use disorder. Examples of opioids include heroin, fentanyl, oxycodone (OxyContin®), hydrocodone (Vicodin®), codeine, and morphine.
How to recognize an overdose:
Small, constricted "pinpoint pupils"
Falling asleep or losing consciousness
Slow, weak, or no breathing
Choking or gurgling sounds
Limp body
Cold and/or clammy skin
Discolored skin (especially in lips and nails)
How to respond to an overdose:
It may be hard to tell if someone is experiencing an overdose. If you are not sure, treat it like an overdose – you could save a life. With a fentanyl overdose, two or more doses of naloxone may need to be given.

Call 911 and give naloxone
Keep the person awake and breathing
Lay the person on their side to prevent choking
Stay with the person until 911 responders arrive
Where can you get naloxone?
Anyone can get naloxone through pharmacies and local organizations that have naloxone distribution program.
At a community level, Family Health Centers of San Diego have a Syringe Services Program that provides individuals harm reduction education, case management, referrals to drug treatment and detoxification along with naloxone distribution. https://www.fhcsd.org/syringe-services-program/
California Department of Health Care Services:
California Department of Public Health:
San Diego County:
Next Distro:
National Harm Reduction Coalition:
Center for Disease Control:
National Resources:
SDMFC UPCOMING EVENTS
SDMFC Members-Only Training: September 27th, 2022; 10:00am-11:30am. "Capacity Building" Members are welcome to contact Danny for information following these training
MTSE Action Team Meeting: October 13th from 10:00am-11:00am (contact Danny/Shelby Thomas sthomas@zero8hundred.org for details)
WIWMPK Event: October 18th, 2022 from 5:00pm-6:30pm (more details to come)
MTSE Virtual Workshop: October 20th , 2022 from 5:00pm-7:00pm (registration required)
WIWMPK Action Team Meeting: October 27th from 12:30pm-1:30pm (confirm with Stacy Chiles- schiles@saysandiego.org)
Annual Summit: October 28th, 2022 from 9:00am-12:00pm (Tickets on Sale NOW)
*SDMFC will be using Zoom to convene these virtual meetings for the time being, where you can join us through the comfort of your webcam or phone. In order to fully participate in these virtual meetings, SDMFC recommends using a smartphone or computer to access Zoom. You are also able to participate by calling in, but will not be able to access the online materials and activities that will be presented.
CONVENING CREDENTIALS:
Meeting ID:
Passcode:
One tap mobile:
If you require assistance please do not hesitate to contact us! To stay most updated on SDMFC news, please review the SDMFC Facebook page https://www.facebook.com/sdmilfam/. We will continue to share resources for the community at large including information on resources individuals can access online as well as fun family activities you may consider enjoying together.