January 2023 Convening
Posted on: January 25, 2023 | Posted in: Community Blog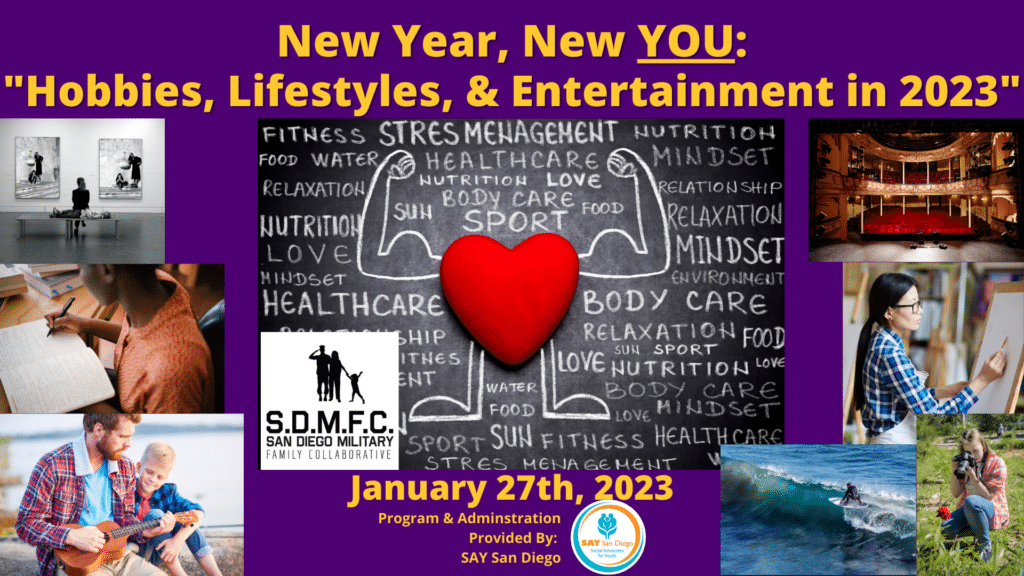 —————————- * —————————-
Convening Topic:
NEW YEAR, NEW YOU–
"Hobbies, Lifestyles, & Entertainment"
This month's program will feature programs you may not be familiar with open to military and veteran family members. Come and join us either in person or virtually as we have created a Resource Roundup for you to get to know these providers better and ask your questions as they lay out their connection to the military and veteran space. Some of these guest speakers will include:
Joe Hudak, So Say We All: jhuda18@gmail.com– A California Native, Joe joined the Army after graduating high school, and retired in 2015 with 20 years of active service, including special forces as a Green Beret. He served in Afghanistan, Iraq, and numerous countries in South America, deploying 11 times, with over 5.5 years in hostile environments. Joe currently enjoys his retirement as a volunteer mentor with the military diversion program with the San Diego Court, spends most mornings in his garden, and enjoys having time to be a good father and husband when he isn't called to fight in the most emotionally-fraught battleground he has faced yet: as the Program Manager for the literary and storytelling arts nonprofit, So Say We All.
Julia Foster, Director of Philanthropy – La Jolla Playhouse: jfoster@ljp.org– A native New Yorker, Julia B. Foster has dedicated the majority of her career to the non-profit arts, in both performance and administration. After earning a B.A. in dance at Washington University in St. Louis, she pursued a professional career in modern dance, musical theater, singing, and acting, including six years as a soloist with the Erick Hawkins Dance Company. She taught company dance classes at the Erick Hawkins Dance Studio and at off-site residencies including the American Dance Festival and the University of Nevada, Las Vegas. Later transitioning to arts administration, Foster most recently worked at the Segerstrom Center for the Arts in Costa Mesa, California, as Vice President of Development, overseeing their successful annual fund campaign that raised a record $10.5 million goal in FY18.
Russ Thompson, Military Community Outreach- San Diego Loyal Soccer Club: russt@sdloyal.com– Russ Thompson is a retired Naval Aviator who has served our nation for 26 years. Born in Jacksonville, FL, he grew up in a Navy family and lived in Iowa, Maine, Connecticut, New Jersey, South Carolina, and Florida. A graduate of The Citadel, the Military College of South Carolina in Charleston, he earned a Bachelor of Science in Civil Engineering and was commissioned as an Ensign in the U.S. Navy in May 1987. As a Naval Aviator, Russ flew the SH-60F/HH-60H and deployed on the USS Forrestal, USS Saipan, USS Enterprise, and USS Abraham Lincoln. He commanded Helicopter Anti-Submarine Squadron Two at Naval Air Station North Island and Naval Air Facility El Centro before retiring in 2013. After retiring, Russ worked for 7 years as an instructional assistant in a high school Special Education program decided to venture into sports and was a Zamboni driver for a year at the San Diego Gulls practice facility in Poway, CA. He has been the Military Community Outreach Manager for San Diego Loyal Soccer Club since the team's inception in 2019.
Brooke Newman, Director of Education & Programs- Outside the Lens: brooke@outsidethelens.org– Brooke received her B.A., multiple subject teaching credential, and M.A. in Teaching and Learning from the University of California, San Diego. She has taught for sixteen years, and during that time collaborated with OTL for ten years with the Cameras in the Classroom program. OTL's mission is to amplify voices through photography, filmmaking, and digital media art, catalyzing change within themselves, their community, and the world. Brooke is excited to mentor our OTL Media Educators and to empower youth across San Diego to use digital media. In her free time, Brooke enjoys spending time with her husband and two children, being outdoors, cooking and gardening.
MORE WILL BE ADDED FOLLOWING CONVENING
Please sign in via our Attendance Sheet by clicking HERE!
FEATURED PROGRAM TODAY:
Discussions with service providers showcased the power of connection among one another in 3 networking sessions, audience members were able to connect and share resources and insights into one another's work, but also better understanding how to support military families in their time of need.
> VIEW THE CONVENING RECORDING HERE <
(Following the event date)
*****************************************************************************************************************
CONVENING MATERIALS AND RESOURCES
For your convenience, below you will find resources and relevant links that will be referred to in this Convening.
SDMFC Materials
COMMUNITY RESOURCES REFERENCED IN TODAY'S CONVENING:
MORE INFORMATION WILL BE PROVIDED FOLLOWING CONVENING
SDMFC UPCOMING EVENTS
MTSE Action Team Meeting: February 9th: 10:00am-11:00am (virtually) Contact Danny/Shelby Thomas sthomas@zero8hundred.orgfor more info
MTSE Virtual Workshop: February 16th: 5:00pm-7:00pm (registration required-SDMFC Website)
WIWMPK Action Team Meeting: February 23rd:12:30pm-1:30pm (Contact Stacy Chiles- schiles@saysandiego.org for more info)
WIWMPK Event: February 28th 5:30pm-7:00pm (virtual); More information will be provided via newsletter
SDMFC Members-Only Training: March 2023; Members will be contacted for renewals and for new membership in the coming months. If you have suggestions on training, please relay to Danny
SDMFC will be utilizing HYBRID Convenings in 2023. We would love to see you in person, but if not, you can hop on our zoom live look in and interact with us:
Log-In: https://saysandiego-org.zoom.us/j/86404325848;
Meeting ID: 864 0432 5848
Passcode: SDMFC23!;