10th Annual Summit: Stories Across a Decade of Service
Posted on: September 2, 2020 | Posted in: Community Blog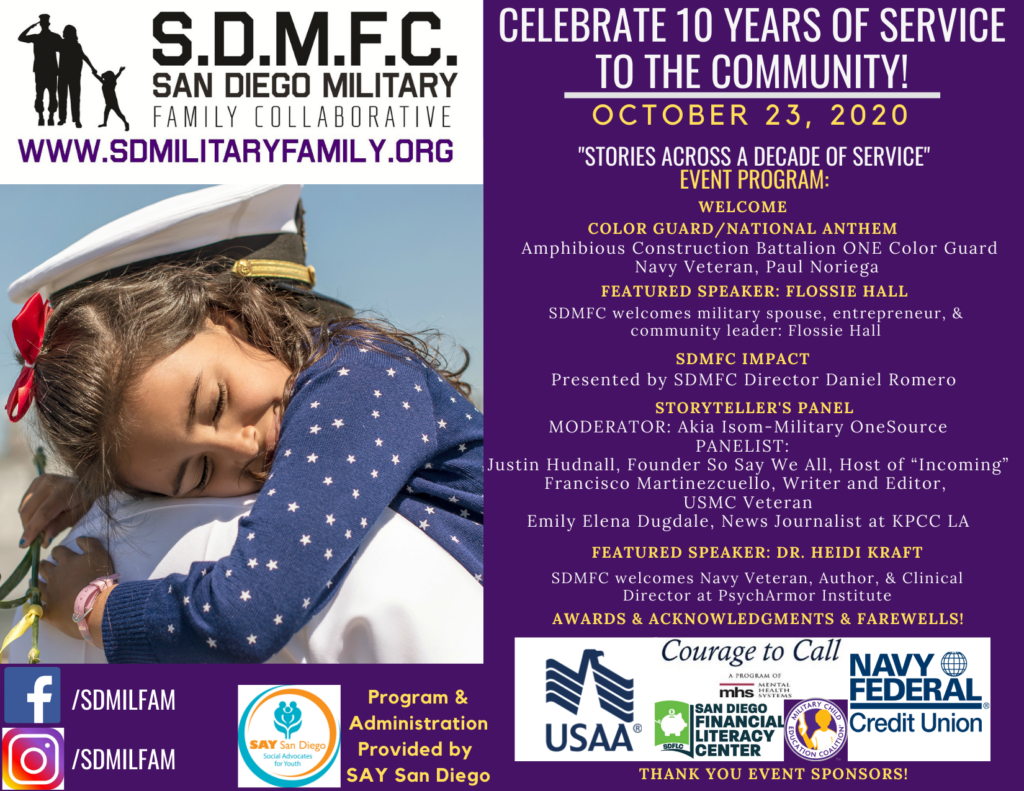 Friday, October 23rd
10:00am – 12:00pm
Check out our updates on featured speakers and resources below:
Annual Summit Program Features
Introduction Speaker

Flossie Hall, Military Spouse, Entrepreneur, and Community Leader
– www.flossiehall.com

Flossie is an active duty Navy Spouse and accomplished entrepreneur specializing in e-commerce, marketing strategy, business development, growth of operations, and sales. CLICK HERE FOR THE FULL BIO

Storyteller Panel

Justin Hudnall, Founder So Say We All, Host of "Incoming"

Justin Hudnall received his BFA in dramatic writing from New York University's Tisch School of the Arts, graduating with honors in 2002.

CLICK HERE FOR THE FULL BIO

Francisco Martinezcuello, Writer and Editor, Student at UC Berkeley Graduate School, and USMC Veteran
Emily Elena Dugdale, News Journalist at Los Angeles' NPR Station: KPCC/LAist – http://emilydugdale.com/

Final Speaker

Dr. Heidi Kraft, Navy Veteran, PsychArmor Institute Clinical Director, & Author
– https://psycharmor.org/

Heidi Squier Kraft received her Ph.D. in clinical psychology from the UC San Diego/SDSU Joint Doctoral Program in Clinical Psychology in 1996.

CLICK HERE FOR THE FULL BIO
About Our Event:
The San Diego Military Family Collaborative (SDMFC) is celebrating our 10th Anniversary by hosting our 2020 Virtual Annual Summit. Last year's Annual Summit included over 175 attendees representing Military and Veteran Service Providers, Command Leadership, Family Readiness Leaders, Ombudsman, Military Spouses, Civic and Governmental Organizations/Leaders, and more. Our goal this year is to open our event up to more community members virtually as we continue to diversify our audience informing all in attendance of the many amazing programs and services made available to military families as well as creating opportunities for each attendee to virtually connect with others in the community.
This year's 10th Anniversary calls for the unique theme of "Stories Across a Decade of Service." We have chosen this theme to acknowledge all the amazing work that the community provides to support the military and veteran connected community and through the power of story, we hope to elevate and create more visibility for each of these groups to share about their service to the community. Additionally, we will be featuring many of the past and present leaders in the community sharing the many rich stories of collaboration over the past decade and creating opportunities to share in virtual experiences with one another. We truly hope that the event provides you inspiration on how to lift your story up in a time of social isolation.
The San Diego Military Family Collaborative (SDMFC) is comprised of more than 500 representatives from over 200 unique public, private, faith-based, military, and governmental organizations. Our mission is to support and strengthen the military-connected community through education, advocacy, and engagement. Since 2010, SAY San Diego has provided program and administration support to facilitate SDMFC and network of community partners to organize the Annual Summit.
SUMMIT RESOURCES & Additional Information:
SUMMIT VIDEOS
SEE OUR SUMMIT TEASER
TAKE A TOUR OF OUR VIRTUAL ARTWALK HERE
VIEW OUR CHALLENGE COIN LEADER HIGHLIGHTS
CLICK HERE to see these videos and the rest of our Challenge Coin Interviews!
Questions? Contact Danny Romero at dromero@saysandiego.org
Program and staffing support for the San Diego Military Family Collaborative provided by SAY San Diego