August 2020 Virtual Convening: Navigating the 2020-2021 School Year
Posted on: August 24, 2020 | Posted in: Community Blog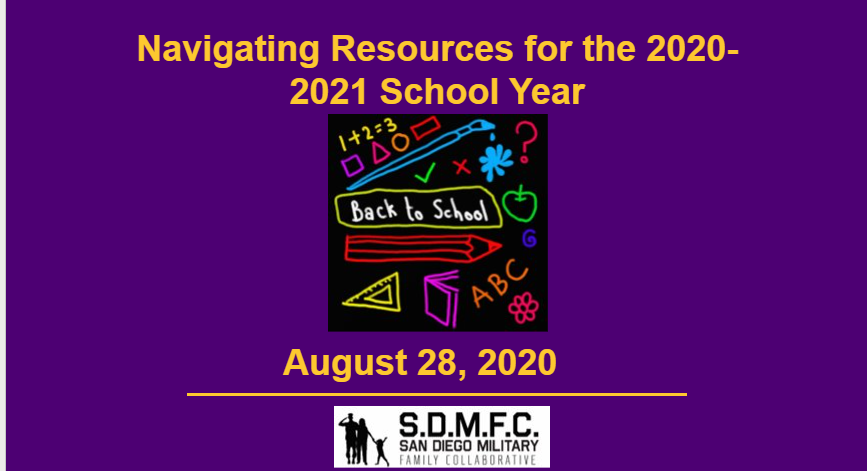 Join us on August 28, 10am – 12pm for our Virtual Monthly Convening via Zoom!
Connect with us on Zoom* via https://zoom.us/j/97127579765
Passcode: SDMFC0820
Welcome to the resource page for the San Diego Military Family Collaborative (SDMFC) Monthly Convening using Zoom for Friday, August 28, 2020! This convening was dedicated to the topic of Navigating the 2020-2021 School Year. SDMFC featured guests from the Military Child Education Coalition, San Diego Unified School District's Office of Children and Youth in Transition​, Ashford University, The School Liasion Program at MCCS-MCRD, and FOCUS Project.
Our guests included:
Dr. Becky Porter,​ President & CEO, Military Child Education Coalition
Michelle Einspar, Program Manager, Office of Children and Youth in Transition San Diego Unified School District
Denise Maxwell, Faculty Educator​, Ashford University​
Ashley Flores, School Liaison Officer ​MCCS-MCRD​
Wendy Panagos, FOCUS Site Director, NBSD,​ FOCUS (Families OverComing Under Stress)​
​​
> VIEW THE CONVENING RECORDING HERE <
Convening Materials and Resources
For your convenience, below you will find resources and relevant links that will be referred to in the August Convening.
SDMFC Materials
Community Resources
Upcoming SDMFC Events
Members-Only Training: Sept 2020 (Members will receive more info)​
Annual Summit Planning: Sept 7th and 21st at 10am-11:30am​
Feel Good Fridays: Sept 4rd and 18th at 1pm​
MTSE: Action Team Meeting, Sept 10th at 9am-10am​
WIWMPK:​ Tentatively Set for Tuesday, Sept 22nd from 5:30pm – 7:30pm
CPSA: Action Team Meeting, Sept 24th at 11am-12pm​
MTSE: Virtual Workshop, Sept 29th at 10am-12pm​​ ​ ​ ​
*SDMFC will using Zoom to convene these virtual meetings for the time being, where you can join us through the comfort of your webcam or phone. In order to fully participate in these virtual meetings, SDMFC recommends using a smartphone or computer to access Zoom. You are also able to participate by calling in, but will not be able to access the online materials and activities that will be presented.
To utilize Zoom, you will need to do the following:
Call in using your phone or join using a Zoom Account on your smartphone or computer(to be able to fully participate in activities we recommend using a computer)
Sign-Up for a free account using your work email: https://zoom.us/signup
Tune in to SDMFC's Facebook page for the Zoom link!
If you require assistance please do not hesitate to contact us! To stay most updated to SDMFC news, please review the SDMFC Facebook page https://www.facebook.com/sdmilfam/. We will continue to share resources for the community at large including information on resources individuals can access online as well as fun family activities you may consider enjoying together.