July 2020 Virtual Convening: Military Spouse Employment and Volunteer Opportunities
Posted on: July 14, 2020 | Posted in: Community Blog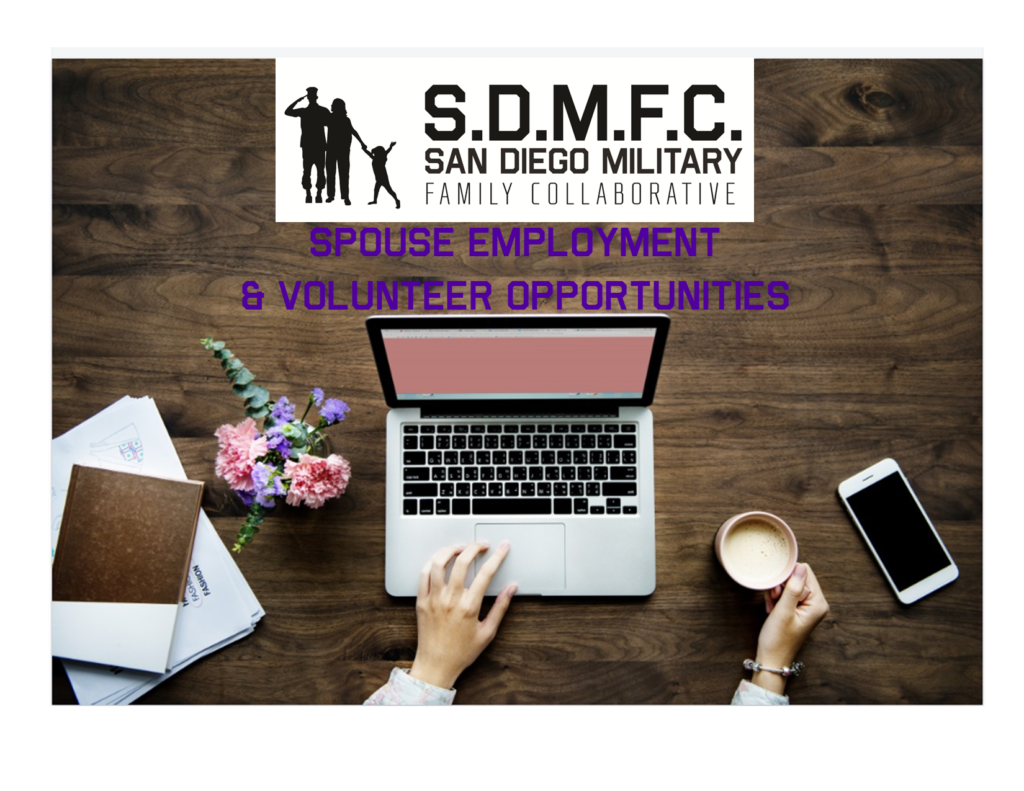 Welcome to the resource page for the San Diego Military Family Collaborative (SDMFC) Monthly Convening using Zoom for Friday, July 24, 2020! This convening was dedicated to the topic of Military Spouse Employment and Volunteer Opportunities. SDMFC featured guests from MCRD San Diego, Navy-Marine Corps Relief Society, Employment Development Department, Onward to Opportunity, and the Easterseals Bob Hope Veterans Support Program.
Our guests included:
Christina Rios, Lead Workshop Facilitator South Metro Career Center
Connie Vasquez, Manager, Family Member Employment Assistance Program (FMEAP), Marine Corp Community Services MCRD San Diego
Rosa L. Wilson, Deputy Director- Navy-Marine Corps Relief Society San Diego
Cynthia Marinaccio, Transition and Employment Specialist- Eastern Seals of Southern California Bob Hope Veterans Support Program
Joann Sansoterra, Onward to Opportunity Program Coordinator- Institute for Veterans and Military Families (IVMF), Syracuse University
Convening Materials and Resources
For your convenience, below you will find resources and relevant links that will be referred to in the June Convening.
SDMFC Materials
Community Resources
Upcoming SDMFC Events
Annual Summit: Planning Meeting, August 3rd & 17th at 10am-11:30am​
Feel Good Fridays: August 7th and August 21th at 1pm​
MTSE: Action Team Meeting, August 13th at 9am-10am​
CPSA: Action Team Meeting, August 27th at 11am-12pm
SDMFC will using Zoom to convene these virtual meetings for the time being, where you can join us through the comfort of your webcam or phone. In order to fully participate in these virtual meetings, SDMFC recommends using a smartphone or computer to access Zoom. You are also able to participate by calling in, but will not be able to access the online materials and activities that will be presented.
To utilize Zoom, you will need to do the following:
Call in using your phone or join using a Zoom Account on your smartphone or computer(to be able to fully participate in activities we recommend using a computer)
Sign-Up for a free account using your work email: https://zoom.us/signup
Tune in to SDFMC's Facebook page for the Zoom link!
If you require assistance please do not hesitate to contact us! To stay most updated to SDMFC news, please review the SDMFC Facebook page https://www.facebook.com/sdmilfam/. We will continue to share resources for the community at large including information on resources individuals can access online as well as fun family activities to consider for your kiddos who may be home.