CAPT Plummer
Posted on: September 22, 2015 | Posted in: Community Blog
Featured Annual Conference Speaker:
CAPT Christopher W. Plummer
Chief of Staff, Navy Region Southwest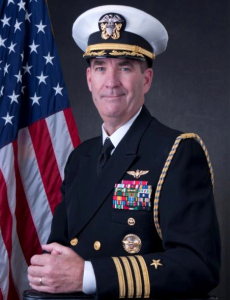 CAPT Plummer received a Bachelor of Arts from Virginia Polytechnic Institute in 1985 and earned his naval officer's commission through Aviation Officer Candidate School, NAS Pensacola, FL in 1986.
He was designated a Naval Aviator at NAS Corpus Christie, TX in 1988 and reported to the E-2C/ C-2A Fleet Replacement Squadron at NAS Miramar, CA. His first operational flying assignment was with VRC-50 at NAS Cubi Point, Republic of the Philippines, as a C-2A Greyhound pilot. While there, he participated in Operation Desert Shield, onboard USS Independence and Operation Desert Storm as Officer in Charge of a C-2A detachment embarked in USS Ranger. At the completion of this assignment in 1992, he returned to NAS Miramar, CA as a Fleet Replacement Squadron Instructor Pilot, where he transitioned to the E-2C Hawkeye. He subsequently reported to the VAW-117 Wallbangers in 1994 and deployed onboard USS Abraham Lincoln as the squadron's Safety Officer.
After completing the first of what would be several tours with the Wallbangers, CAPT Plummer reported to the Bureau of Naval Personnel in Arlington, VA in 1996 as the E-2/C-2 Junior Officer Detailer. He returned to NAS Miramar and VAW-117 in 1998 as the squadron Maintenance Officer, deploying on board USS Carl Vinson. Under his leadership, the Wallbangers were nominated by the Chief of Naval Operations for the 1998 Secretary of Defense Maintenance Award. CAPT Plummer then departed in 2000 for the U.S. Naval War College, Newport, RI, where he earned a Master of Arts in National Security and Strategic Studies.
Returning for a third time, CAPT Plummer led the Wallbangers as Executive Officer and Commanding Officer from September 2001 through March 2004. During this period, VAW-117 deployed in Operation Enduring Freedom aboard USS Carl Vinson and Operation Iraqi Freedom aboard USS Nimitz. The Wallbangers earned both the Battle "E" and Safety "S" for 2003.
Departing VAW-117 for the final time, CAPT Plummer joined the Defense Security Cooperation Agency in Arlington, VA as Country Program Director for Australia, New Zealand, Oceana, Mongolia and Nepal, where he was responsible for security assistance programs later assumed duties as Executive Assistant. In 2006, CAPT Plummer reported to the Chief of Naval Operation Executive Panel as Deputy Director, charged with directing studies of maritime importance on behalf of the Navy Service Chief's Federal Advisory Committee.
CAPT Plummer assumed command of NAS Pensacola in April 2010 where he led the installation through the Gulf Oil Spill.  After a successful command tour, he reported to Navy Region Southwest as the Chief of Staff.
CAPT Plummer's personal awards include the Legion of Merit, Bronze Star Medal, the Defense Meritorious Service Medal, the Meritorious Service Medal (2 awards), the Air Medal (2 awards), the Navy and Marine Corps Commendation Medal (three awards, including one with the Combat Distinguishing Device/Combat "V"), and the Navy and Marine Corps Achievement Medal (5 awards). He has accumulated 4,977 flight hours and 508 carrier landings.