February 2023 Convening
Posted on: February 22, 2023 | Posted in: Community Blog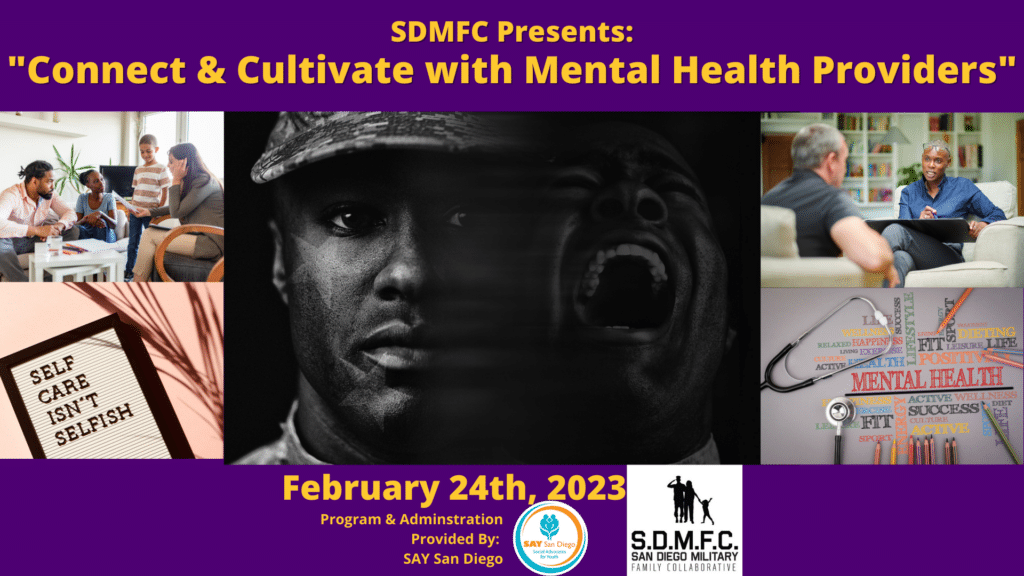 —————————- * —————————-
Convening Topic:
"Connect & Cultivate with Mental Health Providers"
Ashley Tatum, Steven A. Cohen Military Family Clinic: ATatum@cohenvvsd.org– Ashley is a Navy veteran and mother of two teenagers. She has been working at The Steve A. Cohen Military Family Clinic for 4 years as the case manager and recently became a Substance Use Disorder Counselor as well. She has a deep passion for helping her fellow veterans and their families. Through her own transition from military to civilian life, she realized the need for more support and increased access to resources. In her very limited spare time, she loves to run and spend time with her children and her partner.
Jamie Yslas, Veteran Yoga Project: jaime.yslas@veteransyogaproject.org– Jaime Yslas grew up just outside of Denver but was born in the Rio Grande Valley in South Texas. He served for 32 years of active duty in the United States Navy. Military service is as much a part of his family as anything else. Jaime has since retired but has been working with veterans for the last decade and has been involved with yoga for years. It started as a personal journey: Jaime began the practice as part of his grief recovery after his wife passed away. From there, he transitioned to Silver Sneaker Yoga, a style of yoga designed for those 65 and over, as well as chair yoga. What had first been utilized to help with the mourning process became a vital element for Jaime.
Stephanie Tablit, Fleet and Family Support Center: stephanie.w.tablit.naf@us.navy.mil– Stephanie has been a part of the NRSW organization for 7 years and in this current position for almost 2 years. In the Program Analyst role, she is responsible for coordinating emergency response and ensuring staff is prepared to support our military community in a crisis situation. When there are no emergencies or exercise drills to address, she is in charge of the Mind-Body Mental Fitness (MBMF) Program in the Southwest Region. MBMF enhances resiliency and mental toughness through the use of evidence-based mindfulness skills. The goal of MBMF is to enhance the mind, body, spirit, and social domains in one's life.
Nick Seidel, Healing Wave Aquatics: nick.s.seidel@gmail.com Nick Seidel retired from the United States Army in 2017 after serving 14 years as an active-duty Infantry Officer. He deployed three times to both Afghanistan and Iraq between 2004 and 2009. His experiences there led to post-traumatic stress symptoms. In early 2018 Nick enrolled as a client of Healing Wave Aquatics to seek relief. He became an advocate of the program and in Spring 2018 he joined Healing Wave Aquatic's board of directors.
MORE WILL BE ADDED FOLLOWING CONVENING
Please sign in via our Attendance Sheet by clicking HERE!
FEATURED PROGRAM TODAY:
Discussions with service providers showcased some valuable resources for the community related to mental health providers. For a full list of insights, please review the information below:
DID YOU KNOW?
According to Blue Star Families 2021 CA Military Family Lifestyle Survey

26% of active duty do not currently receive mental health care but would like to.

21% report their children do not receive mental health care, but they would like them to.

Additionally, nearly one-third of active-duty family respondents note child care (32%) and mental health resources (32%) are regularly needed.

Fewer than half of active-duty spouse respondents (42%) agree that their health is excellent, and those who were 14 Executive Summary separated from their service members report higher mean stress scores than those who were not.

While two-thirds of active-duty spouse respondents (67%) report they do not have a mental health diagnosis, 25% report a generalized anxiety disorder (GAD) diagnosis, which is higher than the estimated levels for the U.S. population.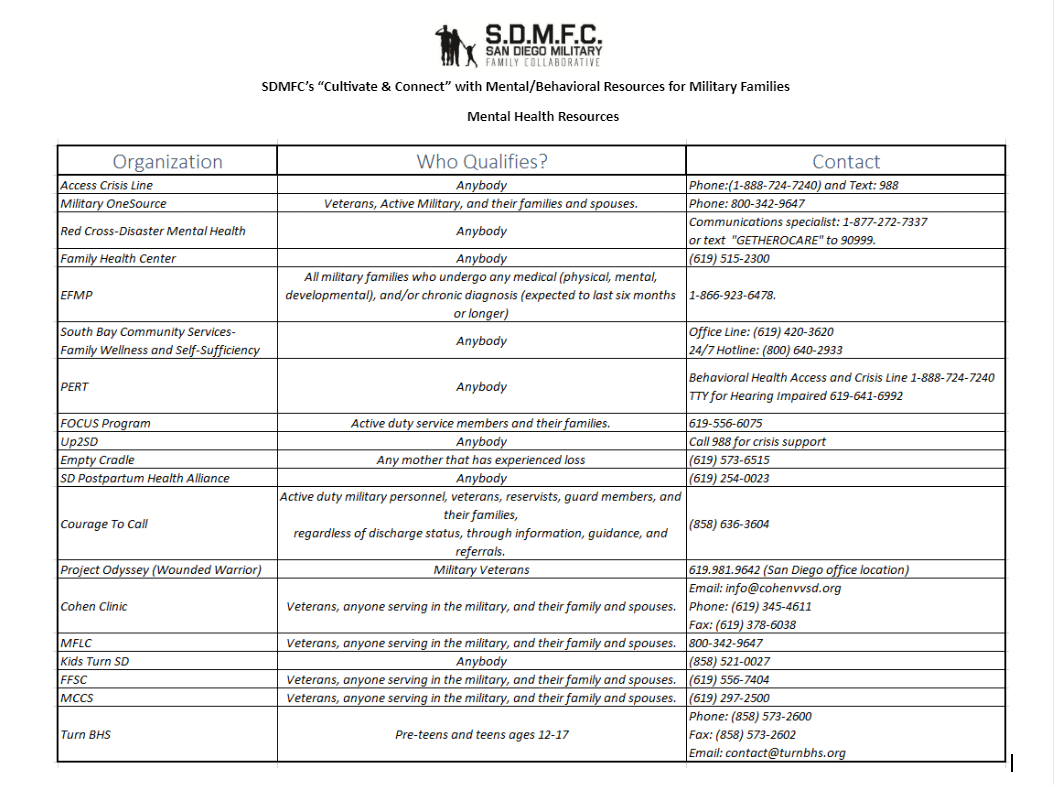 > VIEW THE CONVENING RECORDING HERE <
(Following the event date)
*****************************************************************************************************************
CONVENING MATERIALS AND RESOURCES
For your convenience, below you will find resources and relevant links that will be referred to in this Convening.
SDMFC Materials
COMMUNITY RESOURCES REFERENCED IN TODAY'S CONVENING:
MORE INFORMATION WILL BE PROVIDED FOLLOWING CONVENING
SDMFC UPCOMING EVENTS
WIWMPK Event: "Communication" February 28th 5:30pm-7:00pm (virtual); Meeting ID: 891 6556 6387; Passcode: WIWMPK23

MTSE Action Team Meeting: March 9th: 10:00am-11:00am (virtually) Contact Danny for more info
WIWMPK Action Team Meeting: March 23rd:12:30pm-1:30pm (Contact Stacy Chiles- schiles@saysandiego.org for more info)
SDMFC Members-Only Training: March 2023; Members will be contacted for renewals and for new membership in the coming month. If you have suggestions on training, please relay to Danny
MTSE Virtual Workshop: April 20th: 10:00am-12:00pm (registration required-SDMFC Website)
SDMFC will be utilizing HYBRID Convenings in 2023. We would love to see you in person, but if not, you can hop on our zoom live look in and interact with us:
Log-In: https://saysandiego-org.zoom.us/j/86404325848;
Meeting ID: 864 0432 5848
Passcode: SDMFC23!;