June 2020 Virtual Convening: Navigating Grief and Loss
Posted on: June 17, 2020 | Posted in: Community Blog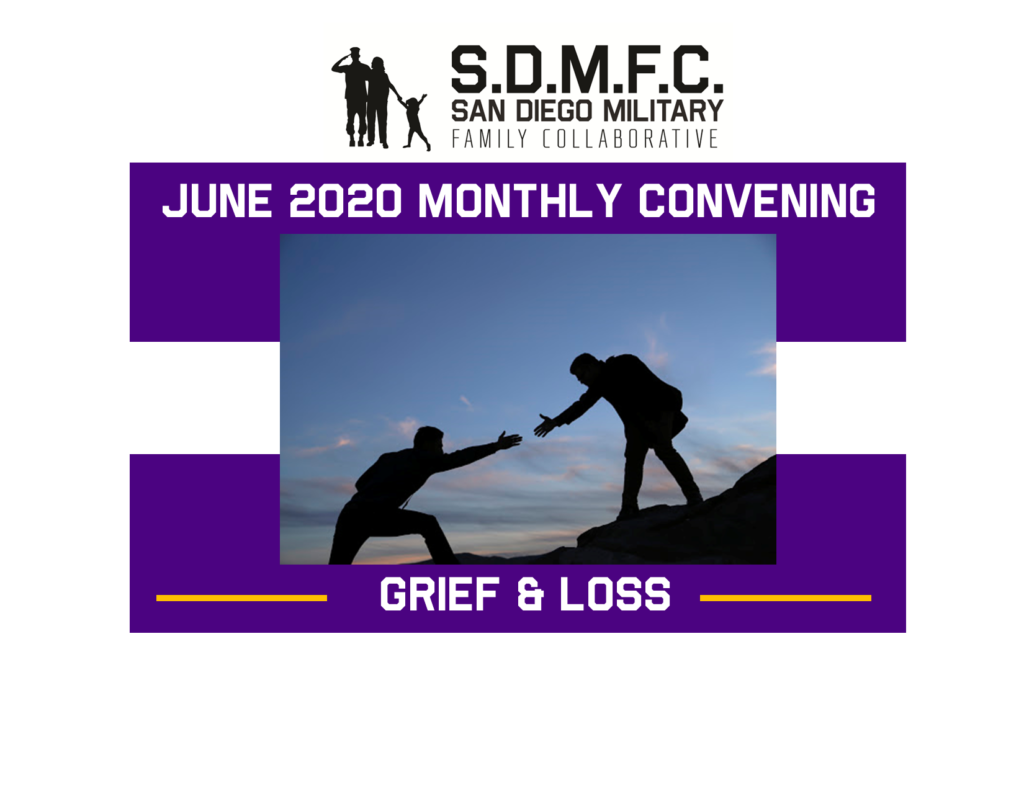 Welcome to the resource page for the San Diego Military Family Collaborative (SDMFC) Monthly Convening using Zoom for Friday, June 26, 2020! This convening was dedicated to the topic of Grief & Loss month. SDMFC will feature guests from The Elizabeth Hospice, U.S. Navy Chaplain, and PsychArmor Institute. You will find the biographies of our guests below along with their resources after the convening.
Our guests will include:
Samira Moosavi, CCLS, Interim Children's Bereavement Manager – The Elizabeth Hospice – Samira.Moosavi@ehospice.org

Samira Moosavi, CCLS is the Interim Children's Bereavement Manager at The Elizabeth Hospice; a role that includes overseeing the agency's two Children's Bereavement Centers, school-based grief support program and two sessions of Camp Spero, a weekend opportunity for new and returning campers. A program built on the foundation that no child should grieve alone. Offering trainings to a range of professionals within the community on childhood bereavement regionally and nationally is one of her passions.

Lieutenant Gary R. Monroe, CHC, USN Chaplain District Eleven-South, US Coast Guard – Gary.R.Monroe@uscg.mil

Lieutenant Monroe was born and raised in Silver City, New Mexico. He is an alumnus of New Mexico State University with a Bachelor of Science in Agricultural Economics and Business. He also earned an advanced degree from Gateway Seminary of the Southern Baptist Convention
(Master of Divinity). Prior to his commissioning as a Lieutenant in the U.S. Navy Chaplain Corps (2017), LT Monroe served in various pastoral roles: Youth Pastor, College View Baptist Church, Mesa, AZ (2005-2009); Associate Pastor, First Southern Baptist Church, Mesa, AZ (2009-2013); and Church Planter/Lead Pastor, Lifework Church, Tucson, AZ (2013-2017). In 2017, he commissioned as a Chaplain in the U.S. Navy. Upon commissioning in the Navy in 2012, he served as Battalion Chaplain for 3rd Battalion 7th Marines, he served as the Ground Combat Element Chaplain for Special Purpose Marine Air Ground Task Force, based at Al Jaber, Kuwait, from April 2018 to October 2018. During this deployment he traveled to locations in Iraq and Jordan providing religious support to Marines and Sailors of the battalion. In January 2019, he received orders to 3d Light Armored Reconnaissance Battalion before transitioning to US Coast Guard District 11-South, located in San Diego, California in February 2020. LT Monroe's has received the Navy and Marine Corps Achievement medal x2 and is a Fleet Marine Force Qualified Officer

Erin Brezinkski, Clinical Manager – PsychArmor Institute – ebrzezinski@psycharmor.org

Erin Brzezinski is a social worker and the Clinical Manager for PsychArmor, she also volunteers as the Chair of the San Diego Military Spouse Economic Empowerment Zone (MSEEZ). She has over 10 years of experience advocating for and supporting military service members, Veterans, and their families. She is an active-duty Navy spouse. She and her wife have been in San Diego for about a year and a half and are enjoying everything San Diego has to offer! Erin
strives to bring awareness, representation, and inclusion into everything that she does in her personal and professional life.
Convening Materials and Resources
For your convenience, below you will find resources and relevant links that will be referred to in the June Convening.
SDMFC Materials
Community Resources
The Elizabeth Hospice
PsychArmor Institute
Upcoming SDMFC Events
CPSA: Action Team Meeting, June 25th at 11am-12pm
MTSE: Virtual Workshop, June 30th at 10am-12pm
Feel Good Fridays: July 3rd and July 17th at 1pm
MTSE: Action Team Meeting, July 11th at 9am-10am
SDMFC will using Zoom to convene these virtual meetings for the time being, where you can join us through the comfort of your webcam or phone. In order to fully participate in these virtual meetings, SDMFC recommends using a smartphone or computer to access Zoom. You are also able to participate by calling in, but will not be able to access the online materials and activities that will be presented.
To utilize Zoom, you will need to do the following:
Call in using your phone or join using a Zoom Account on your smartphone or computer(to be able to fully participate in activities we recommend using a computer)
Sign-Up for a free account using your work email: https://zoom.us/signup
Tune in to SDFMC's Facebook page for the Zoom link!
If you require assistance please do not hesitate to contact us! To stay most updated to SDMFC news, please review the SDMFC Facebook page https://www.facebook.com/sdmilfam/. We will continue to share resources for the community at large including information on resources individuals can access online as well as fun family activities to consider for your kiddos who may be home.