May 2020 Virtual Convening: Military Family Appreciation – Resources for Military Spouses
Posted on: May 14, 2020 | Posted in: Community Blog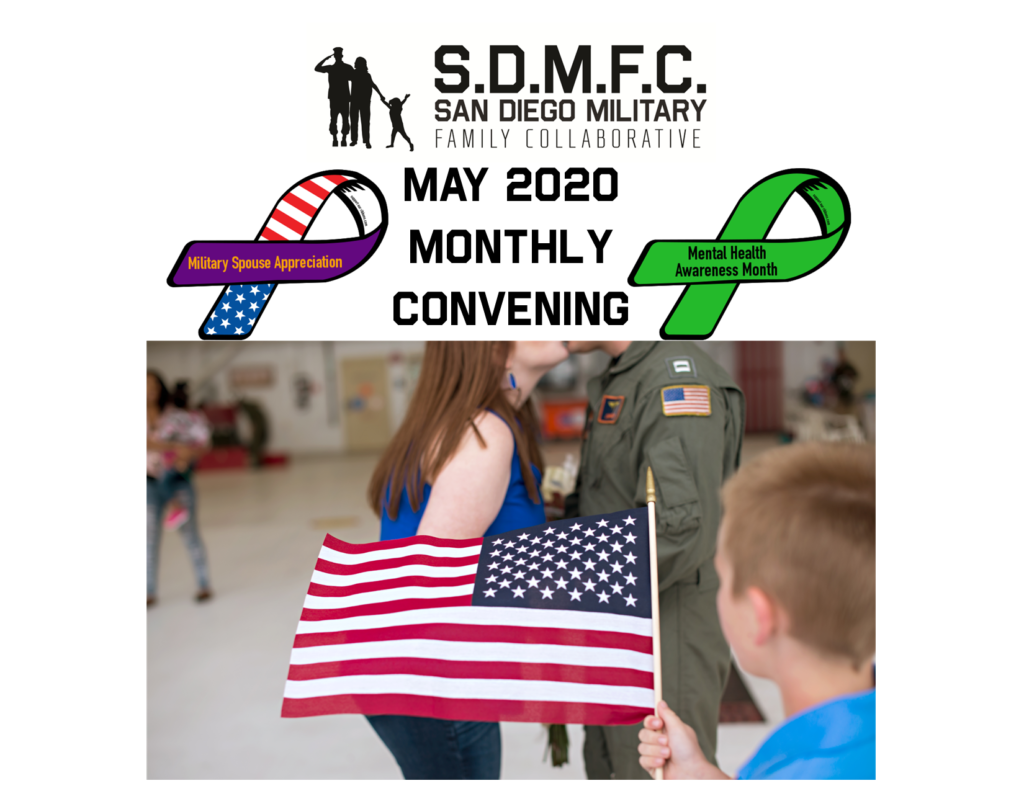 Welcome to the resource page for the San Diego Military Family Collaborative (SDMFC) Monthly Convening using Zoom for Friday, May 22, 2020! This convening was dedicated to Military Spouse Appreciation – Resources for Military Spouses and Mental Health Awareness month. SDMFC featured guests from Blue Star Families, Naval Services FamilyLine, Ombudsman Program, and Hiring Our Heroes Military Spouse Economic Employment Zone for Military Spouse Appreciation. You will find the contacts of our guests below along with their resources closer to the bottom.
Out guest individuals included:
For Mental Health Awareness Month, SDMFC featured a video called "We Never Walk Alone," created by Cameron Britt, a Serra High School student in Club Elevated. This video was for Suicide Prevention and Awareness. Serra High School is located in Serra Mesa/Murphy Canyon, a community with one of the highest off-base military housing areas. You may watch the video below or check out the video here: https://vimeo.com/395064018
Convening Materials and Resources
For your convenience, below you will find resources and relevant links that will be referred to in the May Convening.
SDMFC Materials
Community Resources
Blue Star Families
Naval Services FamilyLine (NSFL)
Ombudsmen Program
Hiring Our Heroes (MSEEZ)
Serra High School Club Elevated
Serra Student Film Screening Virtual Showcase – Tuesday, May 26th @ 4:00pm – 5:00pm. NO SIGN-UP NEEDED! Link: https://zoom.us/j/92529212651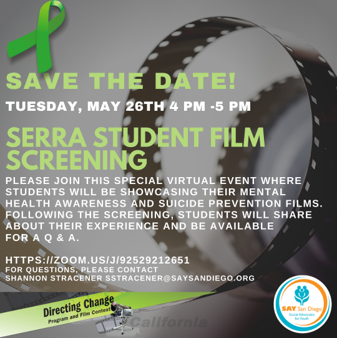 Upcoming SDMFC Events
CPSA: Action Team Meeting, May 28th at 11am-12pm
Feel Good Fridays: June 5th and June 19th at 1pm
MTSE: Action Team Meeting, June 11th at 9am-10am
MTSE: Virtual Workshop, June 30th at 10am-12pm
Members-Only Training: June 2020 (Members will receive more info)
SDMFC will using Zoom to convene these virtual meetings for the time being, where you can join us through the comfort of your webcam or phone. In order to fully participate in these virtual meetings, SDMFC recommends using a smartphone or computer to access Zoom. You are also able to participate by calling in, but will not be able to access the online materials and activities that will be presented.
To utilize Zoom, you will need to do the following:
Call in using your phone or join using a Zoom Account on your smartphone or computer(to be able to fully participate in activities we recommend using a computer)
Sign-Up for a free account using your work email: https://zoom.us/signup
Tune in to SDFMC's Facebook page for the Zoom link!
If you require assistance please do not hesitate to contact us! To stay most updated to SDMFC news, please review the SDMFC Facebook page https://www.facebook.com/sdmilfam/. We will continue to share resources for the community at large including information on resources individuals can access online as well as fun family activities to consider for your kiddos who may be home.