MONTH IN REVIEW: June 2019
Posted on: July 1, 2019 | Posted in: Community Blog
The summer is upon us here in San Diego, and the month of June brought more than just sunshine and higher temperatures for the San Diego Military Family Collaborative! During June, the Collaborative hosted its first-ever Member-Only training, "Collaboration 101," as well as another successful Monthly Convening focused on "Growing a Family in the Military."
SDMFC's First-Ever Members-Only Event: "Collaboration 101"

On Tuesday, June 25, the SDMFC hosted its first-ever Members-Only training event at SAY San Diego, dubbed "Collaboration 101." Featuring guest speakers from a wide variety of local nonprofits and collaborative networks, SDMFC was able to treat 34 of our members to a two-hour interactive workshop centered around building networks and engaging with others. Special thanks to Dina Soliman of DeVry University, Rachel Pinuelas-Morineau of South Bay Community Services, Megan Thomas of San Diego Grantmakers, KellyAnne Rodriguez of the County of San Diego, and Lucia Gonzalez of SAY San Diego for their leadership and participation! Check out photos and video below!
Click here to watch a video of the training while it was happening: Collaboration 101!
Monthly Convening: "Growing a Family In the Military"
On Friday, June 28, the SDMFC hosted its Monthly Convening at SAY San Diego – a temporary stand-in for our usual meeting place, the Mission Valley Library – and focused on the topic of "Growing a Family In the Military." We were humbled and privileged to have had such a powerful and supportive discussion on so many various obstacles and challenges that life can throw at military families. Thank you to all the panelists who participated – Akia Isom, Tracy Owens, Katy Hendrickson, and Isabel McNeish – as well as our attendees. Check out the fact sheet of the convening by clicking HERE!
Watch the Q&A with our panelists by clicking HERE!
SDMFC 9th Annual Summit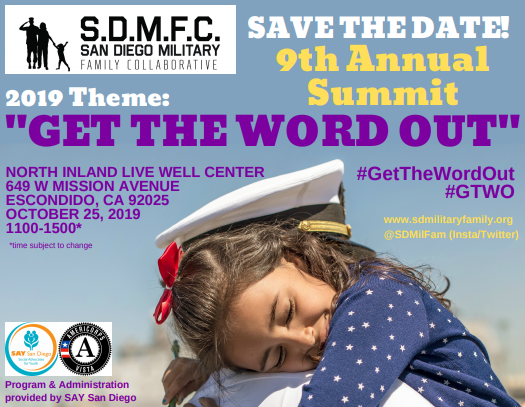 Mark your calendar for SDMFC's 9th Annual Summit, themed "Get the Word Out," happening Friday, October 25, at the Escondido North Inland Live Well Center. Last year's acclaimed event saw nearly 200 attendees, representing various nonprofit and service provider agencies, command leadership, and civic/governmental organizations. We are still in the developmental stages of our Annual Summit, so if you are interested in participating and lending your assistance, we would greatly appreciate it! Please contact SDMFC Director, Danny Romero: dromero@saysandiego.org
Keep your eyes peeled for further updates and information as the date gets closer to the Annual Summit!