MONTH IN REVIEW: October 2019
Posted on: October 30, 2019 | Posted in: Community Blog
The month of October has been very busy yet rewarding! The Collaborative hosted the, "9th Annual Summit" on Friday, October 25th @ The North Inland Live Well Center. The Collaborative has also provided yet another MTSE transition workshop to military families on October 10th, 2019.
MTSE Transition Workshops
There is only one remaining MTSE evening workshop happening on November 7th, 2019 and scheduled to begin at 5:00pm at SAY San Diego. For more dates and information, CLICK HERE!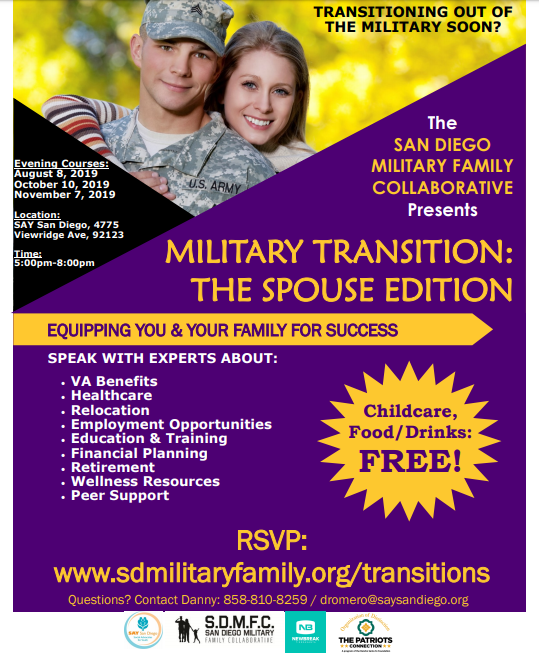 CPSA 2019-2020 Forums
Community Prevention and Safety Alliance (CPSA) has been working diligently to prepare for the 2019-2020 academic year forums. The first forum took place on Tuesday, September 10. Our next forum is around the corner and will take place on November 12th from 5:30pm-8:00pm @ Serra High School. We will have three different breakout sessions focused on the different types of stress that we encounter in our lives. We will also have a panel of experts to talk to us about how stress affects our lives. Childcare and dinner will be provided, so register ASAP! If you would like to get involved, please contact the CPSA Team at cpsa.sdmfc@gmail.com.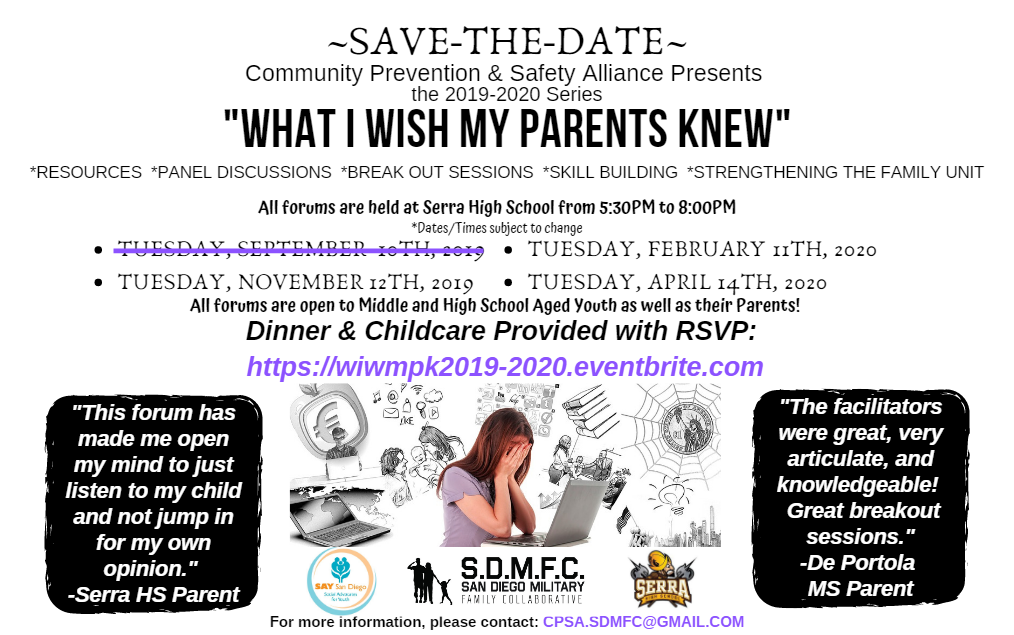 SDMFC 9th Annual Summit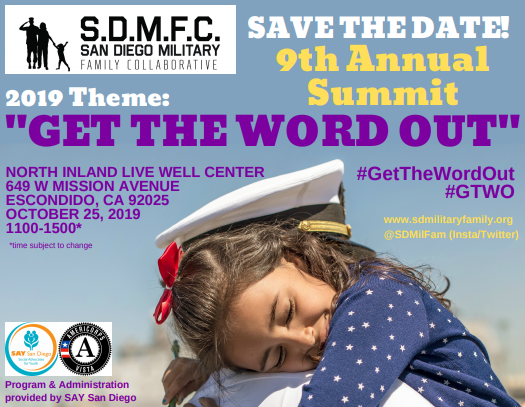 The SDMFC's 9th Annual Summit, themed "Get the Word Out," took placee on Friday, October 25, at the Escondido North Inland Live Well Center. This year's Summit saw nearly 170 attendees, representing various nonprofit and service provider agencies, command leadership, and civic/governmental organizations. There were great guest speakers in attendance: Sharon McKeeman, Author and Military Spouse & Steve Walsh, KPBS Military and Veteran Reporter. Our program also included great an fun interactive activities. In addition, we had a great spouse panel that shared their different perspectives and their unique journeys in being a military spouse. There were 25 different community resource tables and attendees from over 150 different organizations. We thank everyone that was in attendance and for your continued support.
To view our EdCamp Activity Notes, CLICK HERE
To view our Polling Activity Results, CLICK HERE
Below are some photos from the event: