March 2020 Virtual Convening: Community Scan
Posted on: March 23, 2020 | Posted in: Community Blog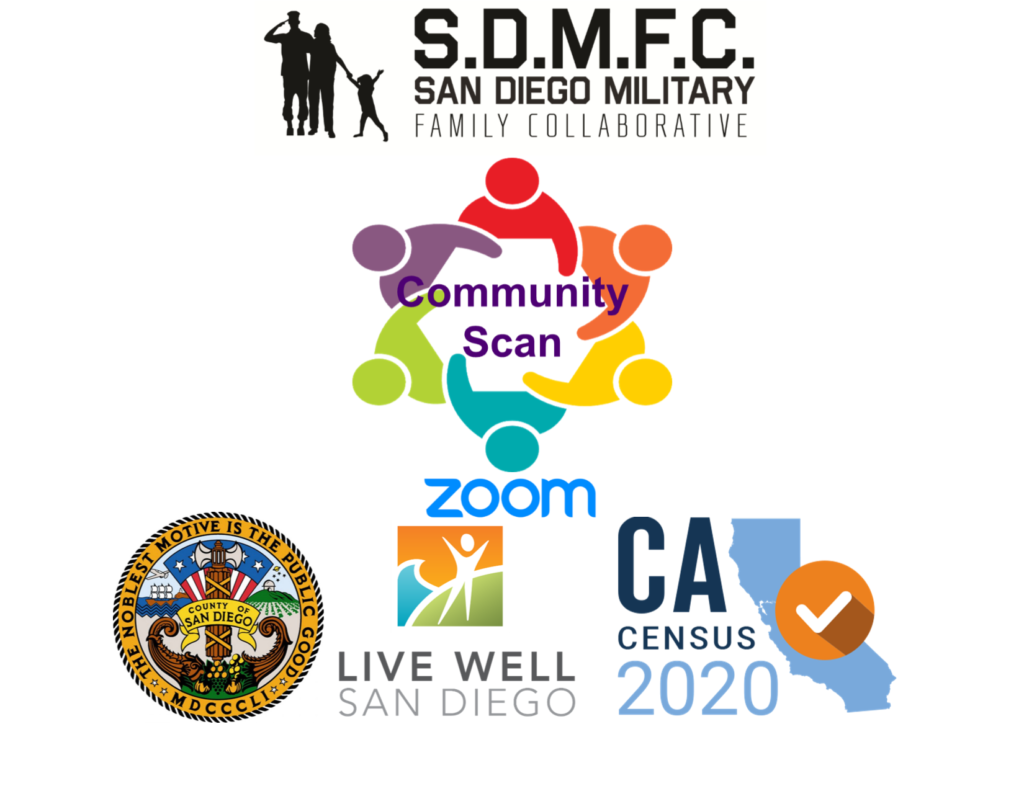 On Friday, March 27, the San Diego Military Family Collaborative (SDMFC) hosted its first Virtual Monthly Convening using Zoom! This convening was dedicated to a Community Scan related to COVID-19 and Census 2020 as subject-matter experts from the County of San Diego and Census 2020 spoke on these important items.
Speaker Biographies
Gamanuel Jean is a Project Support Specialist with the Health and Human Services Agency (HHSA), North County Regions, Community Health Promotion (CHP) Team. He joined the CHP team in March 2019. Gamanuel is a Marine Corps Veteran with a master's degree in Public Health. (COVID-Military-Veterans@sdcounty.ca.gov)
Connie Hernandez is a Regional Program Manager for Region 10, San Diego and Imperial Counties for the California Complete Count – Census 2020. She has devoted her time in San Diego County to multiple organizations, including as an Administrator for the Make A Wish Foundation, a founding board member of Ronald McDonald House Charities, VP of Community Relations for Chavez & Associates, VP of Marketing & Public Relations for MAAC Project, and a Partnership Specialist for Census 2010 specializing in the Spanish-speaking hard-to-count communities. Connie attended the University of San Diego, College for Women and has received numerous awards for her community work including, Partners for Prevention Community Service Award; Hispanic Publishers Superior Achievement Award for Latinas in the Media; and Democratic Central Committee of San Diego Community Service Award. (Connie.Hernandez@census.ca.gov)
Convening Materials
The County of San Diego Materials:
Census 2020 Materials:
SDMFC Materials
SDMFC will using Zoom to convene these virtual meetings for the time being, where you can join us through the comfort of your webcam or phone. In order to fully participate in these virtual meetings, SDMFC recommends using a smartphone or computer to access Zoom. You are also able to participate by calling in, but will not be able to access the online materials and activities that will be presented.
To utilize Zoom, you will need to do the following:
Call in using your phone or join using a Zoom Account on your smartphone or computer(to be able to fully participate in activities we recommend using a computer)
Sign-Up for a free account using your work email: https://zoom.us/signup
Tune in to SDFMC's Facebook page for the Zoom link!
If you require assistance please do not hesitate to contact us! To stay most updated to SDMFC news, please review the SDMFC Facebook page https://www.facebook.com/sdmilfam/. We will continue to share resources for the community at large including information on resources individuals can access online as well as fun family activities to consider for your kiddos who may be home.